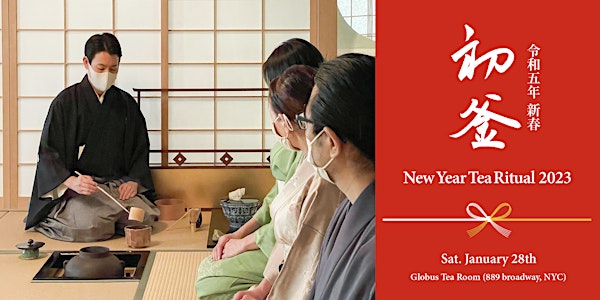 Samurai Tea Ritual "初釜 New Year Tea Ritual 2023 in NYC"
Yoshitsugu Nagano, the youngest master of the Ueda Soko school, will perform a Japanese-style New Year's celebration in New York City!
When and where
Location
Globus Tea Room 889 Broadway PHC New York, NY 10003
About this event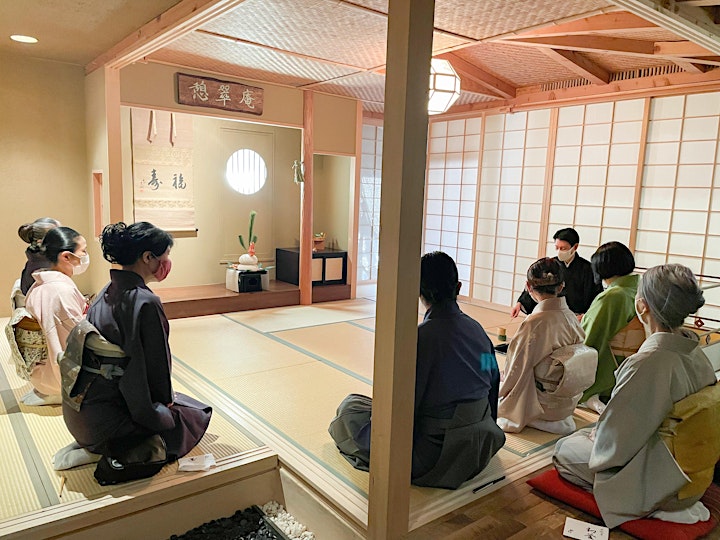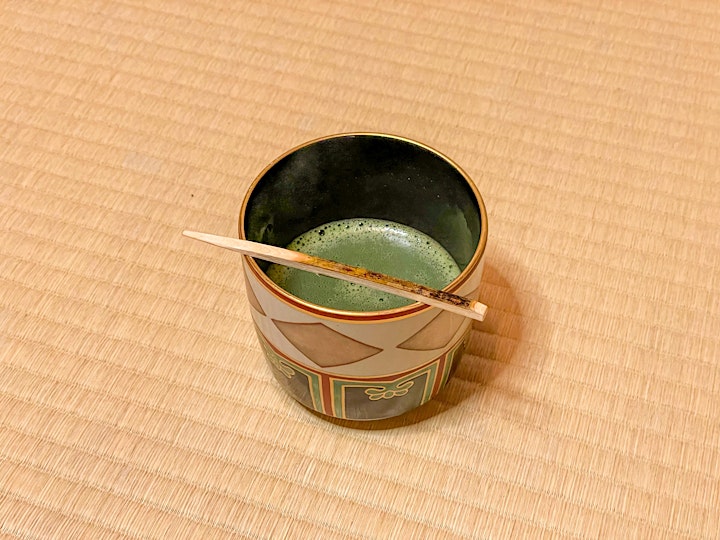 For New Year's in Japan, 'kadomatsu' ornaments are displayed at the entrance of houses to welcome ancestral spirits. Large 'kagami-mochi' rice cakes in the form of ancient mirrors are displayed inside the house, as it is said the gods reside in mirrors.
In the tea ceremony, the New Year's tea ceremony is called "Hatsugama". At Hatsugama, a special matcha called "Obukucha (Good Fortune Tea)" is drunk to pray for health and prosperity in the New Year. It is said to have started being drunk over a thousand years ago to protect people from the plague.
Let's all participants drink good luck tea together and pray for good health for the whole year. We will also be serving "Ozoni", a traditional dish eaten in Japan during the New Year to celebrate the New Year.
With great pleasure, I welcome you to the first samurai tea ritual of 2023!
Detail of the Hatsugama tea ritual
1.Sumitemae(charcoal laying) 炭手前
2.Kaiseki Cuisine(tea-ceremony cuisine) 懐石料理
Introduction to japanese table manners
3.Koicha (formal thick matcha) 濃茶
Tea ceremony performance
How to drink matcha
Each person has a cup of Matcha.
4.Obukucha(good fortune tea) 大福茶
5. Discussion time
The history of Japanese tea ceremony
The relationships of samurai and tea ceremony
The spirituality of tea ceremony
Introduction of the tools that we use
Question and answer
*The contents are subject to change.
*If you have allergies, vegetarianism, or other dietary requirements, please contact us at least three days prior to the tea ritual.
Dress code:
Western style clothes are acceptable. No sleeveless shirts, or short mini skirts. Please bring a clean pair of white socks. (We have some extra)
Please take off jewelry and watches.
Coronavirus prevention:
Please enter your correct name and email address when you purchase your ticket.
This tea ceremony will be held at 75 percent of the maximum capacity.
The tea ceremony may be cancelled due to the future outbreak of the coronavirus. In the event of cancellation, the participation fee will be refunded.
If you have any questions, please contact us.
*If you cancel for any reason, no refund or change of ticket to another tea ceremony will be given.
*The images are a record of the tea ceremonies we have held so far. They do not show the contents of this tea ceremony.
*The staff will take pictures of the tea ceremony. Please note that the images taken may be used for publicity purposes at a later date.
Sponsor: