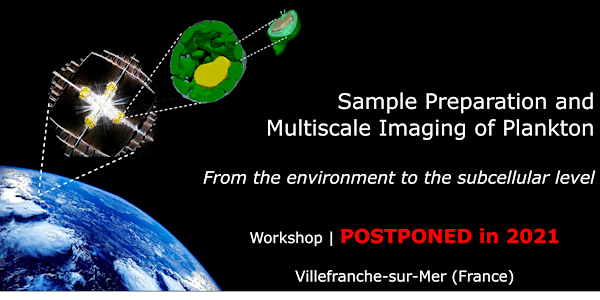 Sample Preparation and Multiscale Imaging of Plankton
Event Information
Location
Institut de la Mer de Villefranche (IMEV)
181 Chemin du Lazaret
06230 Villefranche-sur-Mer
France
The "Sample Preparation and Multiscale Imaging of Plankton" workshop will be held at Villefranche-sur-Mer in spring 2021
About this event





The workshop has been postponed to Spring 2021 due to the pandemic situation. We hope that we will be able to attend the event. We will keep you informed about the registrations.
Workshop overview
Context:
Microscopic organisms shape and sustain terrestrial and aquatic ecosystems. Subcellular imaging is becoming essential not only to visualize and better understand cellular and physiological mechanisms of cells, but also assess their adaptive responses to changing environmental conditions.
The emergence of cutting-edge high-resolution microscopy (e.g. volume electron microscopy, chemical imaging, correlative multimodal imaging) from biomedicine and material sciences now offers new exciting avenues in life sciences to explore the interior of cells and probe their metabolism at the nanoscale level. Yet, sample preparation is an essential but tedious step, more particularly when organisms are not in culture in the laboratory (i.e. as the majority of plankton) and need to be sampled in their native environment. Adequate sample preparation has the potential to enable nanoscale imaging of environmental samples tackling bottlenecks such as resolution, multi-scale, multi-dimensions, and also throughput. Addressing these will most certainly pave the way to new insights and further correlations with the already well-established multi-omics tools.
Workshop Description:
The EMBL, CNRS and Univ. Grenoble Alpes propose to organize an international workshop in partnership with the marine station of Villefranche-sur-Mer (IMEV) in spring 2021. Practical demos and lectures will allow participants to exchange about on-field sample preparation and discuss new strategies to prepare and observe cells at the nanoscale level using different imaging platforms.
Objectives:
The main goal of this workshop is to share about state-of-the-art skills and expertise in imaging and preparation of marine samples in an interdisciplinary atmosphere that will foster discussions and networking. Additional objectives of this workshop are:
- To promote interdisciplinary discussions between cell biologists, plankton experts, and microscopists.
- To teach scientists wishing to determine macromolecular or cellular structure, the basic principles and practical aspects of high-resolution microscopy.
- To provide training and demos on sample preparation for freshly-collected cells.
We are grateful to our sponsors and institutions (IMEV, CNRS, EMBL, UGA) for their support in this event. We particularly thank the Gordon and Betty Moore Foundation that supports the workshop.
Best regards,
R. Cattaneo, J. Decelle and Y. Schwab
Preliminary program:
Day 1:
12:00 - 13:00: Registration - Lunch and coffee with poster session
13:00 - 13:15: Welcome and introduction
13:20 - 15:00: Session 1 - Imaging
15:00 - 15:30: Coffee break
15:30 - 16:00: Flash talks
16:30 - 18:00: Session 2 - Sample preparation I
18:30 - 19:30: Apéro - poster
19:30 - : Dinner
Day 2:
09:00 - 12:00: Workstations rotations
12:00 - 13:00: Lunch
13:00 - 16:00: Workstation rotations
16:00 - 16:30: Coffee break and posters
16:30 - 17:00: Session 3 - Sample preparation II
17:00 - 18:30: Session 4 - Correlative multimodal imaging
19:30 - : Dinner
Day 3:
09:00 - 10:30: Session 5 - Marine Biology - New frontiers
10:30 - 11:00: Coffee break
11:00 - 12:30: Session 6 - Networks & Infrastructures
12:30 - 13:30: Lunch and departures
Note that the workstations will include training on:
- Fresh sample sorting and concentration, followed by observation with a light microscope
- High pressure freezing using the Leica EM ICE
- Freeze substitution by either quick FS or standard procedures with a Leica EM AFS2
- Microwave-assisted processing and resin embedding with a Ted Pella Biowave+
Contact email : vsm2020@embl.de
Organisers:
Raffaela Cattaneo (IMEV - Villefranche-sur-mer)
Johan Decelle (CNRS - Université Grenoble Alpes)
Yannick Schwab (EMBL - Heidelberg)
Nina Bader (EMBL - Heidelberg)
Frédéric Bonino (IMEV - Villefranche-sur-mer)
Benoit Gallet (IBS - CEA Grenoble)
Charlotte Le Kieffre (Université Grenoble Alpes)
Karel Mocaer (EMBL - Heidelberg)
Nicole Schieber (EMBL - Heidelberg)
How to participate ?
This workshop is open to PhD students, postdocs, engineers and researchers. Applicants should have competence in imaging and marine biology.
The workshop registration is free. However, the number of participants will be limited. Therefore, after registration on eventbrite, note that applicants will be subjected to a selection process before confirmation by the organisers. This selection process will be based on questions asked during the eventbrite registration.
If you would like to apply for a travel grant, a short motivation letter will be asked in the question section during registration.
The new registration will close on XXX, 2020.
Date and time
Location
Institut de la Mer de Villefranche (IMEV)
181 Chemin du Lazaret
06230 Villefranche-sur-Mer
France