About this Event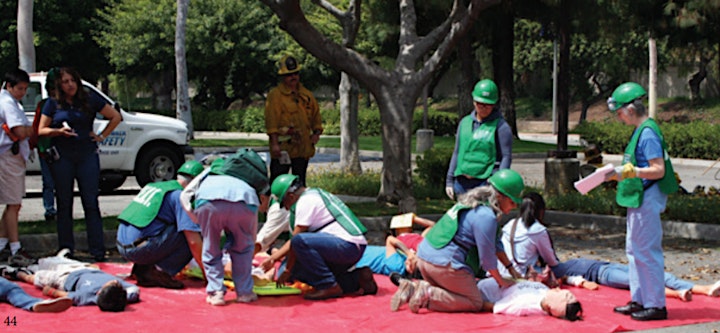 Community Emergency Response Team (CERT) Training
Are you ready? In a large-scale emergency or disaster, professional emergency responders may well be stretched beyond their capacity. Fortunately we have local citizens who are preparing to assist themselves and their neighbors by learning basic disaster response skills. Citizens train in skills such as personal emergency preparedness, disaster medical operations, basic fire suppression, disaster psychology, light search and rescue, and team organization.
Join us and become a responder. Over 700 of your neighbors have already trained to become CERT members. Graduates have the opportunity to become registered as temporary emergency workers who can aid in local and regional disaster responses.
The class cost of $35 provides instructors and a basic gear kit.
Class is held every Tuesday evening from 6:30 pm to 9:30 pm between March 3rd and April 28th. Note that there will be an exercise/drill at a time to be determined after completion of the last class. If a class must be skipped, lessons are taught in surrounding communities on different days so there are make up opportunities.
Class will be held once a week on Tuesday from 6:30pm to 9:30pm at Eastside Fire & Rescue Station 82.
Date Unit Description
March 3 - Disaster Preparedness
March 10 - Fire Safety and Utility Control
March 17 - Disaster Medical Operations Part 1
March 24 - Disaster Medical Operations Part 2
March 31 - Light Search and Rescue
April 7 - CERT Organization
April 14 - Disaster Psychology & Terrorism and CERT
April 21 - Communications
April 28 - Review
TBD - Drill/Exercise
Sammamish Citizen Corps Counsel: Making our communities safer and more resilient.
For questions, contact: cert@sammamishcitizencorps.com