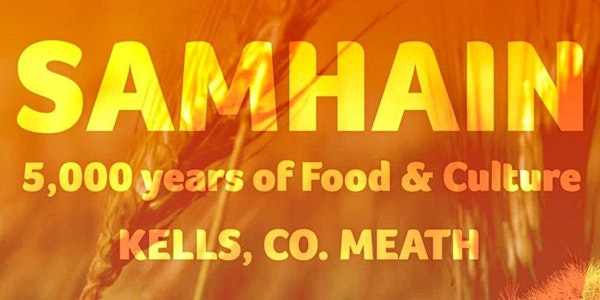 Samhain Festival 2022 - 5,000 Years of Food & Culture
The Annual Samhain Festival, run by Discover Boyne Valley Flavours, will take place this November, from Thur. 3rd - Sun. 6th November, 2022
When and where
Location
Kells Kells Kells Ireland
About this event
Samhain Festival for 2022 (Thursday 03rd to Sunday 06th November), takes many of these elements to the Heritage Town of Kells, Co Meath; for a magnificent weekend celebrating the coming together of 5,000 years of Irish Food & Culture.
More than just a means of survival, the food we eat and our attitude to it, is influenced by external factors along with tradition, family our beliefs and practices.
The Samhain Festival of Food & Culture will take you on an exploratory journey, a feast for enjoyment and curiosity, with a great line up , which include our Samhain Symposium, 'The GIY Diaries' with Mick Kelly, 'Slane Rocks' with Alex Conyngham & Ali Dunworth, Darina Allen with 'The Smokin Butcher' Hugh Maguire in 'Forgotten Skills', The Magic of Tortillas - Lily Ramirez Foran , Samhain's Food Traditions, with Caitríona Nic Philibín, Turkey Walk & Talk at Hogan's Farm & our Samhain Supper - Long Table Dinner, with guest Chefs & Entertainment and many, many more events!
Come along to the Samhain Festival and celebrate , in the present, the provenance of 5000 years of Food & Culture, and where it will take us….
We look forward to seeing you there, for tickets and information Click here
See below the Highlights from 2021