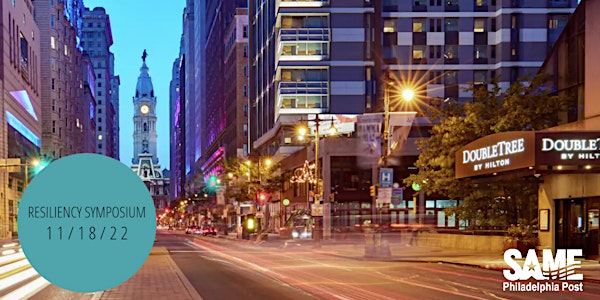 SAME Philadelphia Post Resiliency Day 2022
Join us for Resiliency Day! USACE Deputy Commander LTC Drobenak will be speaking!
When and where
Location
DoubleTree by Hilton Hotel Philadelphia Center City 237 South Broad Street Philadelphia, PA 19107
About this event
Infrastructure resiliency is a crucial topic of discussion as the country emerges from the COVID-19 pandemic and looks to the future. Given upcoming federal infrastructure investment, now is the time to think about a resilient future. Our part of the country continues to see warming temperature trends and heavy weather events of increasing frequency and intensity. A recent climatecentral.org evaluation of long-term precipitation data places Philadelphia 3rd on the list of U.S. cities with the largest increase in heavy downpours (360% increase in the last decade). The Philadelphia Post of the Society of American Military Engineers is hosting our annual symposium which hopes to bring together practitioners from the Greater Philadelphia Area and beyond who can speak to infrastructure resiliency and how it can help public and private entities survive these turbulent times.
Call for Abstracts-Closed
Details
Details Time: 8AM-5PM
Location: DoubleTree by Hilton Hotel Philadelphia Center City
Ticket Pricing:
Non SAME member: $170
SAME Member : $150
Key Dates
October 2022 - Selection of Presentations and Speakers
November 18, 2022 - Philadelphia Resiliency Symposium