Description
Join us this November at Mt. Madonna in the Santa Cruz mountains of California. Return to heart, bask in the love of your Anusara kula, and study with renowned fellow teachers on the Anusara path. "Recognition of the sacred in the heart of all beings" is the first of ASHY's newly stated core values, and this year's theme for Samavesha. It speaks to the universality of supreme consciousness and each individual's ability to crystalize this truth. Come to Samavesha to remember, renew, and reconnect to the light of your own heart.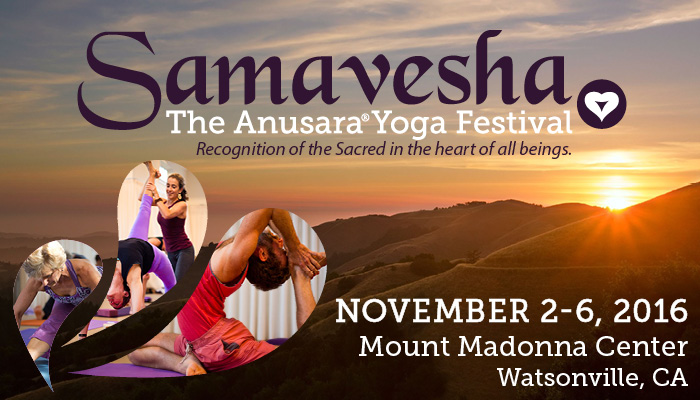 In addition to a philosophy intensive with Bill Mahony, Ph. D., workshops with renowned meditation teacher Sally Kempton and Friday night kirtan with Benjy and Heather Wertheimer of Shantala, the festival lineup includes a wide variety of yoga classes and teacher training workshops. Samavesha 2016 faculty includes BJ Galvan, Gaby Zermeño, Jayendra Hanley, Karen Sprute-Francovich, Gail Corvette, Denise Stottman, Siri Peterson Cavanna, LIsa Long, Carmel Calcagno, Leslie Salmon, Yael BenReuven, Jimmy Bernaert, Dolores Kent, Tasha Judson, Julia Pearring, and TIffany Wood.
The full class schedule is still under construction, and class selection options will be posted May 15th. Below you'll see the full pricing structure for festival tuition for both ASHY teachers and the yoga community. The lodging rates are set by the Mt. Madonna Center and will remain the same until the event. If you opt to stay off-site, you'll need to pay the Commuter fee of $58/day, which includes 3 full meals.
ASHY Teachers Rate - Festival classes only
May 1st – Aug. 31st - $515
Sept. 1st – Oct. 15th - $610
Oct 16th – Nov. 2 - $675
Students / Non-ASHY Teacher Rate - Festival Classes only
May 1st – Aug. 31st - $595
Sept. 1st – Oct. 15th - $675
Oct 16th – Nov. 2 - $755
Day Rate for Thu., Fri., or Sat - $175/day - Commuter fee is $58/day and includes 3 meals/day.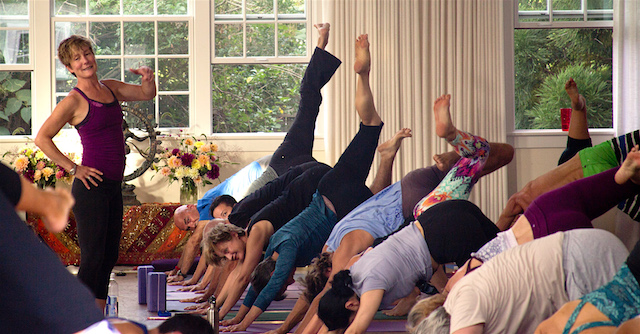 Lodging options range from dormitory rooms, shared double and triple rooms, to camping in your own RV or tent. The lodging costs include 3 delicious vegetarian meals each day and full use of the Mt. Madonna Center's 355 acres of open meadows and redwood forests include hiking trails, volleyball, tennis, and basketball courts, a small lake for swimming, a hot tub, and gymnasium. All beds are single sized.
A full travel logistics page will be added to www.anusarayoga.com, and updates will be made to ASHY's Facebook page for the event.