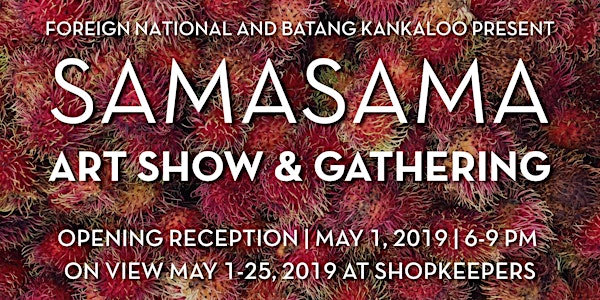 SAMASAMA Art Show & Gathering Opening Reception
SAMASAMA Art Show & Gathering Opening Reception
When and where
Location
Shopkeepers 1231 Florida Avenue Northeast Washington, DC 20002
Refund Policy
Contact the organizer to request a refund.
About this event
SAMASAMA IS BACK!
Foreign National (Seda Nak) and Batang Kankaloo (Les Talusan) present the 3rd Annual SAMASAMA Art Show & Gathering. Held in honor of Asian American and Pacific Islander (AAPI) Heritage Month in May, this exhibition will present original work by artists of color from diaspora communities.
The theme of the exhibit is Bayanihan, a Filipino custom derived from the Tagalog word bayan, meaning community. It refers to the spirit of communal unity, work, and cooperation to achieve a particular goal.
To kick off the month-long celebration, please join us for an evening of art and atmosphere. Featuring food by Maketto and Aiya, Kicheko Goods, live screen printing by Soul & Ink, live painting by Cita Sadeli Chelove and Maria Miller, and Les The DJ, curating an all-vinyl set of Asian and AAPI music.
*Suggested $5-20 donation accepted at the door. Pay what you can, no one turned away. 15% of sales will be donated to Asian American LEAD (AALEAD).
OFFICIAL 2019 ARTIST LIST:
Almas Haider @vivalmas
Ameena Fareeda @uhmeanuh
Artisia Burton @mrs_couture_librarian
Ashley Dequilla @ashleydequilla
Ayoola Daramola @rastaelders
Celeste Chen @coronarythieves
Chantale Wong @chantale1
Charles Philippe Jean-Pierre @cjpgallery
Chris Wu @christohwu
Cindy Hoang @cynthesys
Cindy Nguyen @wallabywaycindy
Cita Sadeli aka MISS CHELOVE @misschelove
David Perez @production_six
Dona Teare @donateare_art
Dylan Hoang @theshortcrayon
Ellie Yanagisawa @elliethecosmicjelly
Elmer Calata @rustikoaregua
Erica Page @ericaleepage
Eunbi Hina @eunbi.hina
Farrah Skeiky @reallyfarrah
Haliun Ayush @halibun
Henley Bounkhong @goldenrabbitsilentmonkey
Hillary Rochon @hilldawwg10
Ja'Mon Jackson @jgyszn
Jamie Garcia // Michelle Samson // Bruce Allen @apetiteperformer @misafloral @thebruceallen
Jamilla Okubo @jamillaokubo
Jess Aguero and Justin Espiritu @jess_aguero
Joseph A Le @josephle_art
Julia Chon (Kimchi Juice) @kimchi.juice
Julia Um @juliasrum
Julie Wu @wulieju
KeyHan @keyhansolo
Kim Sandara @kimthediamond
Leangelo Acuna @acunamatata17
Lisa Thach @lthach015
Maeve Leslie @maeve.leslie
Maria Miller @mariamillerart
Mark Bravante
Matt Manalo @mattmanalo
Michelle Sok
Michelle Chen @shiyuart
Mikey Yates @mikey_yates
Monolith @monolithdc
Nico Fertakis @nicofertakis
Rhea R. Dones @rheadones
Ria Baldevia @riabaldevia
Sara Diani @_saradiani_
Sarah Coloma @Sarahcoloma
Senna J Ahmad @sennaahmad
Shani Shih @shanishih
Sherry San Miguel Meneses @soulandinkcrew
Shyama Kuver @heartovercrown
Slammer // Shoog McDaniel @soupysecurity // @shooglet
Sonia Prabhu @raver.aunty
MONOLITH @monolithdc
Sylvia Guan @sguanart
Ta Phal @goldenpimp
Tammy Nguyen @tammowhammo
Yoo A Kang @printsbykya
Yuno D Baswir @yunodb
ABOUT SAMASAMA
The term SAMASAMA means all together in Tagalog. Bayanihan is a Filipino custom derived from the Tagalog word bayan, meaning community.
From the outside, AAPI communities are often perceived as devoid of meaningful difference in identity and experience. From the inside, our communities live vibrant, varied lives - but remain divided by a lack of exchange between our cultures and ongoing histories.
Our goal is to examine the multicultural American experience. Breaking through stereotypes and boundaries because diverse stories, perspectives, and contributions to push humanity forward.
-
CONTINUED COMMUNITY EVENTS
This event is part of SAMASAMA's family-friendly, community programming.
• May 1 | SAMASAMA Art Show & Gathering Opening Reception
at Shopkeepers
• May 18 | Family Weekend: Wong People Kung-Fu 101 at Shopkeepers
• May 19 | Family Weekend: Make Books/Read Books with DCPL, Stencil & Calligraphy Workshops at Shopkeepers
• May 25 | Closing Reception at Shopkeepers
• May 26 | Batang Kankaloo & Parle-G Baby Present: Better Luck Tomorrow at Slash Run
-
*Special thanks to our volunteer committee, participating artists and partners.