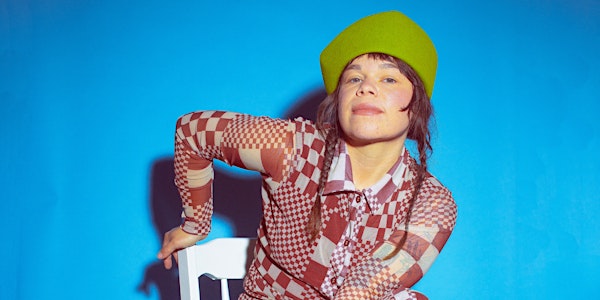 Samantha Crain
ALL AGES
Presented by Indie 102.3. All sales final.
Swallow Hill and Indie 102.3 excitedly welcome Samantha Crain to our Tuft stage!
When and where
Location
Swallow Hill Music - Tuft Theatre 71 East Yale Ave Denver, CO 80210
About this event
Singer and songwriter Samantha Crain plays music that is informed by several strains of folk while also reflecting the influence of contemporary indie sounds. Of Native American heritage, Crain's voice is strong while possessing an expressive quaver that adds to the emotional impact of her songs, which are personal efforts that blend a contemplative introspection with a keen eye for the world around. On albums like 2009's Songs in the Night and 2015's Under Branch & Thorn & Tree, Crain's feet were planted firmly in folk without ignoring newer trends in acoustic music and Americana, while 2017's You Had Me at Goodbye was a bold, lively dive into indie rock that put a brighter spin on her usual themes.
Samantha Crain was raised in rural Shawnee, Oklahoma, a town whose remote location influenced her quirky, earthy interpretation of folk music. Although inspired by the sounds of her father's music collection, including Bob Dylan and the Grateful Dead, an adolescent Crain took even greater solace in the music of her home state, from the rootsy Americana of Woody Guthrie to the sonic experiments of the Flaming Lips. She later enrolled at Oklahoma Baptist University, where she spent several semesters working toward a degree in English Literature before registering for a semester-long songwriting retreat. Located off-campus on Martha's Vineyard, the program allowed Crain to transform herself into a songwriter with a knack for narrative storytelling. She then returned home, where unpaid student loans convinced her to pursue a career in music instead. Ramseur Records took note of Crain's work schedule, which saw her crisscrossing the country with guitar in tow, and ultimately offered her a spot on the label.
The Confiscation EP
The Confiscation, a mature EP featuring harmonica, tambourine, lap steel guitar, and Crain's unembellished vocals, marked her Ramseur debut in 2007. Her first full-length album, Songs in the Night, which was credited to Samantha Crain & the Midnight Shivers, appeared the following year. Her sophomore LP, You (Understood) was released in 2011, and the forcefully intimate, autobiographical Kid Face, her first with indie rocker John Vanderslice as producer, arrived in 2013 to widespread critical praise. Released via the Full Time Hobby label in 2015, Under Branch and Thorn and Tree also featured Vanderslice, who didn't shy away from strings and synthy sounds while Crain rawly addressed themes of the working class and the socio-politically disregarded ("The 99 Percent"). Crain set about writing her fifth album back in Norman, Oklahoma over a four-month period while working shifts at a local pizza restaurant. Drafting Vanderslice once again to produce, Crain headed to Oakland, California to record at the Tiny Telephone studios. The resulting You Had Me at Goodbye, was released in early 2017.
A Small Death
By the end of that year, Crain was struggling with health issues, as tendonitis and carpal tunnel syndrome combined with injuries sustained in an auto accident, making it impossible for her to play guitar. Crain fell into a deep funk, but physical therapy and counseling helped her overcome her health, and creatively revitalized, she began work on a new album. The results, A Small Death, was released in July 2020.