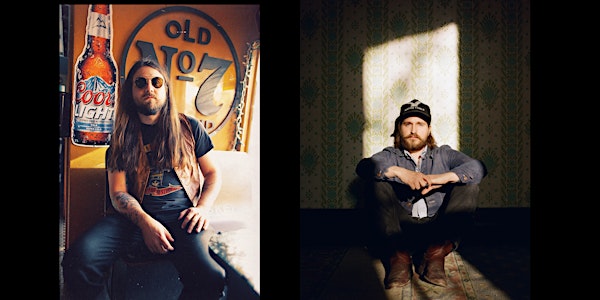 Sam Morrow with David Quinn
Guitar-driven, groove-heavy, country-fried Americana
Date and time
Starts on Thursday, April 27 · 7:30pm EDT.
Location
The Evening Muse 3227 N. Davidson Street Charlotte, NC 28205
Performers
Headliners
More Performers
About this event
2 hours 30 minutes

ALL AGES

Mobile eTicket
Two years before releasing Gettin' By on Gettin' Down — the most guitar-driven, groove-heavy album of Sam Morrow's catalog, with songs that roll just as hard as they rock — Morrow hit the highway in support of his third record, Concrete & Mud. Despite the 28-year-old being a road warrior for years, this time things felt different. Joined by a band of amplified roots-rockers, Morrow spent eighteen months traveling halfway across the world, playing Concrete & Mud songs to the biggest audiences of his career. By the time the dust settled, he'd become a staple of Americana radio on both sides of the Atlantic, with outlets like Rolling Stone and NPR singing his praises.
Those road miles set the stage for Gettin' By on Gettin' Down, a modern album that revisits — and reshapes — the primordial sounds of hip-shaking rock & roll. These nine songs are rooted in grease, grit, and groove, from the swampy soul of "Round 'N Round" to the funky syncopation of "Rosarita" to the hook-laden rock of "Money Ain't a Thing." There's hardly an acoustic guitar in sight; instead, amplifiers and guitar pedals rule the roost, with everything driven forward by percussive rhythms that owe as much to R&B as country music. Written and recorded in the wake of Concrete & Mud's acclaimed tour, Gettin' By on Gettin' Down doubles down on the electrified fire and fury of Sam Morrow's live shows, with a road-ready band joining him on every song.
Facebook | Instagram | Spotify
******
David Quinn's third album was born from a logo on a decades-old ashtray he found in a corner
nook at Nashville's Sound Emporium while tracking his previous record. The amber glass piece
had seen better days, but it was the words "Country Fresh" imprinted on the side in its vintage
font that grabbed Quinn's attention. "I never stopped thinking about it and started using the
phrase 'country fresh' to describe how I was living and all the things that I like. It just stuck with
me and once I wrote the song 'Country Fresh' it ended up being the whole theme of the
record."
Alongside this star-studded ensemble, Quinn recorded a love letter to the midwest with tunes
that tell stories of lost love, the open road, and finding one's place in the world. Country Fresh
is a collection of country-fried Americana gems corralled by Quinn's singular voice and expertlyspun tales of heartache and triumphs amidst a vast midwestern landscape.
Throughout the album, Quinn gives a masterclass in storytelling with the ability to stage vibrant
vignettes of life, home, and heart. He burns through the songwriting at a cool stride, allowing
you the chance to see yourself in his stories.
Country Fresh is a statement-making record of gutting, instinctual song craft. It's depth is built
from the road less traveled, but traveled often. There's nothing pretentious about what Quinn
has created here; Country Fresh simply sounds like its creator is taking you along on the ride of
his life.
About the organizer
**IMPORTANT UPDATED COVID POLICY
"WE ASK ALL EVENING MUSE PATRONS TO FOLLOW THE CURRENT CDC GUIDELINES WHEN ATTENDING AN EVENT HERE AT THE MUSE.
IF YOU WERE EXPOSED TO COVID-19 AND ARE NOT UP TO DATE ON COVID-19 VACCINATIONS, STAY HOME AND QUARANTINE. IF YOU ARE SICK OR TEST POSITIVE FOR COVID-19, ISOLATE AND DO NOT ATTEND PUBLIC EVENTS. SINCE CHARLOTTE / MECKLENBURG COUNTY HAS LIFTED THE MASK MANDATE WE THOUGHT WE SHOULD MAKE IT CLEAR THAT WE STAND FOR PERSONAL CHOICE IN THE MATTER. BOTH STAFF AND PATRONS ARE ENCOURAGED TO AND RESPECTED FOR THEIR PERSONAL CHOICE REGARDING THE WEARING OF A MASK. WE CONTINUE TO ENCOURAGE FULL VACCINATION AND AS ALWAYS THANK YOU FOR YOUR CONTINUING SUPPORT AND FOR HELPING TO KEEP OUR VENUE AS SAFE AS POSSIBLE DURING THESE CHALLENGING TIMES."
Everyone must have their State Issued ID scanned at the door. If you are over 21 but do not have a legal ID, we will not be able to serve you adult beverages. For All Ages Shows, there is a surcharge at the door if you are under 21.