Sam Horn's 2013 "East Coast" Strategic Retreat

Friday, June 21, 2013 at 6:00 PM

-

Sunday, June 23, 2013 at 3:30 PM (EDT)
Who's Going

Loading your connections...
3 of your friends are going.
Share it to get more people on board!
Share

Sara Haughty
San Francisco, California

Luke Picard
London, United Kingdom

Rick Vespucio
Florence, Italy
Event Details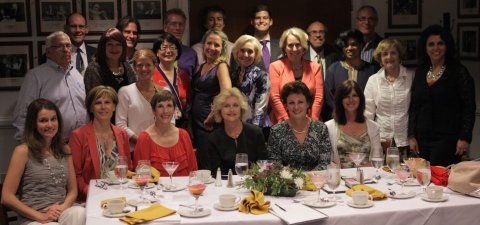 Why Is It Worth Participating in Sam Horn's        East Coast Strategic Retreat?                                     
"Individuality is fine, as long as you do it together." Frank Burns, M*A*S*H
Wouldn't it be nice to:
*  have a brain trust - a board of advisors - helping you make an important decision so you don't have to figure everything out yourself?
*  set aside a weekend to focus on a project you've been procrastinating on?
*  benefit from other people's best practices so you can avoid costly trial-and-terror learning and time-consuming mistakes?
*  create a strategic plan that holds you accountable for finishing a priority project so you don't feel like you're spinning wheels and getting nowhere fast?
* get away from it all for a weekend to brainstorm your top priorities with a group of smart, talented individuals who have your back ... and your front? 
Imagine how wonderful it would be to:
*  unplug from your busy life for a few days to get fresh perspectives from people from a variety of professions.
* be part of a collaborative community where everyone has a voice, everyone counts, everyone contributes, everyone receives, and everyone is elevated.
*  clarify how you can complete a #1 goal so you have something meaningful and tangible to show for this year.
If all the above sounds good, join us June 21-23 for our Strategic Retreat in Wash DC - Reston, VA.
Many retreaters have thanked us for catalyzing rewarding relationships and increased revenue they said never would have happened otherwise.
For example, previous retreaters have thanked us for helping them:
*  strategize a career change and innovative approach that helped her land a VP position and dream job with a well-known, respected internet company
*  find a world-class branding consultant (clients include Jaguar & Wynn Hotels) who's now collaborating on the launch of his new message/mission.
*  connect with a successful corporate speaker who hired her to deliver paid presentations for a Fortune 500 client in 10 cities around the U.S.
*  meet the perfect writing partner (we don't call them ghost-writers) who is helping her produce chapters on her long-delayed book while she's working full-time
*  craft a funding proposal that attracted investors for her start-up
*  re-boot a career after taking time out - 2 years - to care for an ailing parent
*  POP! their website so more visitors were converted into paying clients 
*  figure out how to leverage a round-the-world trip into a entrepreneurial career
*  perfect a book pitch that resulted in a 5 figure deal with a major NYC publisher
What would YOU like to focus on at this retreat? 
What is a decision you're trying to make, a product you're trying to launch, a business you're trying to grow, a career transition you're trying to strategize?
We believe in facilitating retreats that are positive, pro-active and productive.
Our goal is to create a joyful experience where everyone  gets to discuss what matters most and receive encouragement, smart advice and practical next steps.
The result?  Lifelong friendships, mutually-rewarding business alliances and increased income and impact.

Give me details!                                                                  
1.  We start our retreat on Friday night at 6 pm at the historic National Press Club, located in the center of our nation's capitol, one block from the White House.
Take a picture of yourself in the Hall of Flags or at the National Press Club lectern.
Walk the halls and look at the photographs of all the newsmakers - from Margaret Thatcher to Nelson Mandela -  who have held press conferences here. 
Check out the ballroom where Elon Musk, Angelina Jolie, Thomas Friedman, George Clooney, Serena Williams, Desmond Tutu and Tom Hanks have spoken. 
At our hosted dinner (our treat), everyone has an opportunity to share their goal for the weekend, so you can kick-start having  everyone's brain on your priority.
2.  The Sat. and Sun. sessions are held

at Sam's lakeside home

 in Reston, VA (less than
 15 minutes from Washington D.C.'s Dulles International Airport).  
Picture yourself brainstorming and strategizing your priorities while looking out at this view of Lake Audubon and our Olympic-size pool.
Bring a swimsuit and take a dip in the lake or pool during lunch. 
Or, bring your walking shoes and stroll along the shaded, wooded lake path or stream valley park.  You might as well be in the beautiful Shenadoah mountains.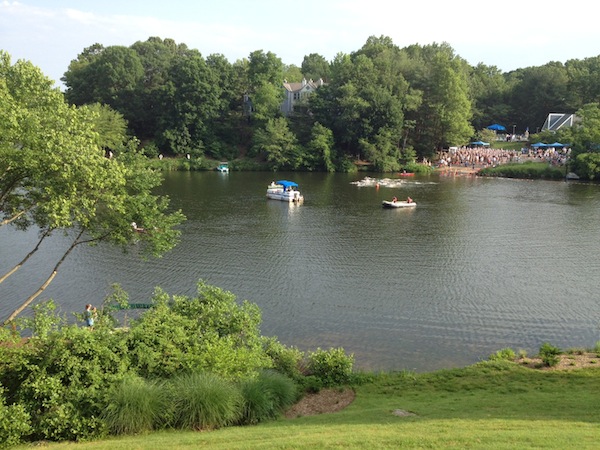 3.  The work sessions on Sat. (9 am - 5 pm) and Sun. (8:30 am - 3:30 pm) give you multiple opportunities to brainstorm/strategize what you'd like to achieve by the end of 2013.   That could include anything from:
*  growing your consulting/coaching business by attracting new clients
*  polishing a one-of-a-kind presentation that gets you booked and asked back
*  figuring out how to get more international business so you can travel overseas
*  leveraging your expertise so you become a go-to topic expert & media resource
*  installing systems so you can work on your business instead of in it
*  positioning yourself for a promotion or to put in charge of a big project
*  planning your pre-tirement and finding a successor for your business
*  increasing your internet presence and online income via e-products
Everyone will produce a timeline, with monthly deliverables, to hold themselves accountable for successfully achieving or completing their goal by the end of 2013.
4.  During our catered Sunday brunch, everyone will have a chance to share a highlight of the retreat and their plan for implementing it when they get home.
5.  Lunch and dinner on Saturday are on your own. 
Feel free to check out CafeSano (2 minutes away on Lake Thoreau. Everyone raves about the wood oven pizza and fresh organic wraps and salads.) 
Or, visit Reston Town Center with more than 20 top restaurants to choose from, along with boutique shops, an outside summer concert and movie theaters.
6.  Traveling from out-of-town? 
We have arranged a room block with the Embassy Suites - Dulles Airport and they are offering a discounted rate for our retreat members.
The special hotel rate is $109 per-night - which includes a suite room, continental breakfast and free Happy Hour.   Such a deal!

Hotel Information:
Embassy Suites - Dulles Airport
13341 Woodland Park Drive, Herndon, Virginia, 20171, USA
TEL: 1-703-464-0200
Please book your room ASAP and be sure to tell the Embassy Suites operator you're with Sam Horn's Retreat so you qualify for the special rate.
7.  Attire for the Friday night dinner at the National Press Club is business. 
Be sure to bring your camera so you can take photos of this special place.  
Many previous attendees have enjoyed sharing their once-in-a-lifetime pics at the National Press Club on their websites, blogs, marketing materials and with their followers on Facebook and Twitter.
Attire for the Sat-Sun sessions is weekend casual.  
Remember to bring walking shoes and a swim suit if you want to go outside and take advantage of our nature trails and swimmable lake.
8. We keep our group size small - 16 people max - so everyone has an opportunity to received focused attention from Sam and the group.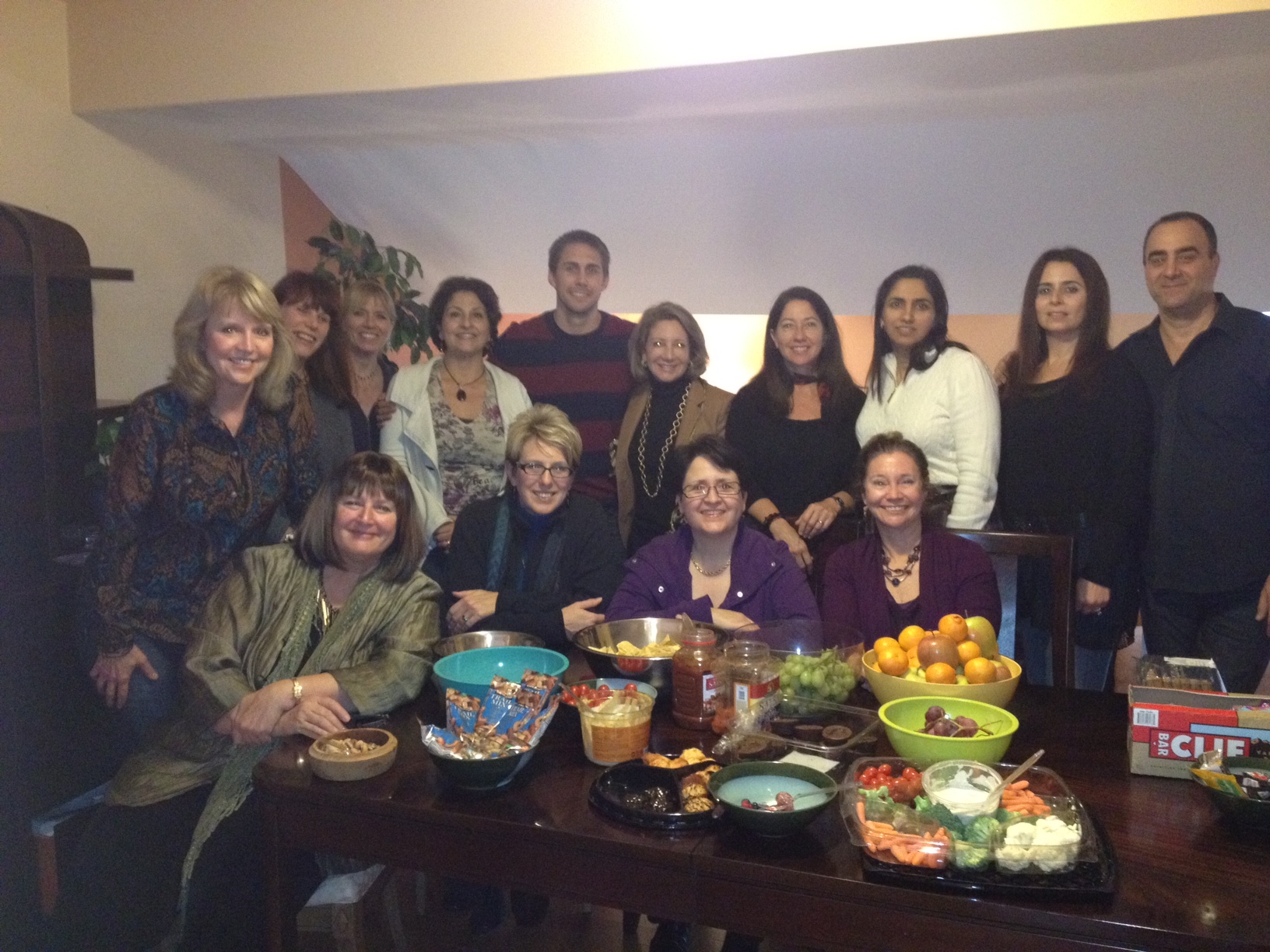 In case you're wondering who attends our retreats; we get an eclectic mix of men and women of all ages and walks of life including:
*  a round-the-world traveler who wanted to leverage his unique experiences into a paid speaking career 
*  a Fortune 100 VP wanting feedback to his novel-in-progress
*  a respected branding expert ready to reposition his company to reach a new target audience
*  a Stanford physician positioning herself as a medical industry thought leader
*  former executives with Apple, HP, Grainger and Lockheed Martin planning next steps for their career
*  a former chiropractor who wanted to scale her in-person and virtual coaching practive world-wide
*  an owner of an online retail business who wanted to ramp up media attention so she could receive funding from investors
*  many authors wanting to crystallize a legacy message and signature topic so they could write a book that would break out vs. blend in
*  some 50-somethings wanting to figure out their SerenDestiny - and "what to do with the rest of my life"
As you can see, our retreaters come from a wide range of professions and have a variety of purposes for attending our retreats.
What they have in common is they're yearning for an opportunity to be part of a group process where they can bounce their projects off fresh "eyes and ears."
They're eager to hear other people's opinions about what's working and what's not so they can move their project forward now ... not someday.
9.  The fee for the retreat is $1800 - which includes the Friday night dinner and Sunday brunch.
Are you thinking, I want and need to come to this retreat; but my cash flow's a little low right now."
If that's the case, we have payment plans available.
Call Cheri Grimm at  (805 528-4351) ASAP to make arrangements and to reserve your spot.
10.  To put the $1800 fee in perspective, many retreaters have told us:
this was the single best investment they made in their business all year. 
they made valuable contacts that generated thousands of dollars in revenue.
they crystallized a one-of-a-kind positioning for their business and brand that helped it get national media attention and major clients
the retreat set into motion accountability systems that helped them finish (finally) a long-postponed project that scaled their income and impact
"I found my peeps... what a joy to connect with interesting people who are making a difference in the world. I enjoyed every minute."
11. Want an even deeper discount on the retreat?
Sam's private consulting clients recieve a special rate for retreats.
Call Cheri at 805 528-4351 to receive information on how you can become a private consulting client and work with Sam one-on-one.
If you purchase the  2-day Platinum Package, a 1-day Gold Package or a half-day Silver Package you qualify for this special rate.
How do I qualify for a special rate?             
For details on Sam's consulting packages and how to receive the discount for Sam's Strategic Retreat, contact Cheri@SamHorn.com by June 1, 2013. 
(Please note: The consulting time you purchase in your Silver, Gold or Platinum Package must be used in 2013.)
Do you want 2013 to be your best year ever? 
We hope you'll join us from June 21-23 for our RAH -  "rising tide raising all humans" - weekend so you can connect with intriguing people from all walks of life.
We hope you'll invest in your best future and set your SerenDestiny in motion by registering now for the retreat.
What's SerenDestiny?  It's a life where the lights are on in your eyes because you're getting paid to do what you love most and do best.
That's one of our goals for this retreat. 
Let us help you clarify what you care most about - and how you can take responsibility with the help of our group for making that happen - so you meet your best future halfway and make 2013 your best year ever.  

Questions? Contact us at cheri@intrigueagency.com. 
We look forward to seeing you in June here in Wash DC and Reston.
When & Where

Wash DC and Reston, Virginia
10998 Thrush Ridge Rd
Reston, VA 20191


Friday, June 21, 2013 at 6:00 PM

-

Sunday, June 23, 2013 at 3:30 PM (EDT)
Add to my calendar
Sam Horn's 2013 "East Coast" Strategic Retreat