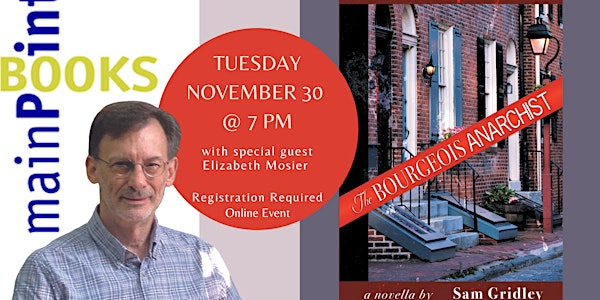 Sam Gridley with Guest Elizabeth Mosier
Main Point Books welcomes Sam Gridley, aka Douglas Gordon, and special guest Elizabeth Mosier
Refund Policy
Contact the organizer to request a refund.
About this event
Main Point Books welcomes Sam Gridley, aka Douglas Gordon, and special guest Elizabeth Mosier, to celebrate the release of "The Bourgeois Anarchist."
About the Author
After being born in Pittsburgh, Sam Gridley, a.k.a. Doug Gordon, lived in 20 other cities before the age of 29. Or perhaps there were more towns that he can't remember. Since settling in Philadelphia, though, he has scarcely budged except to walk the dog.
As an author, he has published two novels, The Shame of What We Are and The Big Happiness, as well as stories and satire in more than sixty magazines and anthologies. He has received two fellowships from the Pennsylvania Council on the Arts, a Wallace Stegner Fellowship from Stanford University, and several awards from obscure literary journals. The Bourgeois Anarchist may be his third novel, or maybe it's a novella, nobody knows for sure.
About the Book
Susie Alioto is a longtime political militant. After college she spent two decades in an anarchist commune, and at age 66 her beliefs haven't wavered. She protests with young people to demand justice and human rights. She marches for gun control, for Black Lives Matter, for action against climate change. A portrait of her special anarchist hero, Errico Malatesta, hangs on her refrigerator with an inspirational quote of his: "Impossibility never prevented anything from happening."
Yet Susie now teaches at an expensive private school, and her life is comfortably middle-class. Her son Eric, a budding mathematician, mocks her as a "bourgeois anarchist."
As the story opens, violence breaks out at a peaceful rally, and Susie is injured. A young woman dressed in Antifa gear rescues her, and Susie is drawn into a mysterious intrigue involving angry activists and devious capitalists, gentrification, arson, even mobsters. Cops pound on her door to demand information. Though Susie tries to hew to her principles, the true nature of justice becomes muddled, and her anarchist heroes-including the grizzled Malatesta on her refrigerator-provide no clear answer. People's lives are involved, and she doesn't know what to do. The dilemma escalates into an existential crisis.