Description
Reclaiming Our Democracy
Sam Daley-Harris
Founder of RESULTS, CEO of the Center for Citizen Empowerment and Transformation, and author of Reclaiming Our Democracy: Healing the Break Between People and Government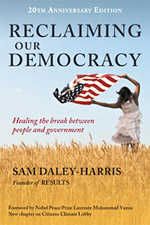 Wednesday, October 9, 2013
5:30 - 7 p.m.
Cowles Auditorium
Sam Daley-Harris—author, activist, and social entrepreneur—discusses the role of citizens' organizations in global movements involving microfinance, child survival, and climate change. On the occasion of the 20th anniversary edition of his work, Reclaiming Our Democracy, he will reflect on the efforts by ordinary citizens around the world to transform hopelessness into powerful advocacy. Humphrey School Senior Fellow and resident grassroots democracy philosopher Dr. Harry Boyte will offer comments.
Read more about Daley-Harris's work and book here.
This event is free and open to the public

For parking and directions please go to:
http://www.hhh.umn.edu/contact/parking.html
To request disability accommodations, please call 612-625-5309 or email hhhevent@umn.edu
The University of Minnesota is an equal opportunity educator and employer
Organizer of Sam Daley-Harris: Reclaiming Our Democracy
The Humphrey School of Public Affairs ranks among the top professional schools of public affairs at public universities in the country.  The School is widely recognized for its role in examining public issues and shaping policy and planning at the local, state, national, and international levels, as well as for providing leadership and management expertise to public and nonprofit organizations.