Description
---
---
Inspired by Dali... Five Course Dinner with Wine Pairings
at Bistro Cacao
"At the age of six I wanted to be a cook..." Dali
Salvador Dali obviously never became a famous chef, but in 1973 he did create an over-the-top cookbook - released in English late for the first time in 2016.
Inspired by Les Diners de Gala, Chef Kemal Deger of Bistro Cacao on Capitol Hill will present his interpretations of five Dali recipes in a week-long dinner event. Just as Dali required his guests to wear outlandish costumes, Bistro Cacao is encouraging diners to show-up in their best "Daliesque" party attire.
Dali's cookbook showcases bizarre food illustrations and the recipes from the worldwide lavish dinner parties hosted by Dali and his wife Gala. Influenced by those years from 1926 when they lived and partied at the famous Le Meurice Hotel in Paris and at their apartment in Montmarte, the book features mostly French cuisine.
Explaining that many of the dishes are classic French, Chef Deger will offer an updated version, using less flour and gluten, for example. He will forgo his temptation to experiment with Dali favorites, "Pigs Ear Soup", "Ox Snouts in Puff Pastry" and "Mulligan Oxtail" and opt for the following menu: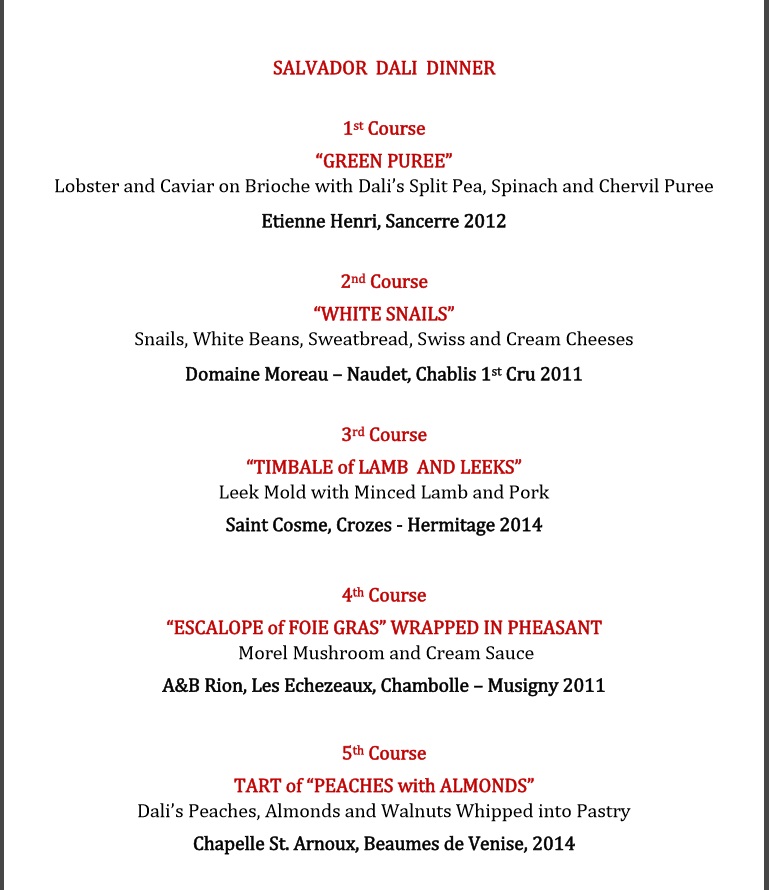 Additional Information:
Guests who dress in the style of Dali or his wife Gala will receive a $25 Gift Certificate to be used at a future date at Bistro Cacao