Description
In honor of Veteran's Day, come join Women's Council of Realtors in our salute to service for U.S. military and space exploration. Our guest speaker is Ms. Heide Piper, who will share her experience as a lady leader. Today's program honors military service personnel who have served in the U.S. Army, Navy, Marines, Coast Guard, and NASA space program. Veterans United Home Loans is our brunch sponsor, featuring Melody Tice as our Strategic Partner. Today's speaker is sponsored by WCR Past President Kay Merg and Re/Max United. Thank you friends for your service, membership and partnership! Together we will succeed.
WHO: Real Estate Professionals in San Diego County
WHAT: Brunch, Networking, Motivational Presentation from Heide Piper
WHEN: Thursday November 9th at 10:00 am
WHERE: Admiral Baker Clubhouse, San Diego
P.S. Arrive early at 9:00 am for a special leadership chat!
BIO: Heidemarie M. Stefanyshyn-Piper, retired Captain, US Navy is one of the first women in Space. Captain Piper was born and raised in St. Paul, Minnesota. She attended the Massachusetts Institute of Technology on a Navy ROTC Scholarship, earning a Bachelor of Science degree in Mechanical Engineering in 1984 and a Master of Science degree in Mechanical Engineering in 1985. She served in the U.S. Navy for 30 years, retiring in July 2015. As an Engineering Duty Officer, she served at various ship repair facilities and on maintenance staffs. She is an experienced Navy Diving and Salvage Officer. Selected as an astronaut by NASA, she is a veteran of two space flights: STS-115 on the space shuttle Atlantis in September, 2006 and STS-126 on the space shuttle Endeavour in November, 2008, logging over 27 days and 15 hours in space. She has completed five space walks, totaling 33 hours and 42 minutes of Extra-Vehicular Activity (EVA) time. She and her husband currently reside in Oak Harbor, WA.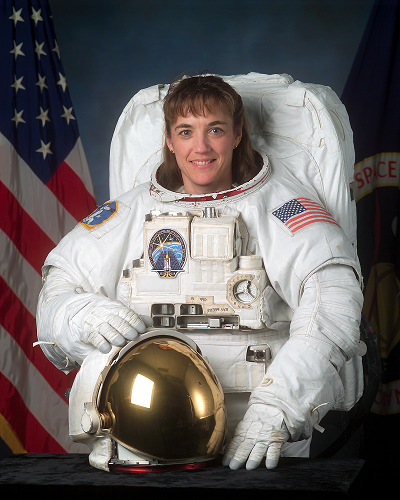 Come and be inspired by this awesome national speaker! Our brunch is open to both men and women in the real estate industry.
THE MISSION OF WOMEN'S COUNCIL OF REALTORS®
We are a network of successful REALTORS®, advancing women as professionals and leaders in business, the industry, and the communities we serve.
OUR VISION
Through our influence as successful business professionals, women will effect positive change in the profession and in the broader community.
MESSAGE FROM THE PRESIDENT
Welcome to the Women's Council of REALTORS®, San Diego! Our successful, award-winning network is one of the largest and most respected in the country. Our membership includes successful REALTORS® (both brokers and sales agents), affiliates, sponsors, and students pursuing real estate careers. We welcome both women and men to our network.
Our primary purpose is to help our members become more successful in their careers and gain leadership skills they can use in their business, in our network, and in their communities. WELCOME and we're happy you are here with us. Together let's learn, develop, and become tomorrow's business leaders in the real estate industry.
#CatchTheVision
With Gratitude,
Regina P. Brown
2017 President
Women's Council of Realtors® San Diego


REFUND POLICY: Due to our commitment to number of seats at the venue, we will NOT be able to honor any refunds. If you are not able to attend, please make arrangements to transfer your ticket to a friend and notify our Program Director, Jill Vodicka at jillvodicka@gmail.com - THANK YOU!
Date and Time
Location
Refund Policy