Join us for an exciting night of celebration, dynamic music by Denise Davis & the Motor City Sensations, great food and tons of fun!
About this event
Join us on March 14, 2020 for an exciting celebration of 35 years of service in Livingston County and the future for our community!
We will kick off the celebration at St. Joseph Church in Howell at 5:00pm with a special mass said by Bishop Earl Boyea. Reception and dinner with other fun activities begins at 6:30p. Other activities include honoring a local community Star, past & present Board members and Executive Directors, raffles, photo booth, cash bar, goodwill ask and the electrifying music by Denise Davis and the Motor City Sensations.
Star Sponsor: Ascension South East Michigan Community Health
Entertainment Sponsor: Bruce & Elizabeth Hundley
Media Sponsor: Chestnut Real Estate
Platinum Sponsors: K of C #12295; Garrison Enterprises LLC; St. Joseph Mercy Health System; STEPS Community Action Center
Ticket Sales Close on March 8, 2020 at 11pm.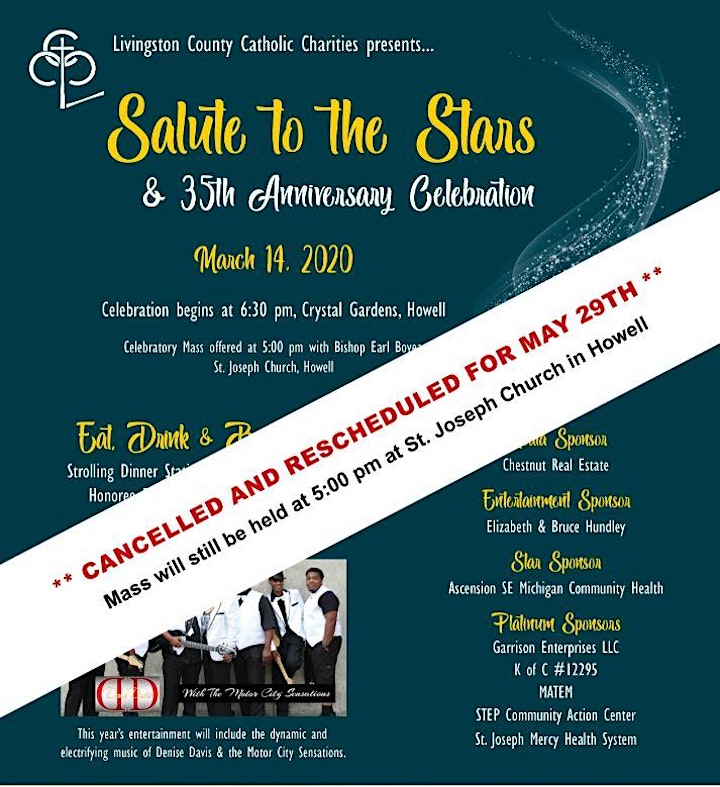 Get your tickets today for this toe-tapping event! We're going to celebrate our 35th anniversary and celebrate our future and would LOVE to have you join us!
Organizer of Salute to the Stars & 35th Anniversary Celebration
Livingston County Catholic Charities is a local non-profit serving Livingston County, MI regardless of age, religion, race, gender, disability and financial ability.  Services offered are:  Mental Health Counseling, Substance Abuse Treatment & Prevention, Foster Family Care & Adoption services, Be Our Guest Adult Day Service, Prevention of Elder Abuse Neglect and Exploitation, Special Ministries (adults with disabilities) and our two senior outreach programs - Community Liaison (connecting seniors to critical resources) and Volunteer Caregiver Program.  Visit our web site to learn more about each service - www.livingstoncc.org.