Description
The 1st Annual SaludConTech Symposium @ Google HQ in Venice
Health Innovation In The Latinx Population
SaludConTech
Manos Accelerator
Google Developers
* Complimentary dinner and drinks provided by Google Developers


Leveraging Technology To Improve Healthcare Delivery In The Latinx Population 4:30pm
Building A Healthcare Startup 5:00pm
Breakout session: Coding For Latinxs 5:00pm
Dinner & Networking 6:00pm
Latinxs in Health Tech 7:00pm
Human Centered Design For The Underserved 7:00pm
Close & Networking 8:30pm
Our aim is to create a network of thought leaders to spur new solutions and connections among the many of us involved in the intersection of (1) health innovation/technology, (2) healthcare delivery, public health & social inequalities as it relates to (3) Latino/a Health.
SaludConTech is a membership organization that seeks to lead efforts that improve the health and wellness of Latino/as and other underserved groups by leveraging technology to create innovative solutions to improve care delivery.
RSVP and obtain your complimentary ticket below... Your ticket includes complimentary dinner and drinks provided by Google Developers.
More information is available at: www.SaludConTech.com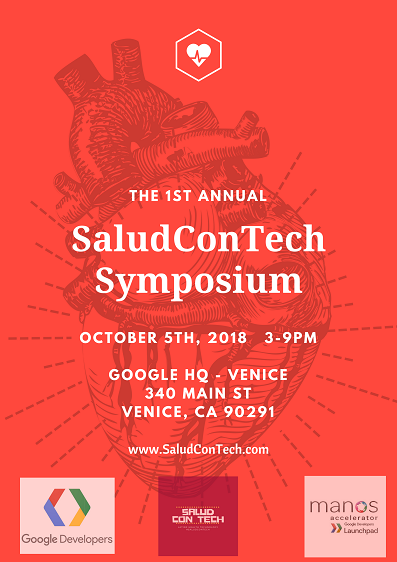 Cynthia Gomez

Silversheet

Vice President, Customer Experience

Abner Mason

ConsejoSano

CEO