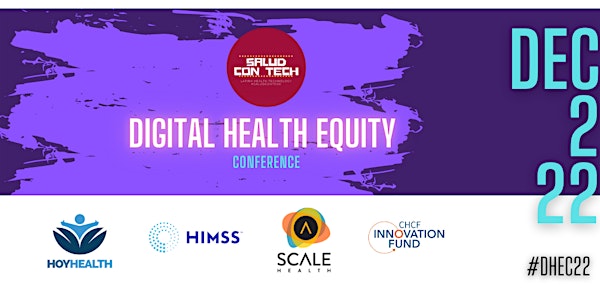 SaludConTech Digital Health Equity Conference #DHEC22
An inclusive ecosystem-building community providing entrepreneurial support for Latino/as and other innovators of color.
When and where
Location
ScaleHealth 3415 South Sepulveda Boulevard FL 10 Los Angeles, CA 90034
Refund Policy
Contact the organizer to request a refund.
Eventbrite's fee is nonrefundable.
About this event
The SaludConTech Digital Health Equity Conference
Building A Digital Health Ecosystem for Communities of Color
Hybrid Event: Virtual and In-Person (Los Angeles)
December 2nd, 2022: 10 AM - 5 PM
In 2018, hundreds of you joined us at Google HQ In Venice, California, for the first SaludConTech Symposium. Beyond the many inspirational talks, we were amazed by the connections made and friendships built. Each time we bring our familia together, whether in-person or online, we are astounded by the passion, expertise, and creativity among us. We have found that the most valuable aspect of our gatherings derives from our members sharing their stories, experiences, and lessons learned.
The conference will bring together thought leaders from across the healthcare spectrum, embracing the intersection of health equity and digital health to explore the role of technology in addressing health disparities in minority communities. The conference is an opportunity to network with forward-thinking subject matter experts as we explore the role of technology in addressing health disparities to advance digital health equity in communities of color.
Target Audience (overall program): a community of innovators and pioneers spanning the entire health ecosystem, including entrepreneurs, investors, physicians, public health leaders, government officials, academics, payors, policymakers, and patient advocates. Learning Objectives (overall program): At the conclusion of this conference, attendees will be able to:
Bridge gaps in care by utilizing technology to foster connections with other organizations and the surrounding community.
Implement various strategies for digital engagement with patients and community members.
Discuss the full range of health innovation solutions with community members.
Assist community members in overcoming the digital divide.
Discuss interventions that address digital exclusion and the role of digital literacy.
Identify resources to help provide support for community members to receive digital health care.
Digital Health Equity
Digital health equity is the state in which technology facilitates the fair and just opportunity for every individual to achieve their highest potential in all aspects of health and well-being.
If we want health and technology to intersect in a way that is inclusive and represents the tapestry of our communities, we must prioritize and value diversity and build the necessary environment that creates opportunities for those that have been traditionally left out. Although diversity is the engine that drives innovation, we embrace diversity because it's nuestra cultura, and it's the right thing to do.
SaludConTech
SaludConTech is an inclusive ecosystem-building community that provides entrepreneurial support for underestimated founders of color. We seek to build a diverse subset of digital health visionaries by partnering with key stakeholders and social capital networks to facilitate connections and provide the opportunities and community needed to succeed.
SaludConTech is an inclusive ecosystem-building community that provides an entrepreneurial infrastructure for Latino/a/x and other innovators of color. We seek to build a diverse cohort of digital health visionaries with lived experience to lead efforts that improve the health and wellness of our own communities.
We believe the keys to new value and growth not only reside within one's current boundaries but beyond them. By partnering with key stakeholders and social capital networks, our community of partners, who work alongside us to close diversity gaps, offer mentorship (advisory) and sponsorship (advocacy) so that underrepresented founders and investors with firsthand community knowledge can lead, shape, and fund a more equitable future.
Join us as we foster new ideas and strengthen collaborations with our surrounding communities.
If you are interested in being a sponsor or have a question, please email us at events@saludcontech.com
COVID-19 health and safety guidance
No pre-event COVID-19 testing is required
Masking is optional except for PHI employees
Up-to-date vaccines are required.
#DigitalHealth #DiversityInMedicine #HealthTech #LatinxHealth #LatinoHealth #LatinaHealth #HealthEquity #HealthCareDisparities #VacunaTeYa #DigitalDivide #DigitalInclusion #DigitalLiteracy #SDOH #LatinxInTech #LatinosInTech #LatinasInTech #HealthInnovation #HealthDesign #TeleHealth