Description
SaltDog Classic

2019
---
Come one, come all to the 5th annual SaltDog Classic festival. This event features rising talented bands like Taken By Canadians and Shanehallofficial, plus a litany of local craft breweries joining from all over town. Check out the list below.

Designed as both a festival and a fundraiser for local nonprofits, we are proudly supporting Rancho Coastal Humane Society and their animal shelter. They will be hosting a silent auction and live raffle with premium packages and prizes. Join us this Oct. 20th at Encinitas Community Park.

Featured Breweries:
------------------------------------------
- Pizza Port Brewing Co.
- Creative Creature Brewing
- Abnormal Beer Company
- Brujos Brewing
- Burgeon Beer Company
- Horus Aged Ales
- Growler Hour
- Mason Ale Works
- Woodhouse Blending & Brewing
- Culture Brewing Co - Solana Beach
- Pure Project at Balboa Park
- Flora Brewing Co.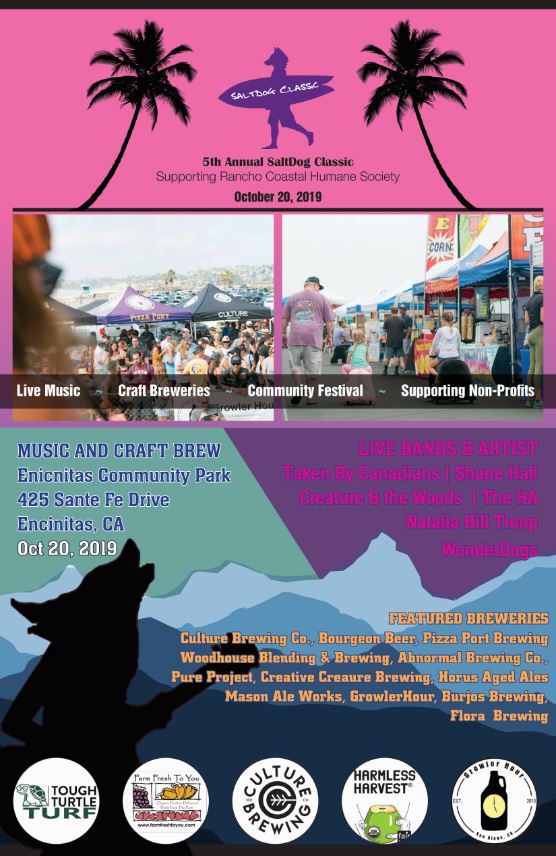 We are honored to provide such an eclectic and tastefully curated list of craft brewers and would like to give a howl out to our friends, Chris and Matt with Growler Hour, for putting this team of craft brew enthusiasts together.

Vendor List Growing:
------------------------------------------
FACE-Foundation For Annam Charity Ease
Art N Soul on 101
Farm Fresh To You
YMI Creative Inc.
VCA Animal Hospital
Color Me Baubles
SwigStick
Simply Sassy by Borga
Waterfallz Jewlery
Harmless Harvest
Farm Fresh To You
New Road Foods
Scentsty
Salty Sole
And More...
Parking and Directions (READ CAREFULLY)
From the I-5 North or South: Exit Sante Fe Drive, and head east 1/2 mile. Take a (R) right onto Nardo Ave. In less than a mile, you will make a (R) right at signs indicating Encinitas Community Park. The turn is just before the cement bridge. After turning into the park, continue to the far end (north) where the Dog Park and Poods skate park is located. Overflow parking is residential or at San Diegito Academy
Using Google or Apple maps, the address doesn't work well. The closest address is 425 Santa Fe Dr, Encinitas, CA 92024, but will not guide you directly to the park.

Sponsors:
------------------------------------------
Harmless Harvest Sustainably sourced coconut water
Tough Turtle Turf Water reduced lawns using turf
Farm Fresh To You Locally sourced organic produce service

Vendors and sponsors are truly the support network behind our festival. We can't thank them enough. To make this community day thrive, we partner with local businesses and brands to have a representation of San Diego at large. As our network grows, more opportunities to collaborate and strengthen community emerge.​​

Also big thanks to City of Encinitas for permitting our community festival and fundraiser to take place in the beautiful Encinitas Community Park. Thank you.

If you have any other questions, please reach out on the website and a salty dog will get back to you shortly. Visit www.SaltDogClassic.com.
---
Supporting Rancho Coastal Humane Society
Rancho Coastal Humane Society (RCHS) began its journey in 1960, and was founded by a group of hardworking volunteers. Led by animal lover Maria K. Lloyd, their mission was to care for the homeless animal population of San Diego County and to educate the public about pet overpopulation and responsible companion animal care. To this day, their mission holds true. Considering a pet? Schedule a visit to the animal shelter and see their adoptable pets.
SaltDog Classic is proud to raise both funds and awareness to such an animal friendly and community oriented non-profit. Contributions from the silent auction, all direct donations, and percentage of art sales go towards their cause. Visit the website and stay updated.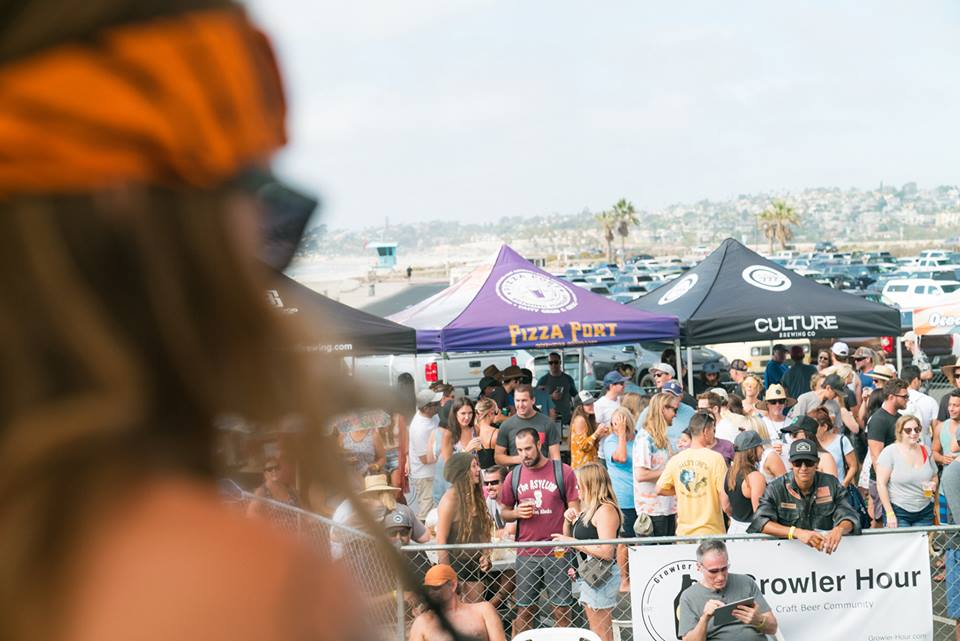 Discover Us: https:/www.saltdogclassic.com/
Follow Us: @saltdogclassic @growlerhour @ranchocoastal @aemortensen
Friend Us: https://www.facebook.com/saltdogclassic/
Yerrr Friend,
SaltDog