Description
SaltDog Classic Beach Festival
September 23rd,

11am - 6pm
Seaside State Beach, San Diego, CA
Live Music - Moodern Times - Food - Tiki Bar - Beach Games
On September 23, 2017 there will be dancing, drinking, surfing, and singing at the SaltDog Classic Beach Fest. Who could ask for more? Watch San Diego come to life with new music vibing the sandy shores. This year the SaltDog Crew has partnered with Rollin' from the Heart to provide an all-day experience that will leave people smiling and proud to support their community. Become part of the newest music festival in San Diego.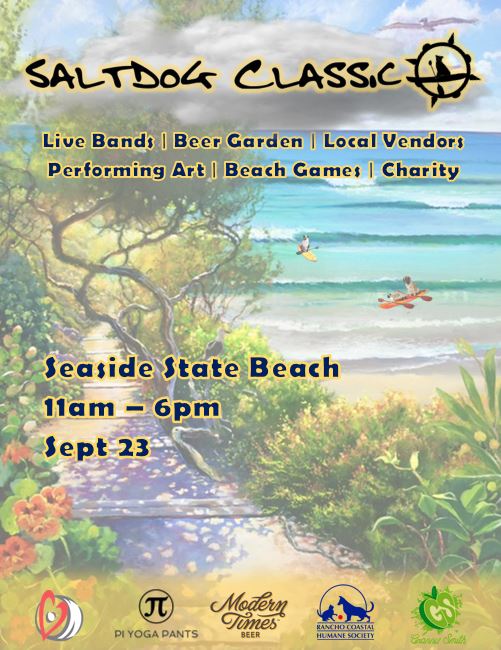 Join the Fun www.SaltDogClassic.com
*Note all ticket sales will be final, but going to a good cause folks.
About SaltDog Classic
Each year the SaltDog Classic brings people together for positive experiences they will not forget while raising money for organizations that help progress the world around us. The goal of this beach festival and sporting event is to enjoy life outdoors while giving back to the community we know and love. As more people grow their love for the beach, more and more will advance the efforts to preserve and protect our great coastline.
About Rollin From the Heat
Rollin from the Heart has spent the last 5 years helping at-risk and challenged youth. Through mentorship and community involvement, they have successfully brought inspiration and joy to thousands of kids who may have never been able to experience the rush of pavement under their feet, the beauty of nature in areas far from their neighborhoods, or the cool sea spray that hits your face when bouncing down a wave. Through these experiences, kids are able to develop an appreciation for health and the outdoors and better equipped to say no drugs and violence.