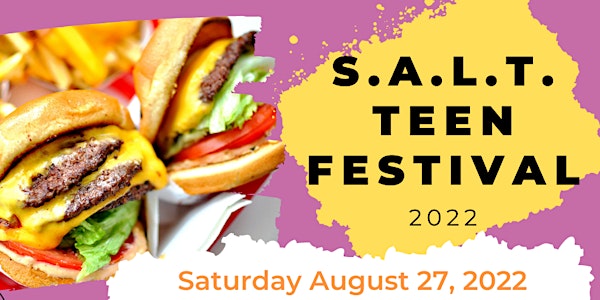 S.A.L.T. Teen Festival 2022
Location
SBC Monrovia
925 South Shamrock Avenue
Monrovia, CA 91016
Got S.A.L.T.? A FREE, fun, and safe space for high school teens (13-17) to unite and be empowered to be Strong. Authentic. Legendary. True.
About this event
Are you a teenager (13-17), or the parent/guardian of a teenager? If so, register them or the SALT Teen Festival 2022 to be held on Saturday, August 27, from 9am - 2pm. Tickets are limited and going Fast. The first 300 teens will get a limited-edition SALT drawstring swag bag. To attend, you must be 13-17, with a current high school ID. This is a teen-only event. Parents can drop off their teens at the designated drop-off zone.
The SALT Teen Festival is a FREE, FUN, and SAFE space for teenagers to express themselves with adults present to hear them out. There will be a live DJ, In-N-Out food truck, carnival games, spoken word poetry, a selfie zone, drumlines, 9-hole miniature golf, a step show, swag bags, and more. Did we mention it's FREE?
The SALT Teen Festival is made possible in part by our wonderful sponsors - SET for LIFE, City of Hope, Second Baptist Church of Monrovia, Women's Professional Network, YWCA San Gabriel Valley, Monrovia Duarte Black Alumni Association, CVS Health, Athens, Congresswoman Judy Chu, JAB-TRAN LLC, Senator Anthony Portantino, Stephanie Rosa & the Monrovia Area Partnership.
Website: https://saltteenfestival.wixsite.com/saltteenfestival
Follow Us on Social Media: @saltteenfestival