Description
Salt & Straw is an iconic Portland-based Ice Cream Company that began with the vision to be the happiest part of someone's day. After many hours experimenting with flavors , they turned to their friends and community for advice: chefs, chocolatiers, brewers, and food experts of all kinds. The result was a super-simple ice cream base that takes five minutes to make and a company that sees new flavors and inspiration everywhere it looks.
Join us as we welcome Salt & Straw Co-Founder and Head Ice Cream Maker, Tyler Malek for an exciting live ice cream demonstration and tasting.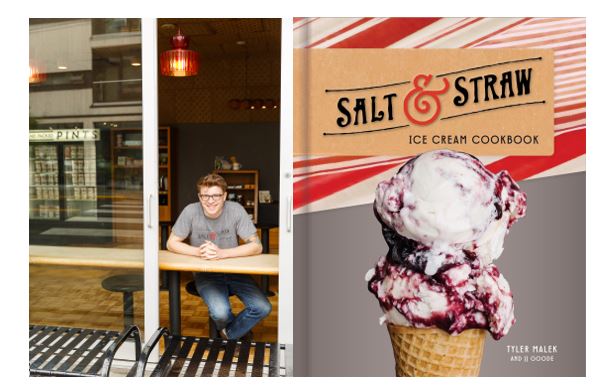 About the Salt & Straw Ice Cream Cookbook:
The cookbook offers dozens of Salt & Straw's most beloved and innovative flavors, and the lineup mirrors the creativity and seasonal themes of Salt & Straw's monthly rotating menus. Chapters and recipe highlights include The Salt & Straw Classics (Sea Salt Ice Cream with Caramel Ribbons), The Brewers Series (India Pale Ale), The Farmer's Market Series (Caramel Corn on the Cob), The Student Inventor Series (Olde People), The Thanksgiving Table-to-Cone Series (Salted Caramel Thanksgiving Turkey), and much more.