Multiple Dates
Salt Marsh Walk-King Tides Edition
Description
Take a walk with docent Gregg Aronson around the wetlands of the wildlife refuge and learn about their history. One of the highest tides of the season will take place at 12:35 p.m. See examples of salt collection ponds and learn what is being done to convert them back to their original, natural salt marsh state. Hear how wildlife is affected by the two types of habitat, and why it is important to control the rate of conversion from salt ponds back to the salt marshes. Binoculars and/or a camera are recommended.
Children under the age of 16 must be accompanied by an adult.
It is the policy of the US Fish and Wildlife Service to accommodate individuals with disabilities. If you have questions concerning programs, or if you need accommodation to enable you to participate, please contact a visitor services staff person at 510-792-0222 ext. 363.
Organizer of Salt Marsh Walk-King Tides Edition
Containing almost 30,000 acres of estuarine habitat, uplands, open water, mudflats, salt ponds, and salt marshes, including much of southern San Francisco Bay, Don Edwards San Francisco Bay National Wildlife Refuge provides habitat for many wildlife.  Its purpose is to protect wildlife habitat for endangered species and migratory birds, and to offer opportunities for nature study.  The refuge has two main facilities - a Visitor Contact Station in Fremont, and an Environmental Education Center in Alviso.    The Visitor Contact Station is open Wendesday-Saturday from 11 a.m. - 4:30 p.m., and the EEC in Alviso is open Saturdays from 10 a.m. - 4:30 p.m.  Both are closed on all federal holidays.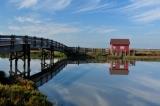 Don Edwards San Francisco Bay National Wildlife Refuge is part of the San Francisco Bay National Wildlife Refuge Complex and is administered by the US Fish & Wildlife Service.