Salt Lake: Security/Ransomware, Cloud, Infrastructure, Storage, Wireless
Description
Angelbeat is hosting this morning workshop at the Marriott City Creek Hotel, with free self-parking for all attendees, where world renown Microsoft evangelist Jennelle Crothers discusses the latest developments around private/public/hybrid cloud architecture, when to expand internally and purchase more storage/data center equipment, versus renting capabilities/services from third party cloud providers, plus container/docker/virtualization options across Linux and Windows platforms. To complement this keynote, there are talks by Actiance, Venafi, Veeam, Mist and Scale on social media IT security, encryption and key management, storage/DR, hyperconverged infrastructure and wireless/mobility. Given this weekend's ransomware attack, you definitely want to learn how backup can eliminate damages from this growing threat.

Scroll down to see the full agenda and click on links to see company information and speakers' biographies, who deliver concise, technical, educational and non-salesy talks. Content is pre-approved by Angelbeat and past attendees to maximize learning; click here to download presentation guidelines that are followed by all participants, which makes the program so worthwhile for technology professionals, business executives, etc.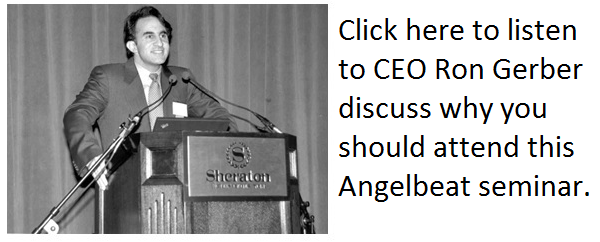 As one Walmart attendee states, "Of all the seminars I attend, your format is by far the best. Brief informative talks from vendors, followed by one-on-one time at their booth to find out more. I am out of the office for less than a day yet I have access to all the different solutions. This year I will follow up with two vendors." As another IT Director commented, "Thanks for hosting a very informative meeting with vendors that tied in well; it was an integrated picture of technologies that work together to create a complete infrastructure solution for the workplace."

Join your peers from the State of Utah, BYU, University of Utah, Intermountain Healthcare, Questar, Prime Insurance, Hill Air Force Base, Jacobs, Squire, WesTech Engineering, US Postal Service, Burton Lumber, Hogan & Associates, Associated Food Stores and many more organizations who are confirmed attendees.

Every attendee receives a full hot breakfast, complimentary WiFi, plus 3 CPE credit hours towards your CISSP or other certification. There are drawings for $100 gift cards and other prizes, at both the start and end of the event (must be present to win).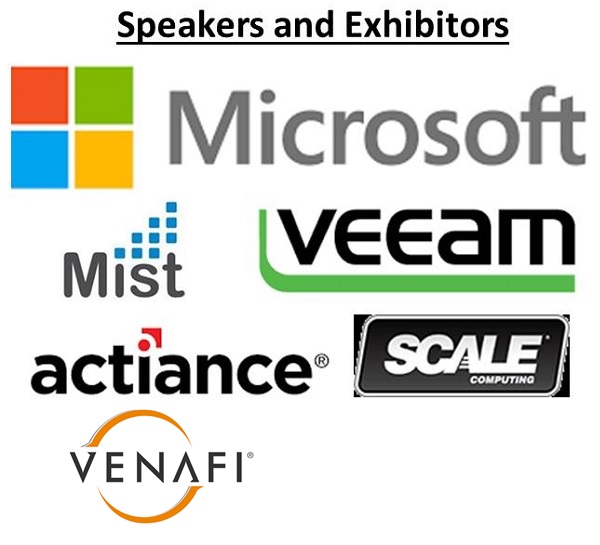 Agenda

7:30 - 8:40: Registration Begins, Full Hot Breakfast and Coffee Served, Exhibit Area Open with Product Demonstrations, Time For Peer Networking/Interaction

8:40 - 9:00: Social Media Security/Compliance with Actiance
Your organization is likely using Facebook, LinkedIn, Twitter, Snap, Reddit, Skype for Business, Salesforce Chatter, Instagram and other social media applications to do business. In fact, these channels have already surpassed email as the primary communications tool for many organizations. So, what are the information security, compliance and data governance implications?

• If you are in a regulated industry, then you likely have an compliance obligation to capture and preserve these tools – just like email
• If you are faced with litigation, you will likely experience the need to discover and produce this information for court
• If you are publicly traded corporation, you need to think how these tools might impact your brand and lead to the misuse of intellectual property - or even worse significant and negative impact on stock price, sales and profit. Consider United Airlines after they dragged a passenger off the plane, which is the top trending topic on social media for days, for all the wrong reasons.
- How are you prepared to deal with encrypted and/or disappearing messaging platforms such as Snap or Signal?

In short, every organization should be thinking of how these new forms of communications can create new business, technology, security, legal, and compliance risks. Learn from Actiance how you can fully harness these rich social communications tools while staying ahead of the risks.

9:00 - 9:20: Your Security Foundation: Machine Identity Protection with Venafi
New threats target the trust provided by machine identity keys and certificates, and allow bad guys to look legitimate so they can surveil networks, stay undetected, steal data and bypass other security systems. Attacks using SSL/TLS to bypass critical controls is increasing, for instance. Gartner expects that by 2017, more than 50% of network attacks will use encrypted SSL/TLS. The ability to quickly decrypt and inspect SSL traffic in real time and detect threats is imperative.

Machine identity attacks range from exploits of accidental vulnerabilities, like Heartbleed, to APTs designed to circumvent and misuse keys and certificates like Mask, Crouching Yeti, and SNOWDEN and the resent NSA breach—to name a few. During this technical session featuring Gina Osmond, learn why it's mission critical to have visibility into and control of the machine identity infrastructure, enterprise wide, especially given that most other IT security technologies depend on the trust they provide.

9:20 - 9:40: Smart Wireless for the Smart Device Era with Mist Systems
Wi-Fi isn't new. But how we use wireless has evolved substantially in recent years thanks to new smart devices, new applications, new wireless technologies - and new user expectations. As Wi-Fi has become more prevalent, it has also become more business-critical.

This makes it essential to simplify Wi-Fi operations and ensure a consistent and reliable Wi-Fi experience across all users. At the same time, Bluetooth Low Energy (BLE) has emerged as a nice complement to Wi-Fi, delivering high value indoor location-based services. With BLE, there is an untapped opportunity to better engage with employees and customers. The key questions then is "How do you build a modern wireless network designed to address the above?"

In this interactive session, Dan Kennison of Mist will discuss this topic in more detail, covering how to:

- Design, implement, and operate a modern wireless network that takes advantage of both Wi-Fi and BLE
- Leverage machine learning and cloud technologies to minimize wireless OPEX through automation
- Use proactive insight and predictive recommendation to ensure a great experience for all Wi-Fi users
- Eliminate physical beacons and site surveys with enterprise-grade BLE
- Explore real use cases for indoor location services like wayfinding, proximity messaging, and asset tracking

9:40 - 10:00: Storage/Disaster Recovery/Backup in 15 Minutes for the Always-On Enterprise, plus Ransomware Solutions, with Veeam
The lightning-fast pace of technological innovation is forcing digital and physical worlds to collide — and it's also transforming the way organizations of all sizes operate, in every industry. This digital transformation can either make or break your business. Because, in the digital world, customers expect 24/7/365 Availability.

However, a survey of 1,140 senior IT decision makers revealed that 84% of CIOs can't meet today's 24/7/365 demands. With an average of 15 unplanned downtime events each year, this "Availability Gap" costs businesses an average of $16 million annually. And on top of the financial damage, there's often irreparable damage to brand reputation and customer confidence.

To help you address the challenge of this "Always-On Enterprise", Veeam enables you to achieve recovery time and point objectives (RTPO™) of less than 15 minutes, for all applications and data, through a fundamentally new kind of solution that delivers high-speed recovery, data loss avoidance, verified recoverability, leveraged data and complete visibility.

This past weekend, most of Europe was hit with a devastating ransomware attack, even with fairly sophisticated IT security. To recover from such an attack, the answer is not paying Bitcoin demands but instead restoring the most recent data. This critically important topic will also be covered by Jim Mackey.

10:00 - 10:20: Hyperconverged Data Center Infrastructure with Scale Computing
Scale Computing integrates storage, servers, and virtualization software into an all-in-one appliance based system that is scalable, self-healing and as easy to manage as a single server. Using industry standard components, the HC3™ appliances install in under an hour, and can be expanded and upgraded with no downtime. High availability insulates the user from any disk or server failure and a unified management capability driven by the patented HyperCore Software™, efficiently integrates all functionality. The result is a data center solution that reduces operational complexity, allows a faster response to business issues, and dramatically reduces costs.

10:20 - 10:50: Coffee Break, Product Exhibits and Demonstration Area Open, Peer Networking

10:50 - 11:45: Private/Public/Hybrid Cloud Strategies, Linux & Windows Containers, Integration with Microsoft Azure
In the opening part of this session Jennelle Crothers, world renown Technical Evangelist at Microsoft and a dynamic/engaging presenter, will discuss the strategic/financial tradeoff and decision-making process between expanding internal IT resources (capex, buying more network/storage hardware) versus using third party/public cloud/service providers (opex, renting these same capabilities).

Then more technical discussions, starting with the similarities and differences between a container and a virtual machine, followed by a walk through/demonstration of enabling, creating, deploying and managing Linux and/or Windows containers/resources. There will be an evaluation of when to use which containers, why and how. FYI, a container is an isolated and portable operating environment, often viewed as the next evolution of virtualization. It provides a mechanism for IT to deploy services in a portable, repeatable and predictable manner.

For those who are new to containers, this content serves as a jumpstart to accelerate your learning of containers. If you already have experience on Linux containers, the session familiarizes you with the specifics of Windows containers, plus helps bridge and extend your skills for bringing business value to both Linux and Windows communities.

The session ends with a detailed assessment of the top five new features in Microsoft's Azure cloud platform for 2017, and how to integrate your organization's public/private/hybrid cloud and container strategies.

End of Speaking Sessions, Product Demonstrations and Exhibit Area Open, Raffle Prize Drawings for $100 gift card and other great items!

FAQs

What are Angelbeat's privacy and optin/optout policies
Each attendee acknowledges/understands that financial support from Angelbeat sponsors allows him/her to attend this event at no cost, and that the sponsors will be given your contact information 2 days after the event for follow-up email and telephone communications. All sponsors are required to provide you with an opt-out option, allowing you to be removed from their database

However each attendee can opt-out of sponsor follow-up by informing Angelbeat staff at the event, or by emailing Angelbeat immediately after the event, but before Angelbeat releases the attendee list to the event sponsors.

If you have any questions regarding Angelbeat's privacy policies and how your contact information is used, please contact CEO Ron Gerber directly at 516-277-2057 or at rgerber@angelbeat.com.

Who might be available to receive the special Promotional Code and free pass
There is a special promotional code, that will allow you to attend for free, that is limited and only available for end user IT professionals who work in the telecom/network/storage/security/data center/desktop/purchasing departments of corporations (private and publicly-held, large and small), universities, school districts, government agencies, hospitals/healthcare providers, pharmaceuticals, insurers, manufacturers, retailers, financial services/banks, real estate, legal/accounting/services, transportation/logistic firms, etc. and use, support, approve and/or are involved in or influence the decision to buy the products and services offered by our sponsors.

Reporters from major newspapers, websites and other media outlets are eligible for a free pass and must submit in advance their media credentials to the event organizer for approval.
All other individuals who are not end user, IT professionals must pay the registration fee.

In all cases Angelbeat reserves the right to accept or reject a registration at its sole discretion.

What are my transport/parking options getting to the event
Detailed driving directions will be sent out to all attendees one week before the event. There is complimentary self-parking at the hotel.

What is the dress code
Suggested dress is business casual.

What if you have special dietary needs/restrictions
If you have special dietary needs/restrictions, then please email Angelbeat below. We will do our best to accommodate any and all requests.

What if I am a government employee and cannot accept free meals and/or win raffle prizes
If you are a government employee and cannot accept free meals, then you can pay Angelbeat $35/person, to cover the cost of meals. Please contact the event organizer at registration@angelbeat.com to arrange payment.

Each sponsoring company/exhibitor handles its own raffle prize drawing; Angelbeat itself has nothing to do with these prizes and attendees are not automatically entered for any raffle prize drawing. Since each attendee must individually signup to win a raffle prize, then government employees (who are not eligible to win these prizes) can simply not signup for the drawing.