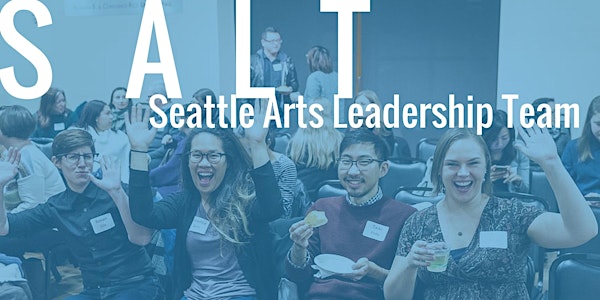 SALT Book Club: Education for Socially Engaged Art
By Office of Arts & Culture | Seattle
Date and time
Wednesday, March 2, 2016 · 6 - 7:30pm PST
Location
Cafe Presse 1117 12th Ave Seattle, WA 98122
Description
The Seattle Arts Leadership Team (SALT) Book Club will be reading Education for Socially Engaged Art by Pablo Helguera for the first book club meeting in 2016.
Here is what people are saying about Education for Socially Engaged Art:
"Helguera has produced a highly readable book that absolutely needs to be in the back pocket of anyone interested in teaching or learning about socially engaged art"-Tom Finkelpearl, Director of the Queens Museum, New York, and author of Dialogues in Public Art.
"This is an extremely timely and thoughtful reference book. Drawn from empirical and extensive experience and research, it provides a curriculum and framework for thinking about the complexity of socially engaged practices. Locating the methodologies of this work in between disciplines, Helguera draws on histories of performance, pedagogy, sociology, ethnography, linguistics, community and public practices. Rather than propose a system he exposes the temporalities necessary to make these situations possible and resonant. This is a tool that will allow us to consider the difficulties of making socially engaged art and move closer to finding a language through which we can represent and discuss its impact."-Sally Tallant, Artistic Director, Liverpool Biennial.
"For too long Social Practice has been the notoriously flimsy flipside of market-based contemporary art: a world of hand-wringing practitioners easily satisfied with the feeling of 'doing good' in a community, and unaware that their quasi-activist, anti-formalist positions in fact have a long artistic heritage and can be critically dissected using the tools of art and theatre history. Helguera's spunky primer promises to offer a much-needed critical compass for those adrift in the expanded social field." -Claire Bishop, Professor of Contemporary Art and Exhibition History, CUNY, and author of Artificial Hells: Participatory Art and the Politics of Spectatorship.
The Office of Arts & Culture has a limited number of copies available to borrow. If interested please contact Elisheba Johnson at elisheba.johnson@Seattle.gov.
Please RSVP by Thursday, February 25, 2016
Accessibility is a top priority for the Office of Arts & Culture; please email arts.culture@seattle.gov or call (206) 684-7372 with specific accessibility needs.
---
SALT is a flexible and creative professional development program for artists and arts administrators.
SALT combines the need for on-going professional development with the creativity of the sector by bringing interesting, challenging and thought provoking workshops, networking and training to the Seattle's arts ecology.

Know someone that would benefit from this program? Invite them to join you or learn more at: SaltSeattle.org