SalsaCrazy Mondays - SALSA Dance Lessons, Salsa & Bachata Dance Party [4 WE...
Description
REGISTER NOW FOR THE FULL 4 WEEK MONDAYS SALSA DANCE CLASS SERIES & PARTIES! Mondays are our longest running Salsa Dance class series, and have a great party after classes. www.DanceSF.com

Learn to Salsa Dance with San Francisco's Hottest Salsa Dance School, DanceSF, at San Francisco's longest running (and crazyest) salsa dance club. Yes, YOU can do this, Register and learn to salsa!
Every Monday, starting the first or FIRST Monday of each month join us for amazing dance classes, and a fantastic salsa and bachata dance party.
This is a FOUR Week progressive salsa dance class series, and meets every Monday. This puts you on the list for all 4 weeks, including your bonus week.
Starting the first Monday of the month, and every Monday after for 4 weeks, join us for step by step Salsa Dance Classes! Learn to Salsa Dance from your very first steps, and each week, there's a huge salsa dance party after classes.
No partner or experience necessary, yes, you'll LOVE these classes. Super fun, and step by step salsa dancing. This IS for you, and you will have a great time. See the Video,
Experience San Francisco's Hottest Salsa Dance NIghtlife! Get a Deal through Eventrbrite for the whole 4 week series!
Beginning Salsa at 7pm (Doors open at 6:30), come early. Intermediate salsa at 8:30, Dancing at 9:30.
We'll see you there - You'll love them!
Looking for More Classes? See www.DanceSF.com!
PS - Monday Classes are at Neck of the Woods, 406 Clement Street, on 5th Avenue and Clement. A great neighborhood, with fantastic food and great cafes. Come early!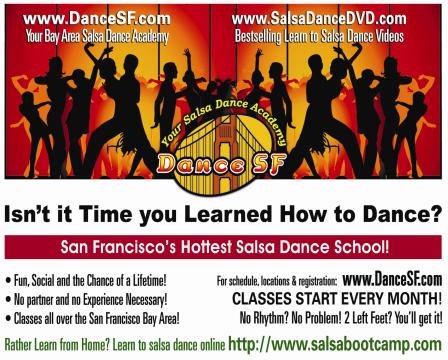 ** PLEASE NOTE: Yes, you can transfer your classes to another person, and Yes, you can hold over your classes for up to TWO months if you can't make it, but please note, there are NO REFUNDS for classes.
Organizer of SalsaCrazy Mondays - SALSA Dance Lessons, Salsa & Bachata Dance Party [4 WEEKS]
www.DanceFridays.com, Come Celebrate with Dance Fridays. Beginning Dance Lessons, 3 Rooms of Dancing, and San Francisco's most epic and fun nightlife, every Friday. Beginner Dance Lessons at 8p. 550 Barneveld, SF, 21+.