About this event
WHERE: Edmonton Churchill Square
WHEN: Every Tuesday Aug 24-Sept 28, 7-9pm
CONTACT INFO: Text 780-906-7939
http://etownsalsa.com/event_postings.asp#1629138875
TICKET INFO:
With a lack of great festivals Edmonton is use to bringing you every year, this your has been an exceltion but we are going to make it up to you a little bit with this great FREE weekly event!
From the same organizers that brought you Salsa'n'Skate and Salsa In The City, The Arts Council of Edmonton in association with ETOWN SALSA have brought you another fantastic weekly event that we are sure you will enjoy!
For 6 weeks running Tuesdays from August 24 to September 28 at 7-9pm , you will get to enjoy a couple hours of Latin music and dancing that is sure to have you inspired and wanting to learn this beautiful dance! We its not always going to be Salsa each week, we will bring you some Bachata, Cumbia, Merengue to get your full Latin enjoyment!
The first hour will be a dance lesson by ETOWN SALSA from 7-7:45pm and the next hour will be LIVE music from Rumba Caliente! Come check it out , you will not be disappointed!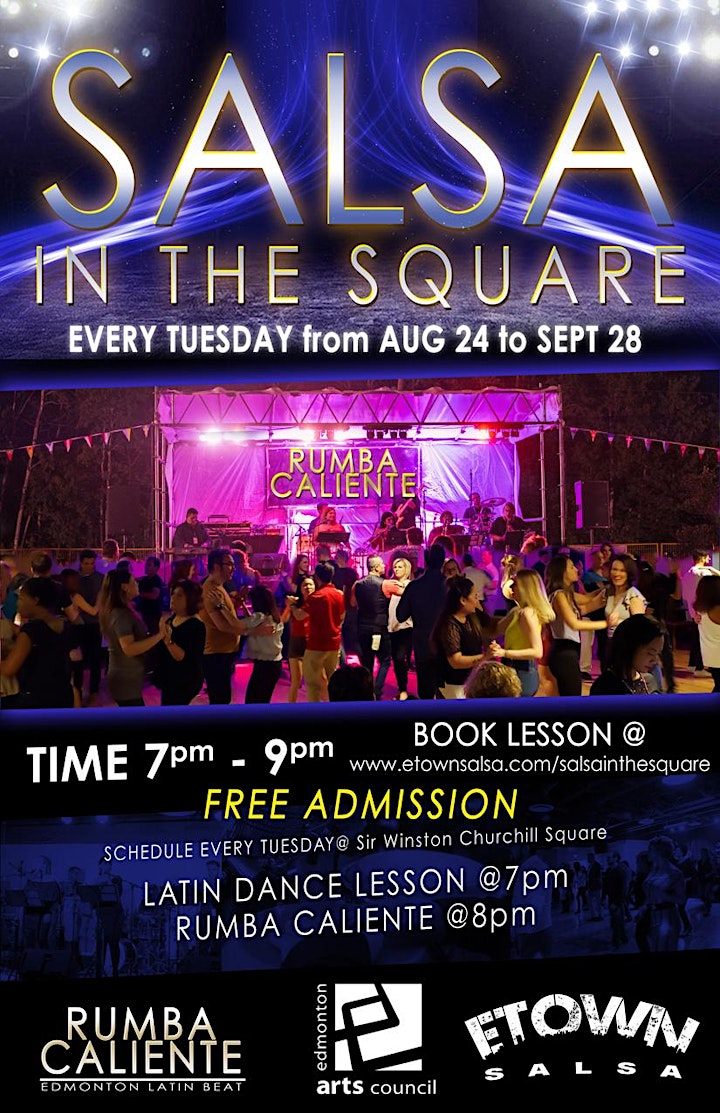 Organizer of SALSA in the SQUARE