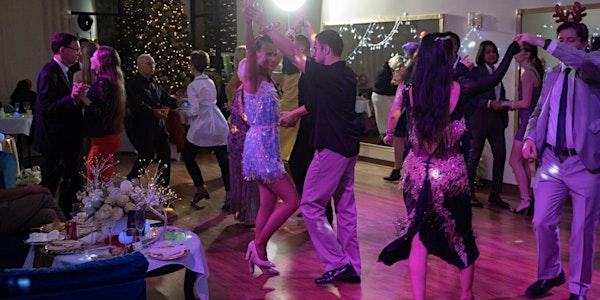 Salsa Club Social Dance
Salsa dance is a fun physical activity, it's a chance to dance together, meet some new friends, loose the weight and get coordinated.
When and where
Location
US Dance Company 20621 Westheimer Parkway Katy, TX 77450
Refund Policy
Contact the organizer to request a refund.
Eventbrite's fee is nonrefundable.
About this event
Whether you're already reaping the benefits or you're looking for a little motivation to start dancing, here's a little list of the things that make salsa so popular and addictive.
1. New Friends: Getting into salsa opens up a whole new world of people from literally every walk of life who you otherwise wouldn't have had the opportunity to meet. I've even made a lot of salsero friends through this blog, whom I haven't met in person, yet! I am so grateful for the huge amount of great friends I have made through salsa.
2. Lose Weight: When I'm dancing 3 nights a week I'm at my leanest. If I ever go through a period when I'm not dancing for an extended period of time I really notice the weight pile on quickly! Dance and say goodbye to those love-handles.
3. Stay Healthy: Doctors recommend you get at least 30 minutes of exercise a day to keep your heart healthy. Salsa is a great way to up your heart rate and boost cardiovascular health and the fact that it's so fun means you'll stick with it. It's definitely more entertaining than hitting a treadmill for 30 minutes. Social dance has also been shown to keep the mind sharper as we age, better than any other physical activity!
4. Improve Coordination: Salsa teaches you how to coordinate complex footwork with arm combinations. Countless studies and personal experience have shown that coordination gained in one physical activity is transferable to a whole range of others. So if you want to move well in general, dance!
5. Forget about Life's Worries: I think one of the major reasons I fell in love with salsa was that it became a form of meditation for me. Dance allows you to focus all of your thoughts on the dance and forget about everything else for a few minutes (or more). Losing yourself in the moment when dancing is probably a therapy that a lot of people could use in this day and age!
6. Learn New Languages: Salsa communities the world over tend to be very international and that makes them a great place to learn or practice a new language especially Spanish (well, you may as well learn what all those songs are about: Short Answer = Lovey dovey crap).
7. New Cultures: For the same reason mentioned above you can learn so much about different cultures from meeting new people through salsa. This really helped me to learn more about the large Polish and Latin communities in Dublin.
8. Better Love Life: While salsa should never, ever be considered a dating service I can honestly say that it has done absolutely no harm to my love life.
9. Better Understanding of People: Salsa is social. You will meet all sorts of new people and form all sorts of new relationships and gain new insights into how people work. I can't begin to explain how salsa will affect every interaction you will have with people in your life but it will, for the better.
10. Discover Passion: This was and is huge for me. Through salsa you discover the passion of dance, the passion created between a couple as they move together as one in harmony with music and then you begin to discover it in every other aspect of your life. And once you taste passion you will never want to look back at how your life was before.
11. Appreciate Music: I never really listened to music before I started dancing but ever since then it has become a huge part of my life. I pay attention to new music, not just what I can dance to, appreciate it, enjoy it and feel it.
12. Travel: I've lost count of the amount of countries and cities I've danced in. Salsa is truly international and if ever you're in a big city where you don't know anyone you can just google a salsa club, get dancing and start meeting the locals and maybe they'll even show around their city too.
13. Learn to Relax: I've always found it tough to relax myself physically, so much so that a Japanese masseuse once described me as the tensest human being she had ever worked with. Losing yourself in the music and letting yourself flow with the rhythm is one incredibly effective way of relaxing your whole body, not to mention how well you'll sleep after a great night of dancing.
14. Improve your Fashion Sense: While this doesn't apply to everyone I've definitely noticed that when people enter the salsa community they become a lot more adventurous with their clothes, start to pay a little more attention to their appearance and basically "sex-up" their whole wardrobe. I know plenty of guys who have discovered the wonders of hats and waistcoats through salsa (you know who you are).
15. Boost Confidence: Probably the biggest difference most people experience with salsa is just the sheer confidence boost you feel once you get into. In salsa you have to step out of your comfort zone all the time; asking people to dance, trying new moves etc and this definitely transfers to other areas of your life. Sex, business, sports, you name it! An extra bit of confidence goes a long way in life.
16. Discover Other Dances: Once people start dancing salsa, they often don't stop there. Salsa is like a "Gateway Dance" into a whole world of other dances like bachata, merengue, cha cha cha, kizomba, tango and a whole host more. What will your poison be?