Description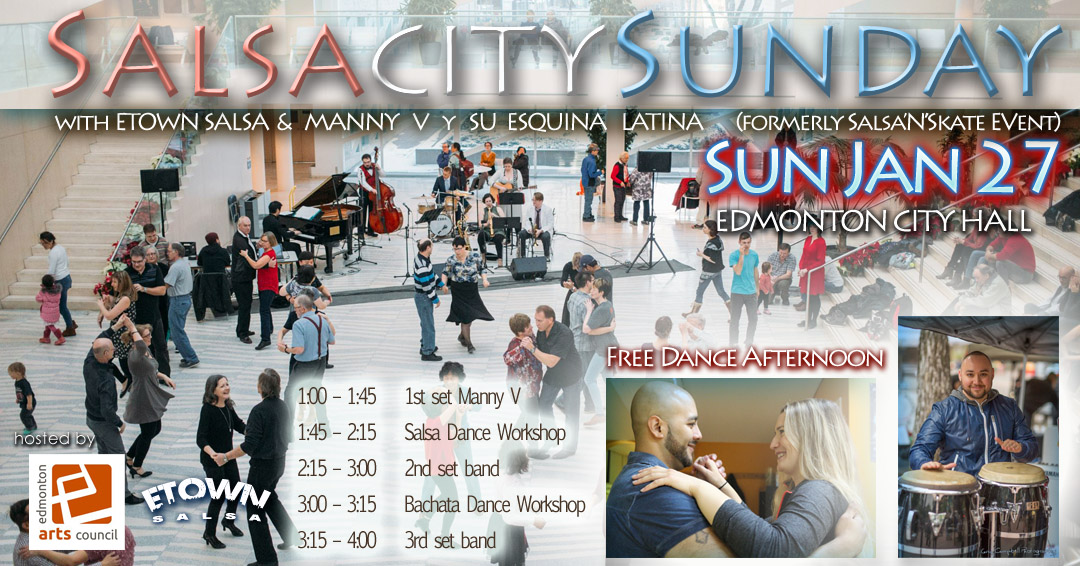 FREE WORKSHOP!
FREE SOCIAL DANCE!
FREE LIVE BAND PERFORMANCE!
Register to get the FREE CLASS!
(formerly Salsa'n'Skate)
please note UPDATE Jan 3: due to misinformation, the skate portion is not available and so we have renamed the event Salsa City Sunday.

Not many opportunities to dance at CITY HALL this year so here you go! Indoor dancing where live Latin band Manny Valencia y Su Esquina Latina will be stationed right in Edmonton City Hall. The Edmonton Arts Council usually holds a Swing n Skate each and every year and for a change, they wanted to introduce Salsa for one of their Sundays. Bring all your friends and enjoy a FREE Latin dance workshop by ETOWN SALSA.

It all starts at 1pm and goes till 4pm. Workshops will be in between sets at 1:45 and 3pm.

Did we mention its all FREE? Thank you to the Edmonton Arts Council for bringing such an amazing event to the local dance
communities.