Salsa ATL 3hr Salsa Boot Camp in Atlanta every Saturday

Saturday, December 10, 2016 from 2:00 PM to 5:00 PM (EST)
Event Details
Salsa Atlanta & Dancing4Fun Presents..
  Atlanta Salsa  Saturday 3-hr Salsa Boot Camp
 @ Dancing4Fun Dance Studio

 -- Multi-location event
 -- Beginner Level & Beyond Basics/Intermediate Level
    No Rhythm? No Partner? No Problem!
 -- All Salsa Boot camp paid attendees get in for free
    at our Saturday evening party @ Nemoes Tavern 
     

-- Special NYE Party Ticket Option for the rest of the 3hr Salsa boot Camp
   in 2016 (Starting on Saturday November 19, 2016)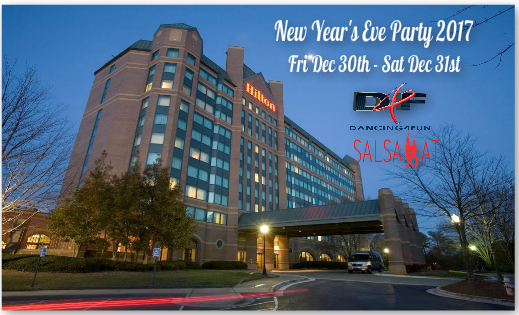 Check out our Facebook invite:
https://www.facebook.com/SalsaAtl/events


Are you too busy to attend our weekday Salsa dance classes?
Do you have too much going on to go to a Salsa class each week?
or maybe you are just visiting and looking for something fun to do.
Check out our 3hr Salsa class on the 1st & 3rd Saturday of each month!
In addition to all of the things we mentioned above. Attending a
dance class is an awesome way to make new friends, and a great
activity to do with your significant other. Come check us out.
Salsa dancing is growing in Atlanta. Be sure to join us for our evening
Salsa party, so you can practice all the dance moves you have learned
in class.
read below for all the details about the 3-hr Salsa Boot Camp near Atlanta!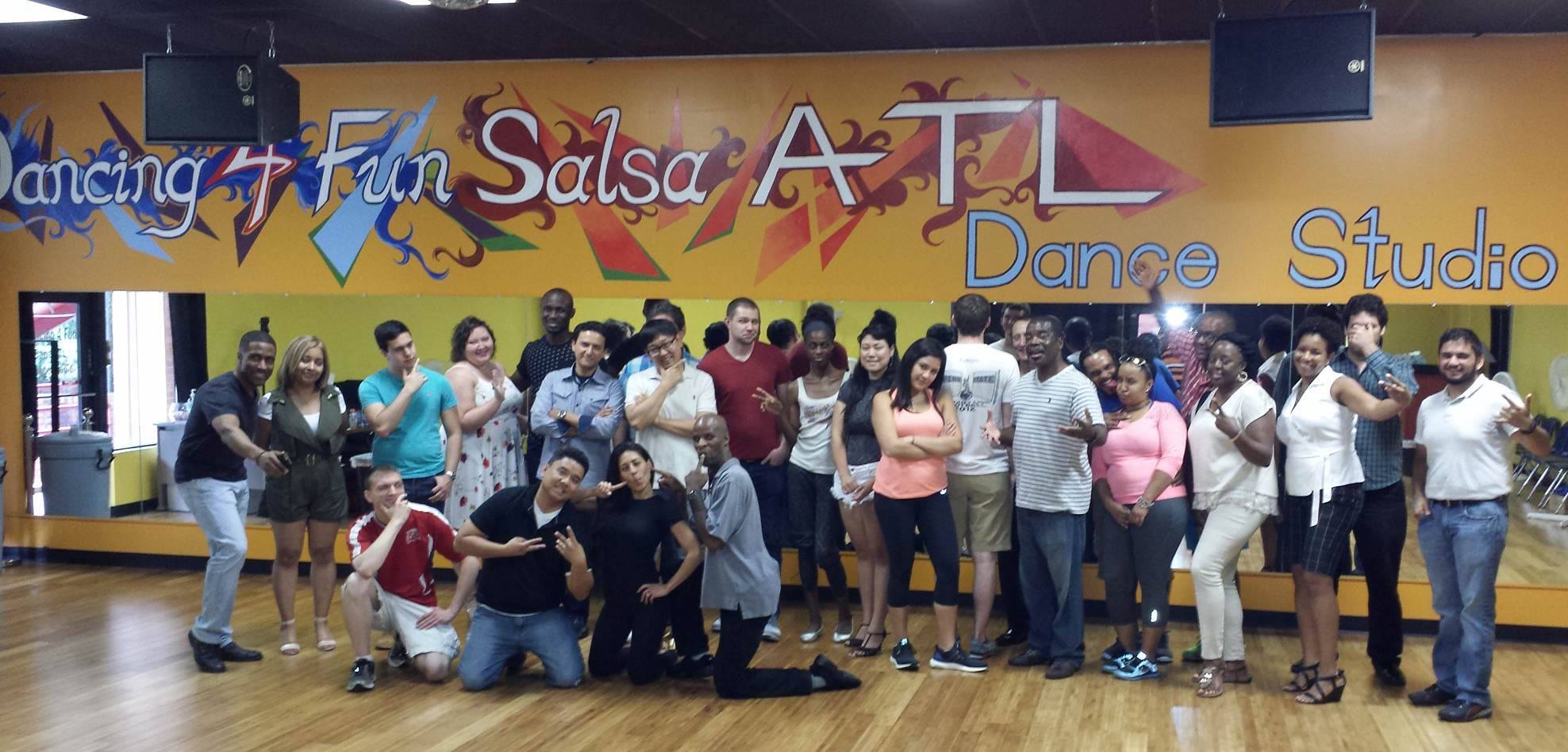 Level 1 Beginner / Novice:
Brand new to Salsa dancing? No problem, we will guide you each step of the way.
You will learn fundamental Salsa turns and footwork. In addition, you will also
learn how to put these moves into cool Salsa combinations.
More importantly, we will also introduce lead & follow techniques that
will make learning how to dance more fun. We make sure you will have
plenty of practice & repetition the whole 3 hours, so you will feel comfortable
dancing at the party in the evening! :-)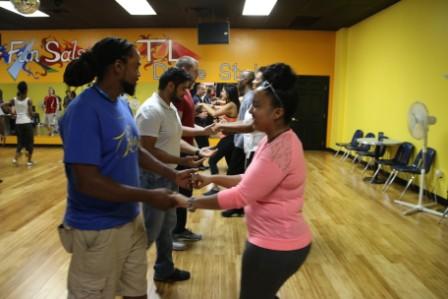 Level 2 Experienced Beginner / Intermediate Level
  Folks who are profificient in the beginner Salsa footwork,
crossbody lead, and left and right turns. typically folks who have been
dancing for at least 6 months. 
In addition to learning more involved Salsa patterns, we will also focus
on Styling for both the Guys & Gals, while reinforcing proper lead and
follow technique.

All 3-hour Salsa Boot camp attendees get in for free at our evening
party! (A $10 value!)
Be sure to invite all your friends to join in on the fun!
Give us a call or text if you have any questions.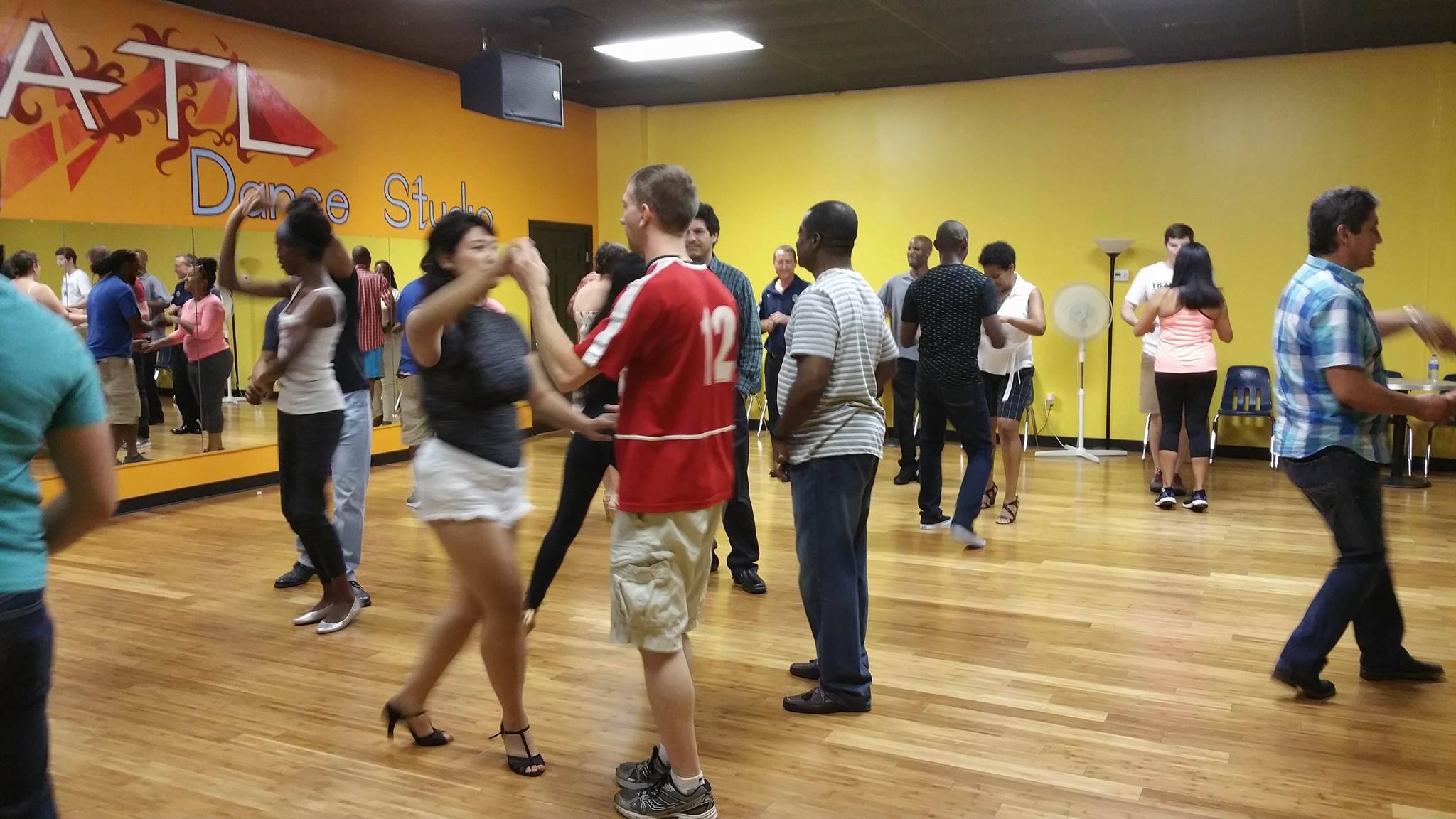 Time:
1:40 PM - Check In (Get there early in case there's a line...)
2 PM - 5 PM - 3-hour Salsa Class
Where:
Dancing4Fun Dance Studio
6025 Peachtree Parkway
Peachtree Corners GA 30092
770.855.4396 text/call
678.304.7(D4F) 343


Saturday Night Latin Dance Party:
Location
Nemoe's Tavern (Next door to Dancing4fun Studio)

Costs:
$40/person or $70/couple
Advance purchase price is good until 12 noon on the day
of the boot camp

$50/person or $90/couple after 10pm Friday & at the door
All paid attendees get into the Evening Salsa Party for Free!
Just want to go to the Party @ Nemoes Tavern
$10 cover charge
(Add $1 for debit/credit transactions.)
 -- This party is FREE for paid 3-hour Salsa Boot Camp Attendees

Want to attend our New Year's Eve Party at the Hilton Atlanta Northeast
this year??
NYE PARTY TICKET UPGRADE: 3-hr Salsa Boot Camp +
NYE Party ticket @ The Hilton Atlanta Northeast, includes Friday Dec 30th Pre-Party:
$80/person or $150/couple advance purchase
$90/person or $170/couple @ door

For more info about Our New Year's Eve Dinner & Dance Party @ the Hilton Atlanta Northeast.
https://www.NewYearsEvePartyAtlanta.com    or    https://newyearsevepartyatlanta.eventbrite.com

Visit our Facebook Event page for Dec 31st:  007 Meets 2017 New Year's Eve Party Atlanta
https://www.facebook.com/events/919905301419838/

Visit our facebook Event page for the New Year's Eve Pre-Party:
https://www.facebook.com/events/843762062388043/

What is a Party Ticket upgrade?? 
 -- Gives you access to our Pre-New Year's Eve Party
 -- it gives you a Standing room only Ticket to our New Year's Eve Party @ the Hilton
 -- Includes Champagne Toast on Dec 31, 2016
 -- Includes food after Midnight on Dec 31, 2016


-- ALL New Year's Eve Party Only ticket upgrade folks will have a chance to
   win a Dinner & Party ticket via raffle. All others will get a chance to upgrde to a
Dinner ticket. Just let us know if you would like to upgrade. 
A Dinner & Party ticket  upgrade gives you reserved seating & 3 course dinner.

advanced purchase ends @ 12:45pm on the day of the boot camp.


Sean-Christopher 
770.855.4396 text/call
678.304.7(D4F) 343

http://www.Dancing4Fun.com
http://www.SalsaATL.com 
https://www.facebook.com/Latindancinggwinnett
http://www.meetup.com/dancing4fun/
http://www.meetup.com/salsaatlanta/
https://www.facebook.com/SalsaAtl
https://www.facebook.com/Dancing4FunATL
http://www.Twitter.com/SalsaATL
http://www.instagram.com/SalsaATL
http://www.youtube.com/SalsaATL
http://www.NewYearsEvePartyAtlanta.com
http://www.Facebook.com/NewYearsEvePartyAtlanta
http://www.SalsaBootCampAtlanta.com
http://www.BachataBootCampAtlanta.com
http://www.AtlantaHalloweenParty.com
http://www.ValentinesDayDanceParty.com 
http://www.ValentinesDayPartyATL.com
http://atlantabachatabootcamp.eventbrite.com
https://salsabootcampatlanta.eventbrite.com
http://atlantahalloweenparty.eventbrite.com
https://newyearsevepartyatlanta.eventbrite.com
https://www.facebook.com/events/1497429266940732/ 
https://www.facebook.com/events/843762062388043/ 
https://prenewyearsevespeakeasypartyatlanta.eventbrite.com/


https://www.facebook.com/events/1804421229840171/
Thanksgiving weekend Latin Night Nov 26, 2016

https://www.facebook.com/events/486066694918900/
Saturday Dec 17, 2016

https://www.facebook.com/events/843762062388043/
Pre-New Year's Eve Party Fri Dec 30th

https://www.facebook.com/events/919905301419838/
New Year's Eve 007 Meets 2017 New Year's Eve Party

http://www.facebook.com/events/914445295300059/
Jan 7, 2017 Latin Night

http://www.facebook.com/events/688754847894605/
Saturday Jan 14th 2017 Latin Night 
http://www.facebook.com/events/1079809348736203/
Saturday Feb 11th - Valentines 2017

http://www.facebook.com/events/498299767042841/ 
Saturday Feb 18th - Valentines  2017

http://www.LatinDancing4Fun.com
http://www.SalsaStreetParty.com
http://www.SalsaBootCampAtlanta.com
http://www.AtlantaSalsaBootCamp.com
http://www.LatinDanceBootCamp.com
http://www.AtlantaBachataBootCamp.com
http://www.BachataBootCampAtlanta.com
http://www.BachataAtlanta.com
http://www.AtlantaBachata.com
http://www.KizombaAtlanta.com
http://www.facebook.com/kizombaAtlanta
https://www.facebook.com/DinnerDanceATL
https://www.facebook.com/ZumbaClassesGwinnett
http://www.meetup.com/ZumbaDanceClassGwinnett/
http://www.ZumbaClassesGwinnett.com
http://datenightatlanta.eventbrite.com
http://latinnightsalsapartyatlanta.eventbrite.com
https://latindancingingwinnett.eventbrite.com
Nov 18th - NYE tags
New Year's Eve Latin Night Atlanta
Atlanta New Year's Eve Latin Night
NYE 2017 Latin Night Atlanta
Atlanta NYE 2017 Latin Night
New Year's Eve Salsa Party Atlanta
Atlanta New year's Eve Salsa Party
Hilton Atlanta Northeast Salsa Party
Latin Night Hilton Atlanta Northeast
New Year's Eve Latin Night near Atlanta
Salsa Party Atlanta New Year's Eve
New Year's Eve Salsa Party Atlanta
New year's Eve Dinner Dance Latin night Atlanta
Bachata dance Party New Year's Eve Atlanta
NYE Bachata Dance party Atlanta
New years Eve Dance party Atlanta
Latin dancing NYE 2017
latin dancing New Year's eve party Atlanta
Salsa dance party New Year's Eve Atlanta
Salsa Atlanta New years Eve Party
New year's Eve Salsa party Atlanta
Dinner and Salsa Dancing New years eve
New years eve 2017 Latin night Atlanta
Atlanta New year's eve Latin party
https://www.facebook.com/events/919905301419838/
NYE Dec 31st - Atlanta Tags


New Year's Eve Latin Night Atlanta
Atlanta New Year's Eve Latin Night
NYE 2017 Latin Night Atlanta
Atlanta NYE 2017 Latin Night
New Year's Eve Salsa Party Atlanta
Atlanta New year's Eve Salsa Party
Hilton Atlanta Northeast Salsa Party
Latin Night Hilton Atlanta Northeast
New Year's Eve Latin Night near Atlanta
Salsa Party Atlanta New Year's Eve
New Year's Eve Salsa Party Atlanta
New year's Eve Dinner Dance Latin night Atlanta
Bachata dance Party New Year's Eve Atlanta
NYE Bachata Dance party Atlanta
New years Eve Dance party Atlanta
Latin dancing NYE 2017
latin dancing New Year's eve party Atlanta
Salsa dance party New Year's Eve Atlanta
Salsa Atlanta New years Eve Party
New year's Eve Salsa party Atlanta
Dinner and Salsa Dancing New years eve
New years eve 2017 Latin night Atlanta
Atlanta New year's eve Latin party
http://www.NewYearsEvePartyAtlanta.com
Atlanta Tags
New Year's Eve Latin Night Atlanta
Atlanta New Year's Eve Latin Night
NYE 2017 Latin Night Atlanta
Atlanta NYE 2017 Latin Night
New Year's Eve Salsa Party Atlanta
Atlanta New year's Eve Salsa Party
Hilton Atlanta Northeast Salsa Party
Latin Night Hilton Atlanta Northeast
New Year's Eve Latin Night near Atlanta
Salsa Party Atlanta New Year's Eve
New Year's Eve Salsa Party Atlanta
New year's Eve Dinner Dance Latin night Atlanta
Bachata dance Party New Year's Eve Atlanta
NYE Bachata Dance party Atlanta
New years Eve Dance party Atlanta
Latin dancing NYE 2017
latin dancing New Year's eve party Atlanta
Salsa dance party New Year's Eve Atlanta
Salsa Atlanta New years Eve Party
New year's Eve Salsa party Atlanta
Dinner and Salsa Dancing New years eve
New years eve 2017 Latin night Atlanta
Atlanta New year's eve Latin party
https://newyearsevepartyatlanta.eventbrite.com
New Year's Eve Kizomba party Atlanta
Atlanta Kizomba New Year's Eve Party
Kizomba party New Year's Eve Atlanta
New Year's Eve Atlanta Kizomba Party 
NYE Kizomba Party Atlanta
https://www.facebook.com/events/919905301419838/  

New Year's Eve Kizomba party Atlanta
Atlanta Kizomba New Year's Eve Party
Kizomba party New Year's Eve Atlanta
New Year's Eve Atlanta Kizomba Party 
NYE Kizomba Party Atlanta
http://www.NewYearsEvePartyAtlanta.com

New years eve party in Gwinnett
Gwinnett New Year's Eve Party
Latin Night New Year's Eve Gwinnett
Peactree Corners GA New Year's Eve Latin night 
Norcross Ga New year's Eve Salsa Party
Salsa Gwinnett New year's Eve Party
NYE 2017 latin night Gwinnett
latin dancing New Year's eve party Gwinnett
New year's Eve lawrenceville Ga
Lawrenceville Ga NYE party
New year's Eve dance party Norcross GA
Dinner dance New years eve Salsa Event Gwinnett
New years eve Dinner Salsa party Suwanee Ga
new years eve dinner salsa party duluth Ga
latin night nye 2017 peachtree corners Ga
New years eve Gwinnett County
New years eve Dinner Dance in Gwinnett
New year's Eve champagne toast Atlanta
Dinner dance New year's eve Norcross Ga
John's creek ga new year's eve Salsa party
New years Eve Latin night John's creek GA
Athens GA New years eve party
New year's eve dinner dance party Athens GA
http://www.NewYearsEvePartyAtlanta.com
Dec 31st - Gwinnett Tags

 
New years eve party in Gwinnett
Gwinnett New Year's Eve Party
Latin Night New Year's Eve Gwinnett
Peactree Corners GA New Year's Eve Latin night 
Norcross Ga New year's Eve Salsa Party
Salsa Gwinnett New year's Eve Party
NYE 2017 latin night Gwinnett
latin dancing New Year's eve party Gwinnett
New year's Eve lawrenceville Ga
Lawrenceville Ga NYE party
New year's Eve dance party Norcross GA
Dinner dance New years eve Salsa Event Gwinnett
New years eve Dinner Salsa party Suwanee Ga
new years eve dinner salsa party duluth Ga
latin night nye 2017 peachtree corners Ga
New years eve Gwinnett County
New years eve Dinner Dance in Gwinnett
New year's Eve champagne toast Atlanta
Dinner dance New year's eve Norcross Ga
John's creek ga new year's eve Salsa party
New years Eve Latin night John's creek GA
Athens GA New years eve party
New year's eve dinner dance party Athens GA
https://newyearsevepartyatlanta.eventbrite.com
 


New years eve party in Gwinnett
Gwinnett New Year's Eve Party
Latin Night New Year's Eve Gwinnett
Peactree Corners GA New Year's Eve Latin night 
Norcross Ga New year's Eve Salsa Party
Salsa Gwinnett New year's Eve Party
NYE 2017 latin night Gwinnett
latin dancing New Year's eve party Gwinnett
New year's Eve lawrenceville Ga
Lawrenceville Ga NYE party
New year's Eve dance party Norcross GA
Dinner dance New years eve Salsa Event Gwinnett
New years eve Dinner Salsa party Suwanee Ga
new years eve dinner salsa party duluth Ga
latin night nye 2017 peachtree corners Ga
New years eve Gwinnett County
New years eve Dinner Dance in Gwinnett
New year's Eve champagne toast Atlanta
Dinner dance New year's eve Norcross Ga
John's creek ga new year's eve Salsa party
New years Eve Latin night John's creek GA
Athens GA New years eve party
New year's eve dinner dance party Athens GA
https://www.facebook.com/events/919905301419838/ 
Dec 31st  - Gwinnett Tags
 


Speakeasy Pre New Year's Eve Party Atlanta
Live Salsa Band Pre New year's Eve Party Atlanta
Latin Night Pre-New Year's Eve Party Atlanta
Live Band Salsa Party Atlanta
Pre New Year's Eve 2017 Live Band Atlanta
Hilton Atlanta Northeast Latin Night Atlanta
Live music Salsa party Hilton Norcross Ga
Pre New Year's Eve Party Norcross Ga
Peachtree Corners Ga Live Salsa Band
New Year's Eve Pre Party Gwinnett
New Year's Eve 2017 Atlanta
Latin Night New Year's Eve Atlanta
https://www.facebook.com/events/843762062388043/
Fri Dec 30th Pre-Party


New years eve Atlanta
Atlanta New Years Eve
Atlanta NYE
NYE Atlanta
Atlanta NYE 2017
NYE party Atlanta
Atlanta NYE party
New Year's Eve Gwinnett
Gwinnett New year's Eve
NYE Gwinnett
Gwinnett NYE
Alpharetta New year's Eve
roswell new year's Eve
Marietta New year's Eve
New Year's Eve Fulton County GA
Athens Ga New year's Eve
NYE party Atlanta
Atlanta NYE party 2017
NYE Party 2017 Atlanta
New year's Eve party Atlanta
Atlanta New year's Eve Party
New Year's Eve Party in Gwinnett
Gwinnett New Year's Eve Party
New Year's Eve party in Alpharetta GA
New Year's Eve party in Roswell GA
New Year's Eve Party Marietta GA
Fulton County GA New Year's Eve party 
New Year's Eve party Athens GA
New year's Eve 2017
http://www.SalsaATL.com
New years eve Atlanta
Atlanta New Years Eve
Atlanta NYE
NYE Atlanta
Atlanta NYE 2017
NYE party Atlanta
Atlanta NYE party
New Year's Eve Gwinnett
Gwinnett New year's Eve
NYE Gwinnett
Gwinnett NYE
Alpharetta New year's Eve
roswell new year's Eve
Marietta New year's Eve
New Year's Eve Fulton County GA
Athens Ga New year's Eve
NYE party Atlanta
Atlanta NYE party 2017
NYE Party 2017 Atlanta
New year's Eve party Atlanta
Atlanta New year's Eve Party
New Year's Eve Party in Gwinnett
Gwinnett New Year's Eve Party
New Year's Eve party in Alpharetta GA
New Year's Eve party in Roswell GA
New Year's Eve Party Marietta GA
Fulton County GA New Year's Eve party 
New Year's Eve party Athens GA
New year's Eve 2017
https://www.facebook.com/NewYearsEvePartyAtlanta/
New Year's Eve Live music Atlanta
Atlanta NYE party live band
Dinner and Live Band New Year's Eve Atlanta
Dinner Dance New Year's Eve Atlanta
New year's Eve 2017 Dinner Atlanta
Atlanta New year's Eve 2017
Atlanta New year's Eve party
Atlanta New year's eve Hotel party
New year's Eve party Hilton Atlanta Northeast
Dinner live music New year's eve Atlanta
New year's Eve dinner dance party 2017
Champagne Toast New Year's Eve ATL
New year's Eve Party ATL
New year's Eve Party 2017 ATL
Balloon Drop NYE 2017 ATL
Atlanta Party New year's eve 2017
Live Band New years Eve Atlanta
Live music NYE party Atlanta
Alpharetta GA New year's Eve Dance party
Roswell Ga NYE 2017 dinner dance party
dance party new year's Eve alpharetta GA
Gwinnett New Year's Eve dinner Dance Party
Dinner Dance New Year's Eve Party in Gwinnett
New year's Eve Event in Gwinnett
NYE 2017 Dinner dance Party Gwinnett
New Year's Eve dinner dance Party Suwanee GA
Suwanee GA NYE dinner dance party
New year's eve Dinner Dance Peachtree Corners GA
Peachtree Corners GA NYE dinner dance party
New Year's Eve Dinner dance party Norcross GA
Norcross GA NYE 2017 Dinner Dance Party
Peachtree Corners GA New Year's Eve party
Norcross GA New year's Eve Event
New Year's Eve 2017 Peachtree Corners GA
Peachtree Corners GA NYE 2017
Suwanee Ga New Year's Eve Dinner Dance Party
Suwanee GA NYE 2017
Duluth Ga New Year's Eve Dinner dance party
NYE 2017 Duluth GA
New Year's Eve party in Duluth GA
New year's Eve party Suwanee GA
Suwanee GA NYE 2017
new year's Eve party near Lawrenceville GA
Lawrenceville GA New year's Eve party
Dinner dance Party New Year's Eve Lawrenceville GA
Athens Ga New Year's Eve Dinner Dance Party
John's Creek Ga New Year's Eve Party
new year's Eve Dance Party John's Creek GA
Swing dance New Year's Eve Atlanta
Atlanta New year's Eve swing Dance party
swing ballroom dancing New Year's eve
Live swing band New year's Eve Atlanta
Live band swing dance New year's Eve Atlanta
Live music New year's Eve Gwinnett
Live Swing Band New Year's Eve Gwinnett
Live music NYE 2017 Atlanta GA
NYE 2017 Champagne toast Peachtree Corners GA
New year's eve Hotel party Atlanta
New Year's Eve Party Hilton Atlanta Northeast
New Year's Eve 2017 Hilton Atlanta Northeast
New Year's Eve Hotel Party Atlanta
Salsa Atlanta New Year's Eve
http://www.NewYearsEvePartyAtlanta.com
New years eve Atlanta
Atlanta New Years Eve
Atlanta NYE
NYE Atlanta
Atlanta NYE 2017
NYE party Atlanta
Atlanta NYE party
New Year's Eve Gwinnett
Gwinnett New year's Eve
NYE Gwinnett
Gwinnett NYE
Alpharetta New year's Eve
roswell new year's Eve
Marietta New year's Eve
New Year's Eve Fulton County GA
Athens Ga New year's Eve
NYE party Atlanta
Atlanta NYE party 2017
NYE Party 2017 Atlanta
New year's Eve party Atlanta
Atlanta New year's Eve Party
New Year's Eve Party in Gwinnett
Gwinnett New Year's Eve Party
New Year's Eve party in Alpharetta GA
New Year's Eve party in Roswell GA
New Year's Eve Party Marietta GA
Fulton County GA New Year's Eve party 
New Year's Eve party Athens GA
New year's Eve 2017
New Year's Eve Party Hilton Atlanta Northeast
New Year's Eve 2017 Hilton Atlanta Northeast
New Year's Eve Hotel Party Atlanta
Salsa Atlanta New Year's Eve
Dinner dance New year's Eve party Atlanta
https://www.facebook.com/events/919905301419838/
NYE Party 2017
Latin club gwinnett
salsa dancing Gwinnett
latin dancing gwinnett
Gwinnett Latin night
latin dancing buford Ga
latin night lawrenceville Ga
salsa dance lilburn Ga
salsa club norcross ga
Suwanee ga latin club
bachata dance Gwinnett
Buford Ga latin night
salsa dancing in Gwinnett
dancing in Gwinnett
dinner and salsa dance Gwinnett
Night life gwinnett
Latin night Gwinnett
dance latin Gwinnett
www.SalsaATL.com
 
Latin club gwinnett
salsa dancing Gwinnett
latin dancing gwinnett
Gwinnett Latin night
latin dancing buford Ga
latin night lawrenceville Ga
salsa dance lilburn Ga
salsa club norcross ga
Suwanee ga latin club
bachata dance Gwinnett
Buford Ga latin night
salsa dancing in Gwinnett
dancing in Gwinnett
dinner and salsa dance Gwinnett
Night life gwinnett
Latin night Gwinnett
dance latin Gwinnett
www.Facebook.com/SalsaATL

 
Salsa Classes Atlanta
Salsa lessons Atlanta
Salsa Dance Class Atlanta
Salsa dance lesson Atlanta
salsa dancing atlanta
Atlanta ga Salsa Dancing
latin dance class atlanta ga
latin dance lessons atlanta ga
salsa dancing lessons Atlanta ga
salsa latin dance atlanta
salsa latin dance lesson atlanta
salsa latin dance class atlanta
salsa dance class sandy springs ga
salsa class decatur ga
latin dancing atlanta ga
salsa Atlanta
Atlanta Salsa
learn salsa in Atlanta ga
learn salsa dance Atlanta ga
salsa classes alpharetta ga
roswell sandy spring salsa class
latin dancing lawrenceville ga
bachata dance class atlanta ga
bachata dance lessons atlanta ga
bachata lessons Atlanta ga
bachata classes atlanta ga
atlanta bachata
Bachata atlanta
Salsa classes in atlanta
dancing salsa in atlanta
roswell ga salsa lessons
http://www.salsaatl.com/

learn salsa in Atlanta ga
learn salsa dance Atlanta ga
salsa classes alpharetta ga
latin dancing lawrenceville ga
bachata dance class atlanta ga
bachata dance lessons atlanta ga
bachata lessons Atlanta ga
bachata classes atlanta ga
atlanta bachata
Bachata atlanta
Salsa Classes Atlanta
Salsa lessons Atlanta
Salsa Dance Class Atlanta
Salsa dance lesson Atlanta
salsa dancing atlanta
Atlanta ga Salsa Dancing
latin dance class atlanta ga
latin dance lessons atlanta ga
salsa dancing lessons Atlanta ga
salsa latin dance atlanta
salsa latin dance lesson atlanta
salsa latin dance class atlanta
salsa classes gwinnett
salsa lesson Gwinnett
salsa dance lessons gwinnett
salsa lesson duluth ga
salsa classes duluth ga
salsa lessons lawrenceville ga
salsa classes lawrenceville ga
salsa lessons suwanee ga
salsa classes suwanee ga
salsa classes buford ga
salsa atlanta
Atlanta Salsa
salsa classes norcross ga
salsa lessons norcross ga
salsa classes lilburn ga
salsa lessons lilburn ga
latin dance class lilburn ga
salsa latin class gwinnett
latin dance snellville ga
latin dancing lawrenceville ga
Best Latin club Atlanta
best latin club in atlanta
best Salsa club Atlanta
best salsa club in atlanta
best latin club gwinnett
best salsa club gwinnett
best latin club in gwinnett
best salsa club in gwinnett
http://www.meetup.com/salsaatlanta/
Latin night Atlanta ga
latin dancing atlanta ga
Salsa Night Atlanta ga
salsa latin dance atlanta ga
latin club atlanta ga
salsa bachata club atlanta ga
dinner and latin dancing atlanta ga
bachata club atlanta
salsa club atlanta ga
Atlanta Salsa
Salsa Atlanta
salsa dance club atlanta
latin dance club atlanta ga
latin dance club decatur ga
salsa club sandy springs ga
latin club gwinnett
Latin Night Atlanta Ga
Latin Night Atlanta
latin dancing snellville ga
Salsa classes gwinnett
salsa dance class lilburn ga
Salsa Gwinnett
Gwinnett Salsa
salsa lessons & parties atlanta ga
Best Latin club Atlanta
best latin club in atlanta
best Salsa club Atlanta
best salsa club in atlanta
best latin club gwinnett
best salsa club gwinnett
best latin club in gwinnett
best salsa club in gwinnett
http://www.salsaatl.com/
When & Where

Dancing4fun Dance Studio
6025 Peachtree Parkway
Norcross, Georgia 30092


Saturday, December 10, 2016 from 2:00 PM to 5:00 PM (EST)
Add to my calendar
Organizer
Salsa ATL & Dancing4Fun - Dinner Dancing Atlanta Ga
Salsa ATL 3hr Salsa Boot Camp in Atlanta every Saturday