Description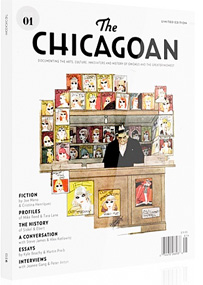 Join us on Thursday, April 5th at 7:00PM at a private Oak Street residence for spectacular skyline views, sparkling conversation and an inventive, multi-course dinner with pairings.
Our guest of honor is JC Gabel, publisher and editor-in-chief of The Chicagoan, a new and ambitious magazine. Founder of the cult-favorite publication Stop Smiling, Gabel possesses a game-changing vision for the city's literary scene. I'm excited for a night of discussion about living, creating and eating in Chicago.
One of TimeOut's "Chefs to Watch," Chef Abraham Conlon and his X-Marx team have crafted a multi-course tasting menu inspired by some of the articles in the premiere edition of The Chicagoan, such as Kari Lydersen's "How to Reinvent a Soup Kitchen," Edward "Rocky" Kolb's "Atomic Post Cards" and Josh Schollmeyer's oral history of Siskel and Ebert, "Enemies, A Love Story."
Pilsen brewery 5 Rabbit will be pouring their limited, seasonal mid-winter ale, Huitzi. We'll also be pouring wines from local distributor Vinejoy's distinctive portfolio.
Besides dinner, drinks and conversation, each Salon participant will take home a copy of The Chicagoan as well as three back issues of Stop Smiling. The launch issue of this bi-annual $20 magazine is nearly sold out; The Salon Series may very well be the last place to get one.
The Salon Series is proud to support JC Gabel and The Chicagoan: 10% of ticket sales will be donated to Gabel's non-profit, The Chicagoan Media.
See you there,
JC Steinbrunner
Host, The Salon Series
Organizer of Salon Series with JC Gabel and X-Marx
The Salon Series is an exhibition project that emphasizes participation between guests and artists to explore meaning, context and craft of new work. Shows are hosted in a social setting in Chicago.
The Salon Series continues a creative legacy of exchanging ideas while providing artists with a venue to share and converse about their work.