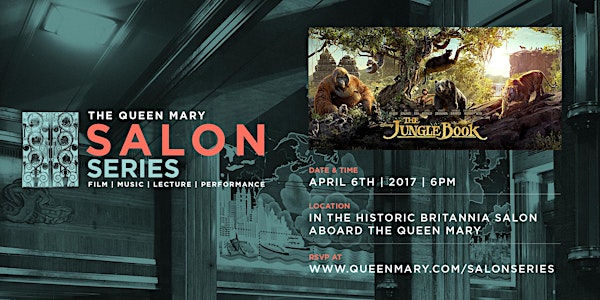 Salon Series: The Jungle Book
When and where
Location
The Queen Mary 1126 Queens Highway Long Beach, CA 90802 United States
Description
Devoted to the dual pleasures of exploring the past while enjoying the best the present has to offer, our Salon Series will deliver an experience second to none.
Guests will enjoy curated entertainment situated in the elegant design and classic sophistication of one of the Queen Mary's historic salons - Queen, Royal, Britannia and Grand - unrivaled in their beauty and comfort.
The Salon Series will present a collection of films, musical performances, lectures and more designed exclusively for the series.
Our event will include a special presentation of the modern version of Walt Disney animated classic, The Jungle Book. Back at the height of Walt Disney's career his work life had reached such a critical time of stress, that his doctors ordered him to take a break and go on vacation. His choice of vacation was a crossing from New York City to England aboard the legendary Queen Mary. While the original version of The Jungle Book was Walt Disney's last animated movie prior to his death, the Walt Disney Studios presented in 2016 a live action version of the popular 1967 classic that wowed movie-goers around the world. Come relive the 2016 live action version once again aboard the ship that Walt Disney experienced himself. Theater-style treats and hand-crafted cocktails will be available for purchase at our pop-up bar/concession stand in the Britannia Salon and on the Promenade Deck.