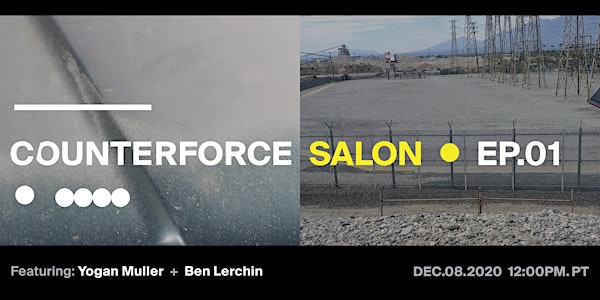 Salon Ep.01
Counterforce's Salon Series features discussions between artists + thinkers working at the intersections of art + ecology.
By UCLA's Counterforce Lab
Date and time
Tuesday, December 8, 2020 · 12 - 1pm PST
About this event
counterforce salon ep.01
featuring: yogan muller + ben lerchin
dec.08.2020 12:00–1:00pm. pt
water is life, as we often say. in this first salon, yogan muller will be in conversation with design media arts alumni ben lerchin (mfa 2020). together, they will explore lerchin's long-time interest in fresh water production in and around los angeles. they will also shed light on the extensive conveying infrastructure, "los angeles's uncomfortable protuberances" as lerchin named them, that makes life in the l.a. basin possible today.