SALMON KABOBS, QUESO FRESCO, SALSA MACHA VERDE and GREEN RICE!
About this event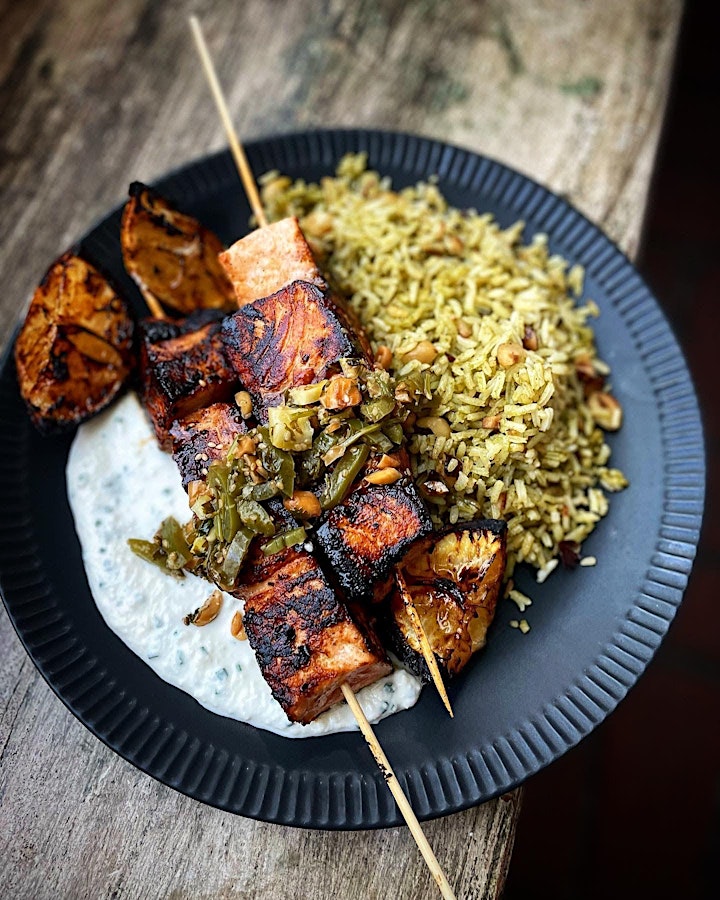 READY FOR THE MOST AMAZING
Marcela & Carina Show ever?
Amazing recipes, NEW KITCHEN at Casa Marcela, contests, and amazing prizes!
YOU CAN'T MISS THE FUN!
Here's your menu!
1.- Fat Salmon Kabobs with a Chipotle-Maple Glaze kissed with Soy and Fish sauce - Charred, Caramelized and crisp on the outside but moist and tender in the center. Easy but OH SO GOOD!
2.- Whipped Queso Fresco - You can whip all the cheeses but once you whip queso fresco you will never go back. Sprinkled with fresh, minced chives and a little salt, it's the perfect creamy counterpoint to the decadent salmon!
3.- Salsa Macha VERDE! That's right! It's green. Cooked low and slow this oil-based salsa made with jalapeños, serranos, a combo of nuts and, the magic ingredient, dices lemon, is nutty and tart perfection that's a great topped for any fish or meat (or chicken).
4.- Buttered Hazelnut and Cilantro Green Rice - Buttery hazelnuts add crunch to this cilantro, based rice that's a great alternative to the usual white rice ice base!
THERE WILL BE TWO CONTESTS FAMILIA:
1.- Dress up in FLAMENCO/SPAIN influenced ATTIRE, how ever you imagine it and as original al possible! OLE! We will have a special guest dancer! GUESS WHO!
2.- Send us a summary to: marcelanadcarina@chefmarcela.com, explaining how this shows recipes have spanish (SPAIN) influence, for a chance two WIN 2 NIGHTS and a couples massage at the BEAUTIFUL HOTEL BOUTIQUE GUADALUPE and the LUNA DE SOL SPA! DEADLINE IS MAY 24th!
RECIPES WILL BE SENT OUT ON the 18th and 24th of May!
Love,
Marcela & Carina
PLEASE READ CAREFULLY:
1.- IF YOU DO NOT RECEIVE RECIPES please email marcelaandcarina@chefmarcela.com so they can send them to you a.s.a.p. At times, Eventbrite has technical issues.
2.- Please join class on time! You might miss valuable info if you are not on time. If late, you might have to wait in the waiting room a few minutes. 
3.- If you do not receive Eventbrite emails, please be sure to email us at: marcelaandcarina@chefmarcela.com
4.- You will receive ZOOM LINK 30 minutes PRIOR TO EVENT START, if you do not, please email us at: marcelaandcarina@chefmarcela.com to sent it to you immediately. Please don't try to reach us at any other social media platform.
5.- If zoom kicks us out of the session, give us a few minutes to get back on, but please continue to cook as best you can, following written instructions, or turn off heat to not burn ingredients. 
6.- Please check your email if we are not back in 5 to 10 minutes. We will send you a new link via Eventbrite to the email you registered with.  If you do not receive new link, email us at: marcelaandcarina@chefmarcela.com
FOR TECHNICAL DIFFICULTIES (or any other inquiry) BEFORE, DURING AND AFTER CLASS, DO NOT SEND US MESSAGES TO  INSTAGRAM OR ANY SOCIAL MEDIA PLATFORM, PLEASE EMAIL US ONLY AT: marcelaandcarina@chefmarcela.com
REMEMBER: You'll get the ZOOM RECORDING LINK, which never expires once you DOWNLOAD THE VIDEO, between 24 to 48 HOURS after class ends.
Remember to tag us on Instagram: @chefmarcela, @carinaluzvalladolid717, @marcelaandcarina and use #marcelaandcarinashow