Description
We will be once again be challenging the Georgia Strait on our Stand Up Paddle Boards on June 11th 2016

Paddling across the Salish Sea, our brave paddlers will take as long as 10 to 14 hours to cover as many as 60 to 70 kilometres while crossing the Strait. In so doing, they'll face open seas, encounter marine life such as the pods of orcas and dolphins Coastal BC's been blessed to see lately, dodge BC Ferries, and endure (hopefully) the summer sun. It's all so we can raise funds for Pacific Assistance Dogs Society (PADS).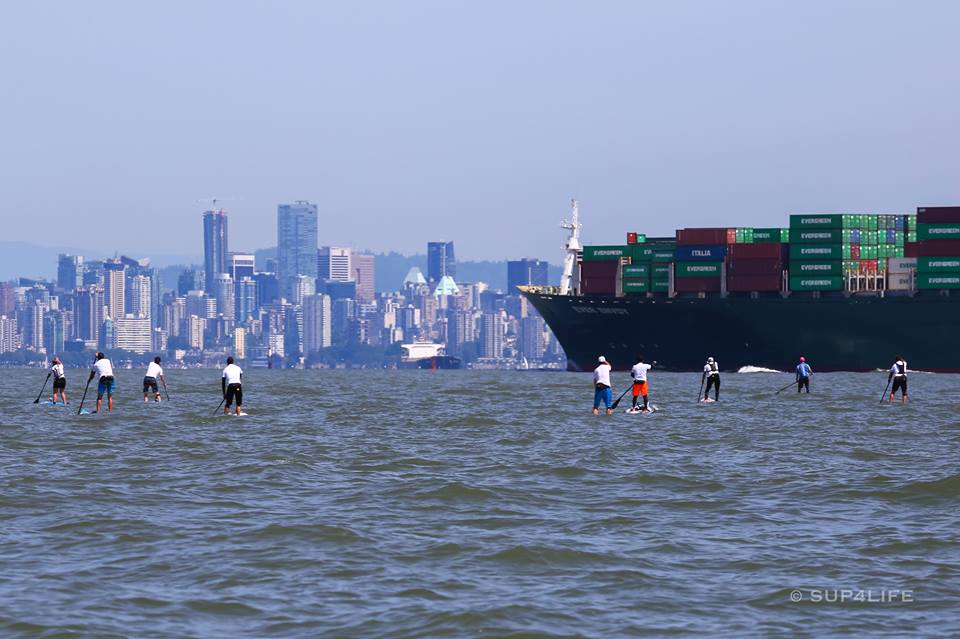 Intended Destination: Vancouver
Intended Departure: Nanaimo
Routes may be reversed due to wind direction
Approximate route: We will be crossing the Georgia Strait with the first half heading west with a slight north angle to accommodate for cross winds. Near the half-way mark will maintain a western direction with a very sight south angle leading us through the Burrard inlet and finally ending our trip at Kits Beach, Vancouver
Launch Site: Pipers Lagoon Park, Nanaimo BC
(Depending on wind conditions, Kits Beach, Vancouver-to be Confirmed June 9th)
Date of departure: June 11th, 2016
Time of Departure: Approximately between 4:30am and 5:30am
Destination Site: Kits Beach (KYC), Vancovuer BC
(Depending on wind conditions, Pipers Lagoon Park, Nanaimo - to be Confirmed June 9th)
Date of Arrival: June 11th 2015
---
Crossing Ticket Price Includes:
1 to 2 Group Support Boats
Hotel in Nanaimo
Ferry Cost
Photographer
Salish Sea SUP Jersey
Dinner at Kits Yacht Club after the paddle
Replenishments during the crossing (water, fruits, nuts, vegetables)
ARE YOU PREPARED TO RAISE A MIN. OF $600 FOR THE CAUSE?
To be eligible to do the crossing you must raise a minimum of $600, have the appropriate amount of training and endurance to complete the gruelling Salish Sea crossing. This crossing will have a direct impact on your life. However, please always remember that you are doing this to make positive changes in the lives of others in our community as well and the fundraising is the core of that process.
PRE CROSSING MEETING AS A GROUP - TBA (Potentially Friday, May 6th at the Kits Yacht Club)
MANDATORY CROSSING REHEARSAL - Saturday, May 21st 2016
Rehearsal as a group will take place in the Burrard Inlet or Howe Sound. More details to follow as this event will be planned as a group.
---
> This is not a race. This is a challenge that emphasizes teamwork and camaraderie to accomplish something amazing.
Athletes must be able to show that they can paddle 16 kilometres (10 miles) in 2 hours on a SUP board. The strait is busy and unpredictable, and only for advanced paddlers. Athletes should have ample race history, endurance, mental fitness in order to cross the Salish Sea.
- PFD and Leash are mandatory. Minimum 14ft ocean worthy Stand Up Paddle board required.
For more information contact: harry@salishseasupcrossing.com