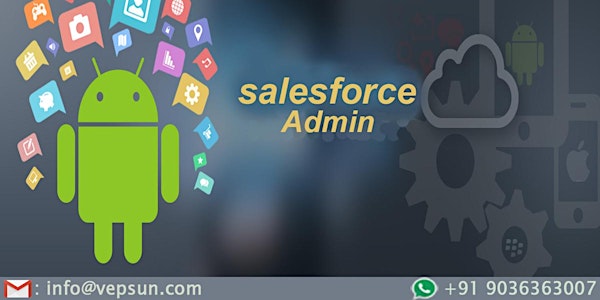 Salesforce Training | Instructor Led Online at Vepsun Technologies
Salesforce Training | Online Instructor-Led & Pure Hands-on Training | 50 Hours
About this event
About this Event
About this Event
Click on the Link below to Register👇
https://www.vepsun.in/
View Us👇
https://www.vepsun.in/salesforce.php
https://www.vepsun.in/salesforcedevelopment.php
Accelerate your Career with A Comprehensive Certified Salesforce Admin & Development Training Program👨‍🏫
Our Saleforce regular Certification is curated with specific insights from industry professionals to provide you in-depth knowledge in Salesforce. Vepsun's Salesforce (Admin & Development)online training is designed to keep you aligned with the actual programming paradigms, coding principles from procedure and functions for managing code readability with clear logical codes for small and large projects. You will be exposed to the industry-specific course modules and the latest updates in Salesforce(Admin & Development), to scale up implementations with best practices as part of this training. The practical hands-on sessions in Salesforce (Admin & Development) certification are conducted by professional Subject Matter Experts (SMEs) cum trainers through a relevant curriculum with Salesforce (Admin & Development) tools.
Vepsun Technologies | Get your career turned & Crack Salesforce certification exams👨‍💻:
After completing this course with Vepsun, Our Vepsun Technologies will equip every learner with proper career guidance through Real-time projects(Corporate-readiness), Interview preparation/Mock interviews, access to trending Q/A repositories, career navigation sessions from top professionals. We don't believe in theory-based training rather having our focus on providing practical learning experience with potential case-studies & scenarios, enhancing learners to crack Salesforce (Admin & Development)certification exams.
Benefits of Salesforce (Admin & Development)Regular Certification with Vepsun
>Our Salesforce (Admin & Development) training is purely practical-based with hands-on tutoring with Doubt clarification sessions.
>We give full curriculum coverage from basics to advanced level.
>Our curriculum is adaptive to upgrade trending concepts in the domain.
>Our trainers are cherry-picked industry experts working for top MNCs across the globe.
>You will master Salesforce with module-based hands-on sessions & live projects.
>Free lifetime access to our LMS for study material and video recordings.
Corporate Readiness - Mock Interviews, Interview Question discussion, etc.
Vepsun Course Completion Certificate is recognized across the industry.
>Concept planting: Any topic you learn here will have strong concept demonstration, Practicals, Projects, Best practices, Interview questions, and real-time use cases - pitching an effective learning experience.