Description
Ever wanted to be surrounded by a cheering crowd because you are supporting an amazing cause? Think you are a truly good person but also want to party? Well now you can march with Salesforce in the PRIDE Parade!

We are so excited to invite you, your family and friends to join Salesforce as we celebrate our diverse and inclusive workforce.

WHERE/WHEN: Sunday June 25th, meet at sign "C-50" on Bloor between Church and Ted Rogers way at 1:15PM ET, to dance, laugh, march, and take selfies all the way down to Yonge and Dundas Square. Event hashtag: #EqualityForAll.

CAN I BRING FRIENDS AND FAMILY/HOW DO I SIGN UP: Yes! Salesforce employees, friends, family, allies and LGBTQ folks are all welcome. To sign up, please fill out the name, email, and shirt size for yourself and your whole posse on the Eventbrite registration.
WHAT WILL BE PROVIDED FOR ME: Each marcher and their family & friends will be provided with an Official Outforce #EqualityForAll T-shirt, Salesforce backpack, lots of water, snacks, Selfie Stick, and some other fun takeaways like signs and balloons!
The first 50 Employees to Register (AND attend) will be awarded with coveted #TRAILBLAZER hoodies after the parade!
WHEN DO I PICK UP MY GEAR: Pickup day for care package will be announced closer to the day, but will be during the week of June 19th.
VTO: If you are a Salesforce employee this counts for 6 VTO hours, and it is the perfect team-bonding activity. Great chance to bring out significant others and kids, and mix & mingle with your teammates.
Here is what our Float will look like. Other groups will be soooo jealous: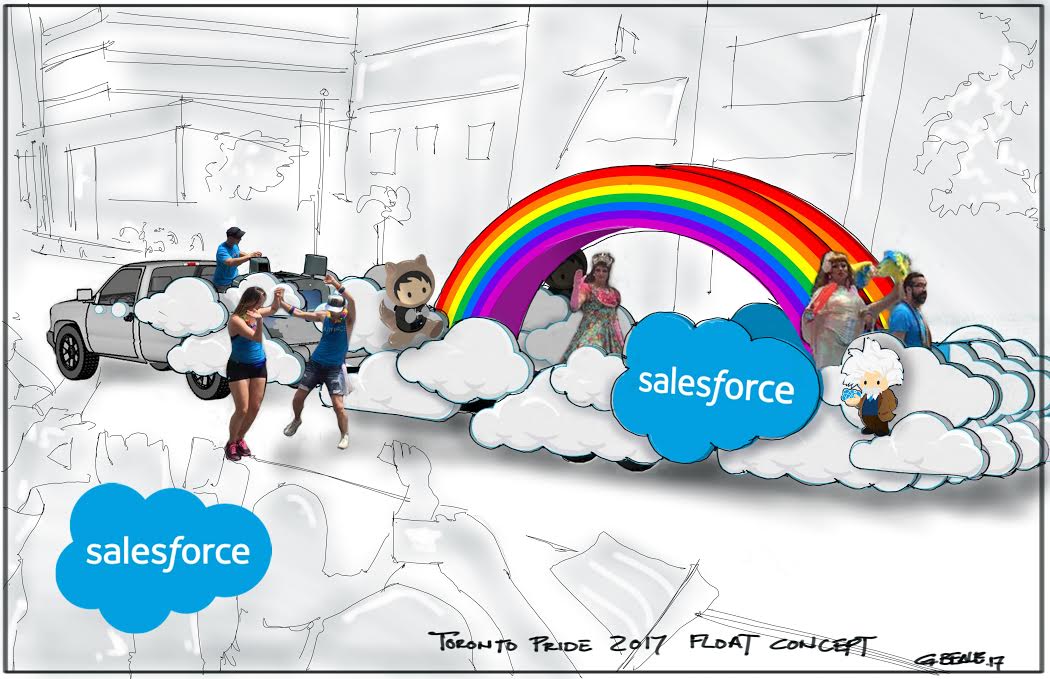 Fun Extras:

Expect an awesome DJ on our float!
Expect your favourite Trailhead mascots, and even Professor Einstein!
Expect sensational Trailhead Park Ranger-themed Go-Go Dancers
Expect to have a BLAST!