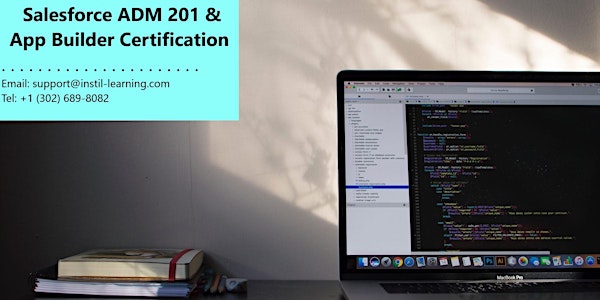 Salesforce Admin 201 and App Builder Training In Lincoln, NE
Salesforce Admin 201 and App Builder - Topics such as SFDC Data Mode
Date and time
Tuesday, March 28 · 9am - 5pm CDT
Location
Lincoln, NE Regus Business Centre/Hotel Lincoln, NE 68501
Refund Policy
Contact the organizer to request a refund.
About this event
Salesforce Admin 201 and App Builder
Salesforce admin training course is fully immersive and helps you clear the Salesforce Administrator Exam (ADM 201) and the Salesforce App Builder Exam. This Salesforce Admin certification classroom or live, instructor-led & helps you master key Salesforce concepts, with hands-on demonstrations. Register now in this Salesforce admin training course & become a certified Salesforce professional.
The program encompasses the breadth of applications, the features and functions available to an end user, and the configuration and management options available to an administrator across the Sales, Service, and Collaboration Clouds.
The first credential in the program is the Salesforce Certified Administrator. This credential focuses on the features and functionality used to maintain a Salesforce implementation. The second level in the program is the Salesforce Certified Advanced Administrator. This credential is targeted toward the Salesforce Certified Administrator who has mastered Salesforce configuration maintenance, can demonstrate an understanding of administration best practices, and is able to use the advanced features and functionality to solve a variety of business problems
This Salesforce Admin Certification online training by Instil Learning will help you to become an expert by mastering topics such as identify different Salesforce building blocks, Data model, Security model, Automation options, Sales Cloud and Service Cloud modules, Reports and Dashboard. It is aligned to SFDC ADM 201 Certification.
For more information email: support@instil-learning.com
Key Features:
⦁ 32 hours of Interactive Classroom training
⦁ 100% Money Back Guarantee
⦁ Real life Projects
⦁ Group Activities for better reinforcement
⦁ Real world examples from various industries
⦁ Industry based case studies
⦁ Trainers' Notes, Sample Question Paper & Case Studies
⦁ 24/7 customer support
Why Learn Salesforce?
After the successful completion of the Salesforce Certification Training: Admin 201 & App Builder by Instil Learning, you will be able to understand:
⦁ Different building blocks of Salesforce
⦁ The data model
⦁ The security model
⦁ The business process automation options
⦁ The Sales Cloud and Service Cloud modules
⦁ The reports and dashboard
⦁ Salesforce1, SalesforceA, Chatter and Social features
⦁ Introduction to Apex
⦁ Introduction to VisualForce
⦁ Introduction to various integration options like SOAP, REST APIs
Benefits of Salesforce Certification:
⦁ As per business insider, SFDC Developer & Architect has highest average salary across all jobs
⦁ As per Indeed.com data, the average salary for a Salesforce Developer is $111,649 per year
⦁ 200,000 companies worldwide use Salesforce platform
Learning Objectives:
Get to know about Cloud computing concepts, SAAS, PAAS, IAAS – Service model, Public, Private, Community, and Hybrid Cloud models. You will also get an introduction to SFDC and its architecture.
Topics:
⦁ What is Cloud Computing
⦁ Service and Deployment models in the Cloud
⦁ Market situation
⦁ Cloud Ownership
⦁ Introduction to SF1 and Force.com Platform
⦁ Declarative & Programmatic Options in Force.com
⦁ Meta-data Driven Architecture
⦁ Multi-tenant Architecture
⦁ Business and IT benefits
⦁ Use of SF1
Who Should Apply?
This Salesforce Certification training at Instil Learning is suitable for all professionals who are passionate about CRM and cloud computing. But typical profiles, but not limited to, who go for salesforce training are:
⦁ App Builders
⦁ Developers
⦁ System Administrators
⦁ Sales Representatives
⦁ IT Managers
⦁ Product Managers
⦁ Process Owners/Practitioners
⦁ Siebel and other CRM products professionals
⦁ Experienced professionals who are looking to have an exciting career in the leading Cloud Computing platform
⦁ Fresher's who are looking to get a jumpstart to their cloud computing careers
Why Instil Learning?
⦁ Get trained by the best trainer in the industry.
⦁ Get accesses to course specific learning videos.
⦁ Get 100% Money back guarantee*.
⦁ Get trained at the best price compared to other training providers.
*We conduct corporate trainings on your preferred location and dates. Also, we offer group discount for 3 and more participants.
Online participants will get the session attendance link before 2 prior to the training start date. 
Contact us for more information:
Email: support@instil-learning.com
Tel: +1 (302) 689.8082
About the organizer
Instil Learning reconstructs careers through skills and certification training. We are a leading high-quality certification training provider for working professionals in the areas of Project Management, Quality Management, Certified ScrumMaster (CSM), Certified Scrum Product Owner (CSPO), IT Service Management, Digital Marketing, Agile & Scrum, DevOps, Big Data & Hadoop, Data Science, Tableau, Conflict Management among others.

We offers a wide range of services in training, learning and development in the fields of technology and management. We exclusively work towards building the skill bucket of professionals and corporate groups from various domains.

Instil Learning is a brand trusted company and have helped over thousands of professionals and companies across the United States, Canada, Mexico, Australia, Singapore, and the United Kingdom to acquire certifications and up-skill their employees. Instil Learning now helps professionals across various domains with the help of our 175 strong instructor panel; a panel of certified instructors that play a crucial role in identifying and covering development needs for working professionals and delivering a 98.7% success rate.

We believe in enhancing your career, skills, employment opportunities and achieving professional goals.