Actions and Detail Panel
Sales Skills: STOP Losing in Negotiations with Clients!
Sun, December 11, 2016, 5:00 PM – 6:00 PM EST
Description
How Good are Your Negotiation Skills?
How often have we had to give up too much during negotiations? We are trying to do business and make some money doing what we love, but we end up offering special discounts, cutting prices, or committing ourselves to way too much... just to get a deal.
In the long run, we leave $10,000s or even $100,000s on the table.
In this meetup I'm going to discuss some ways to avoid this fate:
A few easy-to-remember techniques to turn a negotiation more in your favor
What to include in your "negotiation plan" before you pitch a new client (and if you don't have a negotiation plan, how to create one)
How to avoid a "price battle" and have a real dialogue with your client about the value of the service
And more...
Register now, see you there!
Justin
***
The Sales Skills Meetup is a regular meetup in Manhattan, New York City.
If you are:
An entrepreneur or small business owner
Selling high-priced B2B or B2C services ($1,000+ per purchase)
Interested in improving your marketing and sales process
...Then you will learn a ton of valuable information from these meetups.
Each talk will cover a different aspect of the sales and marketing process, such as:
Overcoming objections and resistance from the customer
Explaining the value of your services
Finding more prospects and leads
How to pitch your service
Understanding your customer better and what they need
Developing new programs and packages that appeal to your market
Managing the relationship with your clients
Upselling to higher-priced services after the initial purchase
And more
Who will benefit from this meetup?
Personal Coaches
Business Consultants
Financial Advisors
Personal Trainers
Freelancers
Web and Mobile App Developers
Personal Stylists
Event Managers
Photographers & Videographers
Music Producers
Video Producers
Interior Designers
Therapists
And a lot more...
If you don't see your profession on the list, you are still welcome to come and learn some great new sales ideas!
I'm Justin, a Sales and Communication Consultant. You can learn more about me on my website.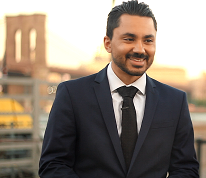 Register now and I will see you at the event!
Justin
Justin@CoolCommunicator.com