About this Event
Are you a Sales Professional in Hawaii?
Life Insurance Sales
Real Estate Sales
Mortgage Sales
Advertising Sales
Solar Energy Sales
Auto Sales
Financial Services Sales
Account Executives
Sales Professionals that makes a commission from the products and services they sell.
Entrepreneurs that make a profit from the products and services they sell.
If this is you...
David Do (@davidmobileguy), Award-Winning Sales Professional in Hawaii for over 15 years, will be sharing some of his sales "secrets" for the first time in public!
David will share a simple, proven 3-step sales formula that will make you dominate your market and competition, make more money as a Sales Professional or Entrepreneur, even if you have no leads, no book of business and don't like prospecting.
Last year in 2018, David personally booked 596 appointments, ran 503 appointments (both in-person and over the phone) and closed 158 business deals on Oahu, Maui and Big Island.
David specializes in lead generation, appointment booking, negotiation and closing.
In this workshop, you will learn:
The 3-step sales formula for booking hundreds of sales appointments per year!
Proven sales scripts in prospecting, presenting and closing thousands of transactions!
For this workshop, David's goal is to empower attendees to increase their sales immediately and improve their professional career or business. This will be the first of a series of live workshops designed for like-minded Sales Professionals and Entrepreneurs.
Minimum Requirements: You must already be in business as a Sales Professional or Entrepreneur. This information is not intended for individuals that are just looking at getting into sales as a career.
(RSVP is required to attend and seating is VERY limited.)
P.S. Free and paid parking info below. Plan to be there early so you can be on time :)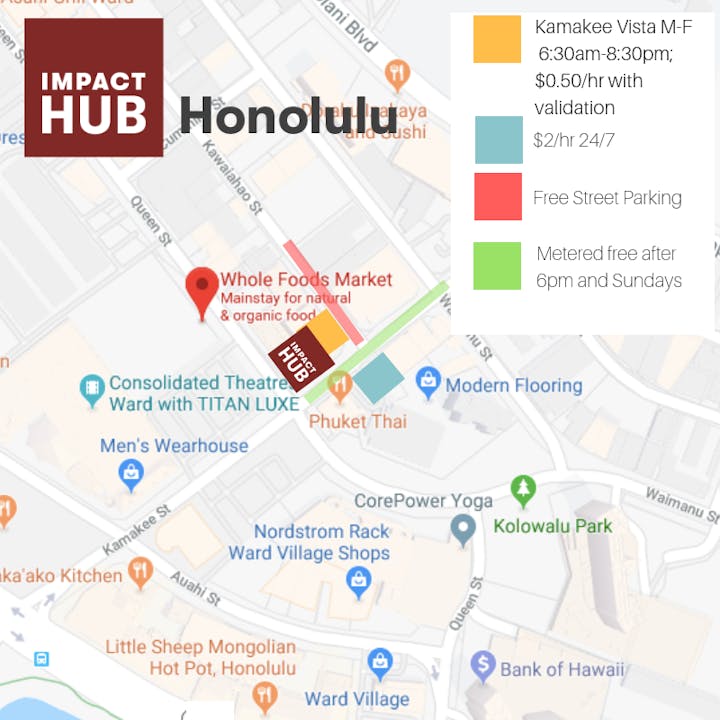 Location:
Impact Hub Honolulu - 1050 Queen Street #100 , Honolulu, HI 96814
Important Parking Notes: Parking structure will be closed during this event. Street parking (free and metered) is available (see map) or if you plan to shop or eat at Whole Foods or Ward Theaters, you can park there and walk over.
Event Phone Number (808) 429-2600.