Description
Everything you do in business depends upon your sales forecast. An accurate sales forecast is necessary to insure there's enough of a market (and thus a business opportunity) to provide your products or services to your potential customers. How many of your customers have you talked to? What price are they willing to pay? Where do they normally buy such products/services? This workshop will help you determine your potential sales levels without overestimating, a typical entrepreneur's mistake that gets complicated very quickly by overspending. Learn two proven methods of sales forecasting that are realistic and obtainable.
The TCC Spark initiative is sponsored by a grant from First Commerce Credit Union, a full service institution with locations throughout North Florida and South Georgia.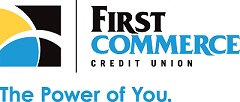 Do you have a small business idea that you want to make a reality? TCC Spark offers you a curriculum that focuses on startups, networking, and competitive analysis. Throughout the course, you are introduced to a series of mentoring events, guest speakers, techniques to gain capital, such as crowdfunding, and opportunities to develop and refine your business model canvas. The result is a solid business network of mentors and peers, and a researched and thorough marketing plan and business plan. Come catch the entrepreneur's spirit, give yourself the opportunity to discover the power of Spark!