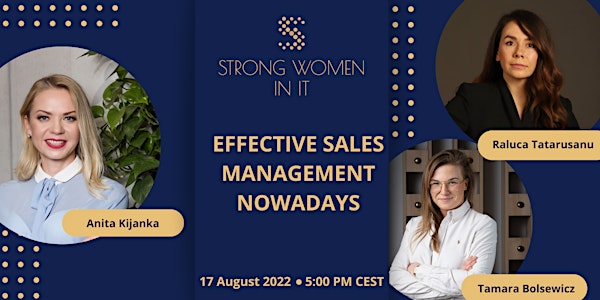 Sales challenges nowadays - webinar Strong Women in IT!
How to manage sales in difficult times? Get advice from experienced leaders from the Strong Women in IT community!
About this event
We'd like to invite you to the next Strong Women in IT webinar: Effective sales management nowadays!
👉How to effectively manage sales in the company?
👉What methods are worth using in sales today?
👉What are the sales challenges related to the current market situation?
👉How have clients changed over the years?
These questions will be answered by the invited women from the Strong Women in IT community! The webinar will take place on Wednesday, August 17 at 5 p.m (CEST). Anita Kijanka will be proud to host the enterprising businesswomen: Raluca Tatarusanu and Tamara Bolsewicz.
Raluca Tatarusanu - Global Sales Director at Druid AI: having a strong sales DNA, she is currently leading the sales efforts at DRUID as Global Sales Director. Established rainmaker driving the majority of new sales in multiple areas and industries. Since she started her professional journey, she has focused on always growing and learning. Focusing on establishing a healthy ecosystem of clients throughout all industries, she led my team to expand DRUID's client base to over 80 enterprise companies worldwide.
Tamara Bolsewicz - Co-founder and CEO at Meetsales: she is an energetic, ambitious, result-driven, and relation-orientated technology advocate with a passion for company building and business development. She spent most of her career in IT companies, which sparked her great interest in advanced tech solutions. All roles that She has held before involved nurturing business relationships, which has allowed her to successfully lead and maintain business relations for multiple companies and build the first startup she co-founded in 2018.
The series of webinars is part of a project by the Come Creations Group agency - Strong Women in IT. Through the initiative, we want to raise issues important to women who want to develop their professional careers. We create a community of mutually inspiring and supportive women in high positions in the new technology industry. We also want to promote the best market practices that support the functioning of women in business.