Sales Beyond The Brochure: Conquering Information Overload & Winning Busine...
Description
SALES BEYOND THE BROCHURE: Conquering Information Overload and Winning Business In an Indifferent, Time-Strapped World
Sales professionals currently stand at the intersection of a rebounding economy and the ever-growing importance of technology. The combination of these forces has yielded a wealth of new opportunities and an assortment of challenges. While the deployment of social selling has become one of the cornerstones of business development, sales leaders remain uncertain how to successfully implement and execute the strategies around it, track its progress, and measure its ROI.
Advances in technology and shifts in human behavior have ushered in a new era of prospecting and customer engagement. In order to sell products and services today, you must be accessible offline and online, communicate with impact, and be more responsive than ever to the customer.
The challenge of gaining a competitive advantage extends far beyond leveraging social media. During this engaging and thought-provoking session, Donna Smith Bellinger and JD Gershbein will deliver powerful, step-by- step strategies that will help salespeople increase their visibility, prospect more effectively, shorten their sales cycles, and quickly convert their activities into revenue accelerating results.
You will learn how to:

♦ Create memorable introductions to help you sell beyond features and benefits.
♦ Transition from industry jargon to revenue accelerating face to face engagements
♦ Capture, convey, and amplify your personal brand on LinkedIn
♦ Position your LinkedIn profile for maximum visibility
♦ Create a LinkedIn company page that drives engagement
♦ Mine opportunities from your existing professional network
♦ Boost engagement with prospects, influencers, and decision makers
♦ Quickly establish trust and build rapport offline as well as online.
♦ Generate demand for your products and services through content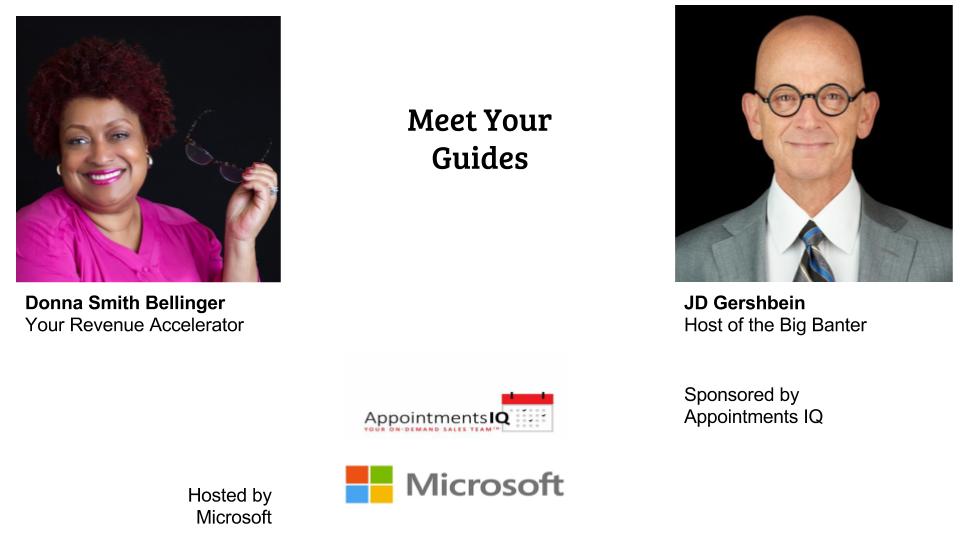 For more info on Donna Smith Bellinger, please visit https://www.linkedin.com/in/donnasmithbellinger/

Since 2006, JD Gershbein has been instrumental in advancing the ideals of the digital world. He is widely regarded as one of the world's top LinkedIn strategists and a thought leader in the areas of personal branding, social networking, and social entrepreneurship. JD has been featured on FOX TV News, WGN TV News, CBS News, and WGN Radio, and contributed written work to The Huffington Post and Forbes. He is also the architect of his own web-based "edutainment" platform, The Big Banter with JD Gershbein,
For more info on JD Gershbein, please visit http://www.linkedin.com/in/jdgershbein