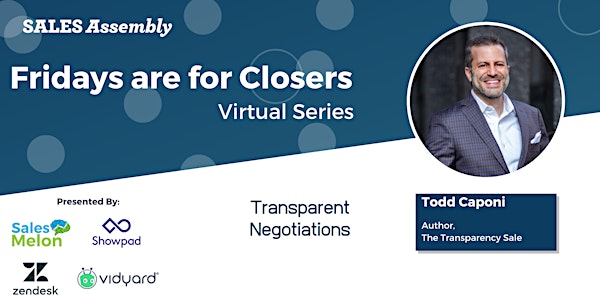 Sales Assembly Fridays are for Closers Virtual Series
Description
Every executive's priority right now is extending their runway. They will still buy, but it will be focused on the essentials. And when they do buy, they will be coming harder and stronger. There has never been a more important time to have a simple, easy to implement framework for how you present, propose and negotiate pricing. There has never been a more important time to ensure you're also maintaining trust, and making the buying journey as effortless as possible. Negotiating price doesn't have to be any different.

On Friday, 4/3, at 1 p.m. CST, join Sales Assembly and Todd Caponi, Author of The Transparency Sale, as we discuss a simple framework for how any rep can discuss pricing, propose pricing and, most importantly, negotiate pricing by implementing the four levers of Transparent Negotiations.

Todd Caponi is the author of the award-winning book, The Transparency Sale (Best "Sales" Book of 2019 | Best Book Awards), Managing Director of Chicago's VentureSCALE, and a speaker & workshop leader as Principal of Sales Melon LLC. Todd is also a multi-time C-Level sales leader, a behavioral science nerd and has guided two companies to successful exits. Amongst other accolades, Todd won the 2009 American Business Award for Worldwide Vice President of Sales of the Year, for how he guided his technology sales organization through the last economic downturn.


Who should attend this program? Sales reps of any seniority level; Sales Leaders; Sales Enablement Professionals


---
This is a virtual program. Upon signing up on Eventbrite, all registrants will receive an email from Zoom with log-in information to attend this program.
Questions? Email Joel at joel@salesassembly.com.
---
---
This program is in partnership with Sales Melon and presented by Showpad, Vidyard and Zendesk.