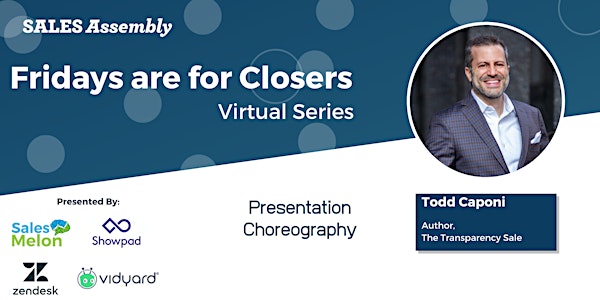 Sales Assembly Fridays are for Closers Virtual Series
Description
Leading with data, ROI, stats and figures will not work in times of uncertainty. We all make decisions using feelings and emotions. The typical we-we-we presentation must be changed. In this session, we'll explore why a typical presentation doesn't work, and how to choreograph your sales presentations to not only tell a great story, but compel the audience to action. (hint: it involves reality makeover TV).

On Friday, 4/17, at 1 p.m. CST, join Sales Assembly and Todd Caponi, Author of The Transparency Sale, as we discuss a choreography sellers can use to prepare and deliver presentations. It does not throw out an existing deck, it reorders it in a way that tells a consensus-building story. Your presentations will become focused not on how great you are, but instead on how great your prospect can be.

Todd Caponi is the author of the award-winning book, The Transparency Sale (Best "Sales" Book of 2019 | Best Book Awards), Managing Director of Chicago's VentureSCALE, and a speaker & workshop leader as Principal of Sales Melon LLC. Todd is also a multi-time C-Level sales leader, a behavioral science nerd and has guided two companies to successful exits. Amongst other accolades, Todd won the 2009 American Business Award for Worldwide Vice President of Sales of the Year, for how he guided his technology sales organization through the last economic downturn.


Who should attend this program? Sales reps of any seniority level; Sales Leaders; Sales Enablement Professionals


---
This is a virtual program. Upon signing up on Eventbrite, all registrants will receive an email from Zoom with log-in information to attend this program.
Questions? Email Joel at joel@salesassembly.com.
---
---
This program is in partnership with Sales Melon and presented by Showpad, Vidyard and Zendesk.