Event Information
Location
Bergen Community College
400 Paramus Road
Anna Maria Ciccone Theatre
Paramus, NJ 07652
Description
ABOUT THE EVENT
SALEM MEDIA OF NEW YORK has partnered with BERGEN COMMUNITY COLLEGE in Paramus, NJ to host our popular SMALL BUSINESS NETWORKING BREAKFAST on May 3rd from 6:30-9:30 am.
Each SMALL BUSINESS NETWORKING BREAKFAST is designed for small businesses, sales professionals, and entrepreneurs to meet new contacts and gain information to grow their business. There will be business card exchanges and other networking opportunities.
BRING OLD COMPUTERS & ELECTRONICS!
Guardian Data Destruction will be providing on-site disposal of all old electronics! They provide 100% erasure on site, securely, using DoD-level certified erasure equipment.
FREE BREAKFAST CATERED BY D.R. CATERING OF UNION
PAN SEARED STUFFED FRENCH TOAST with Brown Sugar served with Fresh Ricotta, Strawberries & Maple Syrup
TEX MEX OMELET with Peppers, Onions, Tomato, Monterey Jack Cheese served with Corn Tortilla & Salsa
BACON, HOMEFRIES, & MORE!
At the end of the event there willl be a drawing for an
APPLE WATCH
along with other great prizes!
Please bring at least 10 business cards and attend early for coffee and informal networking. Once the speakers are finished we will encourage guests to continue networking.
In the event that the venue fills up, seating will be first come first serve.
---
THE PANELISTS
The breakfast will include 4-5 EXPERT PANELISTS from different industries. They will each speak about an important business discipline: There will also be a lively Q&A with the audience and panelists. Our panelists include:
GARY GOLDBERG: Founder & CEO Gary Goldberg Financial Services
STEPHEN HERSH: CEO Biaggi Luggage, ABC Shark Tank Participant
DENISE RICHARDSON: Television, Spokeswoman & Social Connector
GLENN LAGA: Founder & President Guardian Data Destruction
THOMAS PORTESY: President & CEO MFV Expositions
---
THE LIVE BROADCAST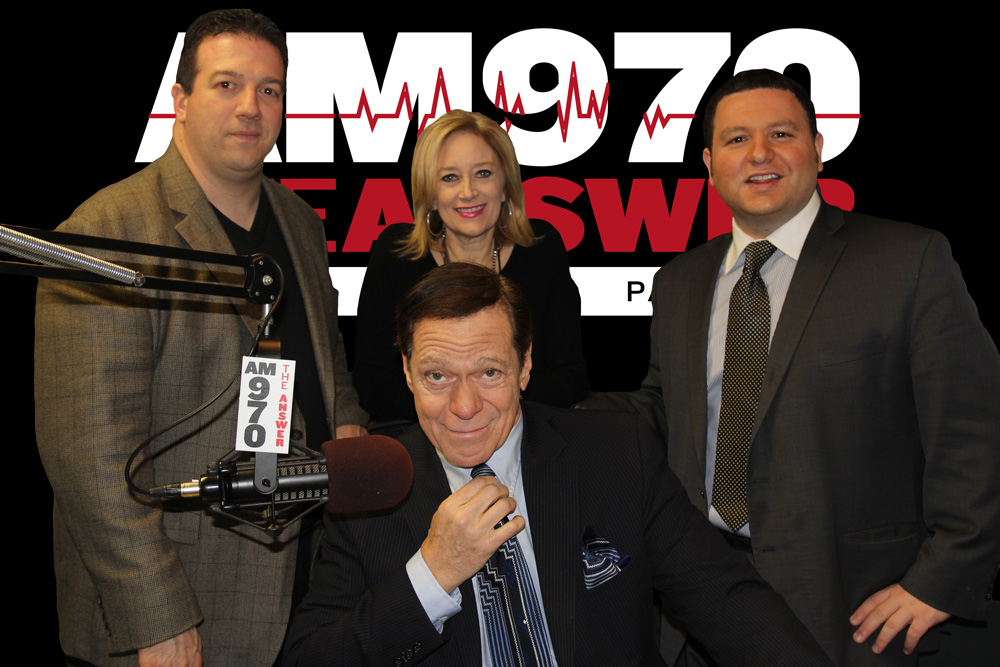 JOE PISCOPO and the AM970 MORNING TEAM will be broadcasting live at the college from 6:00-9:00AM. Listeners, students and business breakfast guests will be invited to come watch the show and meet Mr. Piscopo. Mr. Piscopo will also be speaking at the event.
---
THE MODERATOR
STEVE ADUBATO–TV News Anchor/Newspaper Columnist/Author & Motivational Speaker –will be moderating the business breakfast.
---
Date and Time
Location
Bergen Community College
400 Paramus Road
Anna Maria Ciccone Theatre
Paramus, NJ 07652