Event Information
Location
Vampfangs
244 Essex Street
Salem, MA 01970
Salem Strigoi Vii Codex Book signing with Father Sebastiaan
About this event
Official book signing and book release for Strigoi Vii Codex special edition hosted by Vampfangs!.
IF YOU CANNOT MAKE THE EVENT ORDER HERE: https://www.vamporium.shop/products/new-vampyre-magick-limited-edition
Since the dawn of civilization, the vampire has danced through the dreams and nightmares of every culture, expressed in folklore, literature, and art. Today, this fascination resonates in pop-culture, through hit television shows and movies and bestselling books. But what does it mean to be a vampire, a living and modern vampire? What many do not realize is that the Living Vampire is on the serious, lifelong spiritual path.
Best known as Strigoi Vii, the Living Vampyre is one who has embarked on a serious and lifelong spiritual path. Not just "kids in capes," the members of this magickal path seek to live in glamour and ritual every day. The Strigoi Vii Codex provides a profound perspective on the Vampyre culture, traditions, movement and philosophies, which are intended to challenge and inspire your views. Chapters include Vampyre Ritual, Vampyre Sensuality, Beginning Vampyrism, and The Vampyre Wedding.
"The Strigoi Vii Codex & Sanguinomicon offers a compelling and elegant presentation of the history, rituals, and customs of a specific spiritual movement. It has the quality of permanence, and it will likely make an enduring contribution to sanguinary lore." —Dr. Katherine Ramsland, author of The Science of Vampires and Piercing the Darkness
"Father Sebastiaan has gathered a striking collection of vampiric perspectives that will define a foundational consideration of Vampyrism as a living and breathing tradition.'" — Michael W. Ford, Akhtya Nachttoter, The Black Order of the Dragon
"A must-have for any student—or creature—of the night, whether you're interested in vampires and vampirism from a cultural and historical perspective or you want to take your magical practice to the next level. For vampires and the people who love them, this book takes a deeper, spiritual, and utterly glamorous approach to the truth in becoming a Living Vampyre. Read it to unlock secret knowledge within yourself and find the Vampyre within."— Varla Ventura, author of Varla Ventura's Paranormal Parlor and Banshees, Werewolves, Vampires, and Other Creatures of the Night
Father Sebastiaan has been at the center of the Vampire / Vampyre Culture since he got his first pair of fangs in 1993. Since then has become Impresario of the Endless Night Vampire Ball, traveled the world as a Master Fangsmith, became the world's leading authority on Vampyre Culture, and founded the largest Vampyre family: Sabretooth Clan.
www.facebook.com/fathersebastiaan
www.instagram.com/fathersebastiaan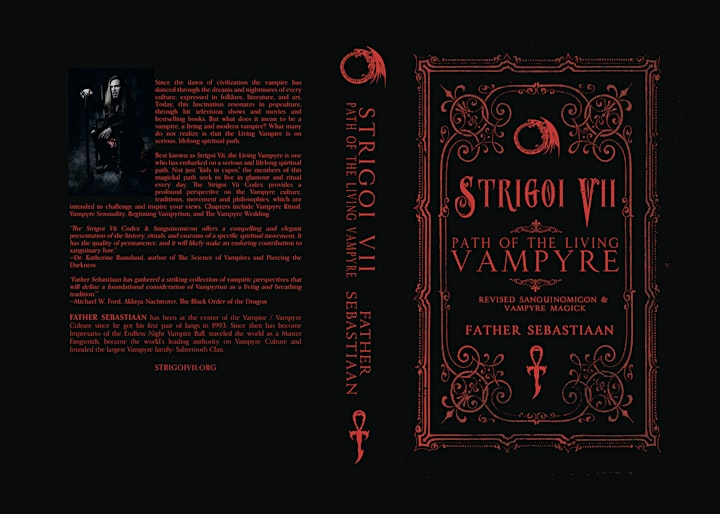 Date and time
Location
Vampfangs
244 Essex Street
Salem, MA 01970