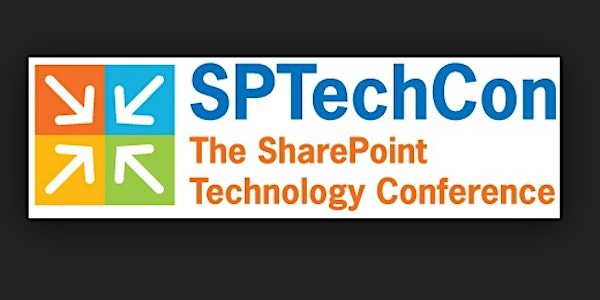 SALE: 4 Day SPTechCon SharePoint Technology Conference - Washington, DC Nov 12-15, 2017
When and where
Location
Bethesda North Marriott Hotel & Conference Center 5701 Marinelli Road Bethesda, MD
Description
THIS is a special PROMOTIONAL TICKET LISTING FOR SPTechCon Boston by BostonEventsList.com. There are only 2 tickets available at this price, and these special priced tickets can only be purchased from us. This is a ticket valued at $1,795. Buy now before it is gone!
Information about the event is available at:
This is a 4 Day all Access Pass for all the seminars in the conference.
SPTechCon: The SharePoint Technology Conference is coming to the Washington DC area, November 12-15, 2017! SPTechCon offers more than 80 classes and tutorials — presented by the most knowledgeable instructors working in SharePoint today — to help attendees improve their skills and broaden their knowledge of Microsoft's collaboration and productivity software.
SPTechCon will shine a light on SharePoint 2016, the latest on-premises server release from Microsoft. But there will also be plenty of excellent information, tips and tricks for working with SharePoint 2013 and 2010, as well as Office 365, with practical information you can put to use on the job right away! Whether you're looking to upgrade to a more current version, making a move to the cloud, or simply need answers to those daunting problems you've been unable to overcome, SPTechCon is the place for you!

SPTechCon offers training opportunities for IT professionals, business decision makers, information workers, developers and software and information architects. Each presenter at SPTechCon is a true SharePoint expert, with many drawn from Microsoft's tech teams or holding Microsoft MVP status. Come join us!
Preparing for SharePoint 2016 • Branding • Content Types • Farm Management • Search/Findability • Migration to SharePoint 2013 • Web Content Management • Document Management • Forms and Workflows • The New Add-in Model • Lists and Libraries • Web Parts • Yammer • Office 365 • SharePoint Mobile • Business Intelligence • Adaptive Web • SharePoint for Power Users • Governance Responsive • No-Code Solutions for SharePoint • Site Collaborators / Site Owners • SharePoint Administration • SharePoint User Adoption • Permissions and Security • SharePoint Planning Design
Choosing from more than 80 classes allows you to put together your own custom SharePoint and Office 365 training experience. Whether you want to learn about the exciting new SharePoint 2016, are still making the most out of SharePoint 2013 or even 2010, or getting started and doing work with Office 365, you will find the SharePoint and Office 365 training you need at SPTechCon.

Most of our speakers are Microsoft MVP's and all are SharePoint and Office 365 experts. A rigorous review of the classes after each conference allows us to make sure we're providing the best learning experience and the most topical classes in the industry. No wonder SPTechCon is the best independent SharePoint training conference.
Session Levels

OVERVIEW: No previous knowledge of the class's subject is required, and the session will be a high-level introduction of the topic.

INTERMEDIATE: These broad technology sessions emphasize capabilities and how things work. As appropriate, the instructor will show examples.

ADVANCED: These sessions teach attendees how to implement a solution. As appropriate, the instructor will include detailed samples.
Topic Areas

DEVELOPER ESSENTIALS: For Developers, SPTechCon Washington 2017 will feature technical classes and tutorials geared to software developers looking to write custom applications, or extend out-of-the-box functionality.
These include: the new Add-in model, branding, JavaScript libraries including JQuery and Angular, Responsive Web Design for mobile apps, Bootstrap, display templates and much, much more.

IT PRO: For IT Profesionals, SPTechCon Boston 2016 will feature technical classes and tutorials that cover topics specific to your field.
These include: setting up and managing SharePoint farms, upgrading to SharePoint 2016, setting up hybrid cloud/on-premises implementations, backup and recovery, integrations, authentication and authorization, storage and virtualization, and more!

INFORMATION WORKERS / POWER USERS: These sessions are geared to business users who are looking to SharePoint for document storage and management, search, and reporting, as well as working with lists, libraries and forms. SharePoint also enables collaboration through Team Sites, User Profiles and through tools such as Yammer and OneDrive for Business. Also, power users looking to create their own simple SharePoint applications or manipulate metadata and content would benefit from sessions on the new PowerApps and other low-code solutions for creating workflows, dashboards and more!

ARCHITECTS: Systems architects need to ensure that SharePoint is configured in a way that maximizes its value, whether for business intelligence, video, top performance, or even scaleability. Will your SharePoint be in the cloud, on-premises, or in a hybrid setup? Information architects need to make sure that SharePoint documents are labeled correctly using metadata when stored for efficient discovery and retrieval, to make sure workflows can be created in the most direct way, and much more.

BUSINESS DECISION MAKERS: If you're at SPTechCon, you've either already made the decision to use SharePoint, or you're looking for information to see if it's a fit for your business. SPTechCon can offer you sessions how SharePoint can be strategic within the organization, as well as classes that can help you decide if upgrading now is right for your company, if you need to be on-premises or in the cloud, and on how to get your employees to use SharePoint now that you've adopted it.
Registration Inclusions
CONFERENCE ATTENDEES

4-Day Passport Only Registration Includes (on All 4 days!):
• Admission to sessions and panels on Nov. 12, 13, 14 and 15
• Admission to all special events including the Networking Reception
• Admission to keynotes
• Admission to Exhibit Hall
• Coffee breaks and lunch where indicated
www.BostonEventsList.com is offering this SUPER PROMOTIONAL ticket for this full event.
TICKETS ARE NOT TRANFERABLE.
TICKETS ARE NOR REFUNDABLE
Follow us on Twitter: https://twitter.com/bostonevtslist