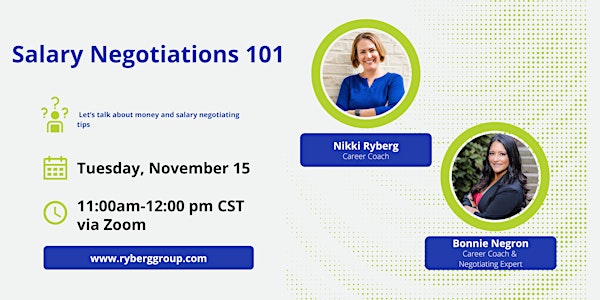 Salary Negotiations 101 w/ Career Coach & Negotiating Expert Bonnie Negron
Let's talk about money and salary negotiating tips
About this event
During this casual, conversation style-event, we'll cover how to negotiate your pay and salary. Bonnie is a sought-out expert in this field! She's been featured in HuffPost, Monster and NJ Mom media outlets. Based out of NYC, she's helped place clients at firms like CapitalOne and Merck. We'll discuss things like:
How do you figure out your own market worth?
What are some basic salary negotiation tips you must be aware of?
Where are the best places to go for more information?
Why should you always negotiate…or should you? Why or why not?
We'll open it up to questions and promise you'll leave with many takeaways. Make 2023 the year you start to take charge of your own personal "revenue" opportunities. We're excited to help you do this, and we promise it will be fun and tactical.