Salary Negotiation Workshop: Empower Yourself In the Workplace
About this Event
Fresh out of college and wanting to make a great first move in the workforce?
Been in the workforce for a few years and want to showcase your leaderships skills in a new role?
Get the skills you need to advocate for yourself in the hiring and promotion process at our Salary Negotiation Workshop & Recruitment Fair!
As part of City Awake's Fierce Urgency of Now (F.U.N.) series, Mayor Walsh's Office of Women's Advancement, AAUW Work Smart in Boston, and the Boston Women's Workforce Council (BWWC) have teamed up to bring millennial women of color a city-wide salary negotiation workshop event. In addition to the free workshop, attendees will have the opportunity to meet with top Boston employers and learn about career opportunities.
Program:
2:00 PM - 3:00 PM: Recruitment Fair - Grab a refreshment, sponsored by Morgan Stanley, and meet with top employers at their info tables. *Featured 100% Talent Compact Employers: Mass Convention Center Authority (MCCA), Morgan Stanley, Simmons University, Goodwill Industries, Boston University, Putnam Investments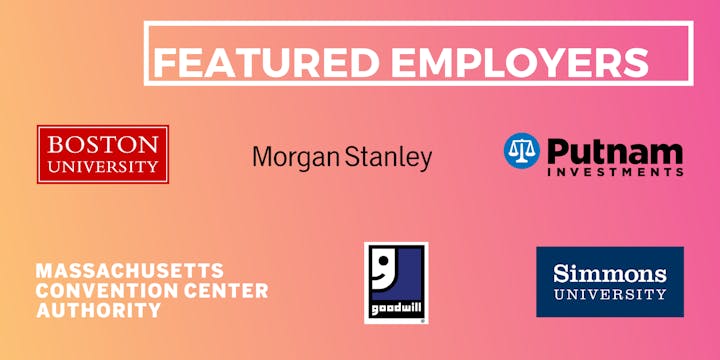 *Announcing* FREE Professional Headshots! Arrive on time for refreshments, networking, meeting with employers, and grabbing a new headshot!
3:00 PM - 3:10 PM: Welcome
3:10 PM - 4:20 PM: Salary Negotiation Workshop - Attendees can expect to learn: About the gender wage gap, including its personal consequences; How to quantify the market value of their education, skills, and experience; How to conduct objective market research and determine a fair target salary; How to create a strategic pitch and respond to salary offers. Workshop will be facilitated by BWWC Marketing and Events Manager, Joana Ortiz.
4:30 PM - 5:00 PM: Networking - Meet fellow attendees and leave a resume or business card behind. Find free resume and business card templates on canva.com
Special thanks to host, Morgan Memorial Goodwill Industries, for making this event possible.
-----------------------------------------------------------------------------------
What is the Fierce Urgency of Now Festival?
A five-day series of events hosted by local businesses and organizations geared at highlighting the experiences, challenges, and opportunities for young professionals of color in our city with the ultimate goal of creating community.
With more than 30 events scheduled, you can plan to learn, connect, and have fun all week long, while also lending your voice to change. Join us September 4-8 to help make Boston more inclusive for all.
What is the Boston Women's Workforce Council (BWWC)?
In a city where women make up more than half the residents and half the workforce, pay equity is not only the right thing to do, it is the smart thing to do. The Boston Women's Workforce Council (BWWC) is a public-private partnership between Mayor Martin J. Walsh and the Boston business community which implements the 100% Talent Compact, a first-in-the-nation approach to reaching pay equity for working women. To this day, over 250 Boston-area employers have pledged to closing the gender wage gap in our city. The Council serves as a resource and thought leader on the gender-based wage gap, in addition to other challenges facing women in today's workforce.
Why are we involved in F.U.N.?
With half of the workforce in Boston being classified as millennials, and nearly half of millennials in Greater Boston being people of color, we know that the business community must play a key role in improving the city's image and increasing access and opportunities to attract and retain talent. Retention of young people of color is of critical importance to our future as a region.
Businesses taking part of the BWWC's 100% Talent Compact are committed to advancing women in the workplace.
--------------------------------------------------------------------------------
FAQs:
How do I know if the F.U.N. festival is for me?
If you are a young professional or young professional of color in Boston and you are looking to enhance your life and gain allies, then F.U.N. is for you.
How do I get to your location by public transportation or car, and where can I park?
For best directions suited to your commute, please refer to Google Maps. There is a parking lot on site.
What do I need to bring to the event?
Yourself. Resumes. Business Cards. Pen and paper for notes. F.U.N!
Will there be food?
Yes! You can expect various refreshments.
How can I contact the organizer of the event?
Should you have any questions or would like to sponsor the event, please contact Joana Ortiz at joana@bostonwomensworkforcecouncil.org
---------------------------------------------------------------------------------
About Mayor Walsh's Office of Women's Advancement
Mayor Walsh created the Mayor's Office of Women's Advancement (MOWA) to prioritize equal opportunity for women and girls in the City of Boston. MOWA is a policy-focused office which creates programming and opportunities in three priority areas: economic equity, safety, and empowerment. Some of the MOWA's most recent work includes reducing demand for sex-buying and trafficking, a first-in-the-nation pay equity model, and research on supports for the childcare workforce, as well as childcare access and affordability. Read more at their website: Boston.gov/women.
About the American Association of University Women (AAUW)
AAUW is a non-profit, non-partisan organization that works to champion equity for women and girls. Since 1881, we have been a catalyst for positive change, from boosting young women's access to education, to shaping public policy and producing groundbreaking research on gender equity. Today, AAUW is guided by a bold, new vision: to ensure equity for all by focusing on the three critical areas where we can make the biggest difference in the lives of women and girls—education and training, economic security, and leadership.
To that end, AAUW is committed to reaching 10 million women to negotiate fair and equitable salaries and benefits by 2022, and end the gender pay gap by 2030. AAUW is working nationally and locally on enhancing policies and laws, working with employers to improve practices, and training women in effective salary negotiation.