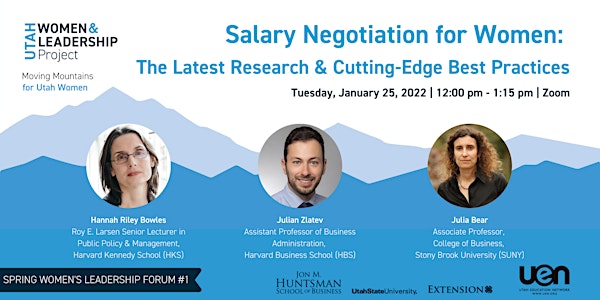 Salary Negotiation for Women: Latest Research & Cutting-Edge Best Practices
Join us for our first spring Women's Leadership Forum with three globally known researchers who have studied salary negotiation for women.
About this event
The Utah Women & Leadership Project invites you to join us for our first spring Women's Leadership Forum.
Women face unique challenges when it comes to negotiating. Research continues to confirm that the gender wage gap persists even when taking into consideration job level, differences in preferences, and family leave. Gender differences in salary negotiations could be one of several determinants of perpetual gender differences in labor market outcomes. Yet, this gap is multi-dimensional and complex. Three internationally known scholars will share their research on salary negotiation for women as it relates to gender differences and challenges. They will also offer research-based skills, tools, and strategies that will not only assist women in negotiating more effectively but will also benefit managers and leaders who are focused on addressing Utah's vast talent shortage by recruiting and retaining more women employees.
Sponsors: Jon M. Huntsman School of Business and Extension at Utah State University & Utah Education Network (UEN)
Panelists
Hannah Riley Bowles is the Roy E. Larsen Senior Lecturer in Public Policy and Management at the Harvard Kennedy School (HKS). Hannah chairs the HKS Management, Leadership, and Decision Sciences (MLD) Area and co-directs the HKS Center for Public Leadership and HKS Women and Public Policy Program (WAPPP). With over 25 years' experience, she is a leading expert on gender in negotiation. Her research focuses on women's leadership advancement and the role of negotiation in educational and career advancement, including the management of work-family conflict. She has been featured in academic publications and major news media. Professor Bowles is the faculty director of Women & Power and Women Leading Change, the HKS executive programs for women in senior leadership. She has a DBA from Harvard Business School, an MPP from HKS, and a BA from Smith College.
Julian Zlatev is an Assistant Professor of Business Administration at Harvard Business School in the Negotiation, Organizations, & Markets Unit; he currently teaches the second-year Negotiation course. His research interests include ethics and morality, negotiations, decision making, and prosocial behaviors such as charitable giving and volunteering. Another stream of work covers the ways in which individuals understand and employ nudge strategies-such as the default effect-to influence others. His work has been featured in academic publications such as Proceedings of the National Academy of Sciences and Organizational Behavior and Human Decision Processes among others. Professor Zlatev earned a PhD in business administration from Stanford University and a BA in psychology from Northwestern University.
Julia Bear is Associate Professor in the College of Business at Stony Brook University (SUNY). Professor Bear's research focuses on gender and negotiation, as well as understanding gender gaps in organizations more broadly. Her research has been published in journals and books, including Academy of Management Review, Academy of Management Journal, Journal of Applied Psychology, and Psychological Science. She has received multiple best paper awards, as well as Fulbright and Marie Curie scholarships. She is the author of, The Caregiving Ambition: What It Is and Why It Matters at Home and Work (with T. Pittinsky), forthcoming in February 2022 from Oxford University Press. She earned her PhD in Organizational Behavior from Carnegie Mellon University.